Parity is easy
Now that the dust has settled on the Radeon HD 7950 launch and the HD 7970 is but a hazy memory from before Christmas last year, we ask ourselves just what separates these two high-end cards from AMD.
You see, the Radeon HD 7950, running at 800MHz core and 5,000MHz memory out of the box, overclocks to the 925MHz/5,500MHz clocks of the HD 7970 with consummate ease, without even needing to bother boosting the core voltage. If you do, well, it's a monster. Taken to the limit, both Tahiti cards have similar frequency ceilings, which is not altogether surprising given the underlying similarities of the GPUs.
Knowing that 7950 is about £100 cheaper than its bigger brother in bone-stock form, what kind of results would one expect if comparing on a clock-for-clock basis? Doing so would actually result in comparing architectures, and our cursory look indicates there wouldn't be much between the dynamic duo.
So we've done something rather simple; we've overclocked our reference Radeon HD 7950 3GB GPU to the 925MHz core and 5,500MHz memory frequencies of the HD 7970 and graphed up the results. We know the HD 7970 card will retain the lead because it features a greater number of compute units - 32 vs. 28 - but indications are that this advantage will be slight; there are no further meaningful improvements in the range-topping GPU.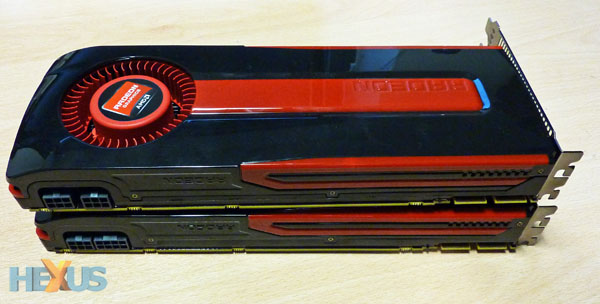 It's Radeon vs. Radeon vs. a slew of other high-end cards. Full testing methodology can be found here.