Introduction
AMD threw a curve ball at us by announcing the Radeon HD 7970 GPU just a few days before Christmas. Pulling the announcement of the high-end GPU forward meant there was insufficient stock in the channel to provide what's termed a hard launch.
AMD's cohort of partners have been working overtime to provide stock for the official launch, and while there's minimal retooling needed to launch custom-cooled cards - HD 6970 and HD 7970 share significant commonality in cooler design - it makes sense for partners to trot out first-run cards based on the capable reference design.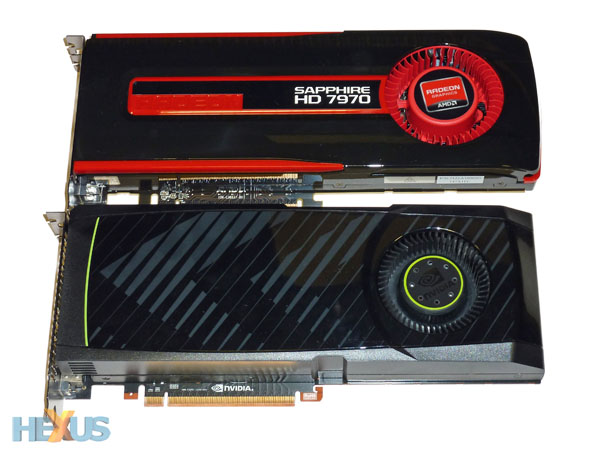 Radeon HD 7970 up against GeForce GTX 580
Sapphire, AMD's biggest partner, is doing just that with its first card out of the gate. The only difference between this card and the reference version, as supplied by AMD, rests with the black Sapphire sticker on the centre of the board. Frequencies remain identical, that is, 925MHz core and 5,500MHz memory, and the dual-BIOS option, present on all HD 7970s, doesn't activate any further shaders or higher clocks. We suggest you take a look at our in-depth reference review in order to gain clear insight into how AMD's latest technology works.
However, Sapphire does realise that the significant power on tap can be harnessed by running multiple monitors - the board supports four screens from the get-go. To this end it bundles in a DVI-to-HDMI cable and DVI-to-mini-DisplayPort cable, as well as a 1.8m HDMI lead. What this means is that you can attach three DVI-equipped monitors without needing to invest in further cabling/dongles - routing to DVI, HDMI and one of the DisplayPorts. This makes sense as three 24in, full-HD screens, giving a total 5,760x1,080 resolution, can be purchased for a smaller outlay than the £429 charged for this card.
So rather than show you how this Sapphire card benchmarks at exactly the same speed as the reference card, we're taking a more interesting tack by taking a closer look at three-screen Eyefinity performance. And to understand just how far AMD has come with successive launches, we're going to look at HD (1,920x1,080) and Eyefinity 3 (5,760x1,080) performance on the Radeon HD 7970, Radeon HD 6970 and Radeon HD 5870. It may not escape your notice that these three GPUs represent the best of their generation.