The card
Graphics-card manufacturer XFX is waiting patiently for the Radeon HD 7000-series of GPUs to appear. The interminable wait enables the company to keep its virtual larder full of Radeon HD 6K cards. Underscoring this stacking of GPUs is the HD 6950 range, which is home to no fewer than eight cards - five clocked in at stock speeds and three overclocked.
The best of the bunch is the version ending in product code CDDC. Dubbed the 'Double Dissipation' series, shipped with a core speed of 830MHz and outfitted with 2GB of GDDR5 running at 5,200MHz, it has manifestly better specifications than the 800MHz/5,000MHz-clocked reference card. But you literally pay for this extra frequency chutzpah, as the DD XXX is currently available for £230 or so.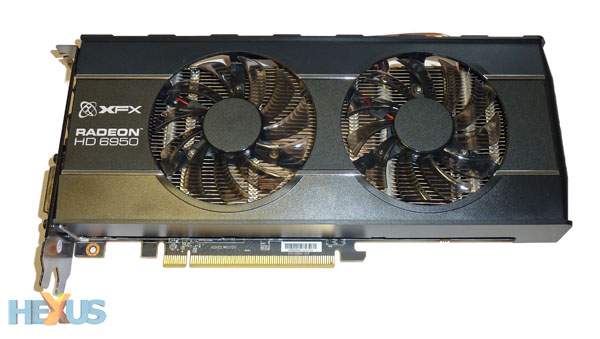 Now, what does Double D have to do with graphics card, you may ask. Well, XFX reckons two is better than one and extends that thinking to the card's fans, where two 80mm jobbies are housed on top of a card-wide heatsink. The overall design is wholly non-reference, evinced by a shorter PCB - 9.5in vs. 10.5in for reference - and, keeping costs down, a lighter card with a less-substantial heatsink.
XFX reckons the design is amongst the quietest and coolest around, helped by having a trio of core-touching heatpipes and a fancy backplate. For those that want to really test out the cooler's mettle, the GPU's voltage can be tuned from the default 1.1V through to 1.3V.

While it's an astonishing 430g lighter than reference - 611g vs. 1,041g - build quality is good, as there are no flexes in either the PCB or card-long heatsink. Those looking for the dual-BIOS of the original card will be disappointed to learn that it's not present here; XFX isn't enabling the opening of a Radeon HD 6970-like 1,536 shaders.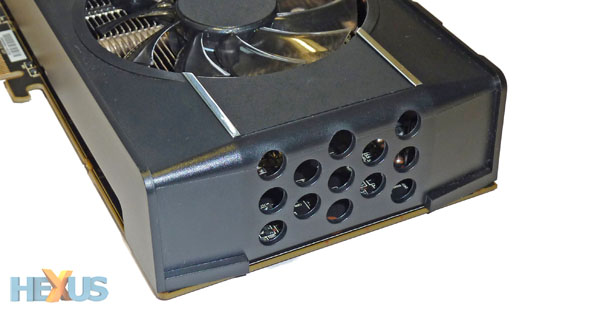 The Swiss cheese-esque holes are more decorative than performance-enhancing, as we felt minimal air being circulated in and out of the heatsink. Still, they look nice, we suppose.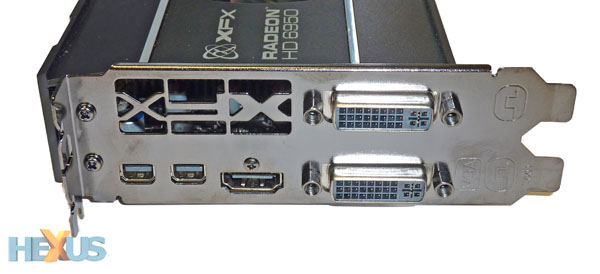 Remember that fancy exhaust plate? There's clear area around the XFX name - that's correctly orientated in a tower chassis - through which hot air can escape. Five digital output connectors - two DVI, two mini-DisplayPort and a single HDMI - mean the card is able to drive three digital displays simultaneously, directed by AMD's Eyefinity software.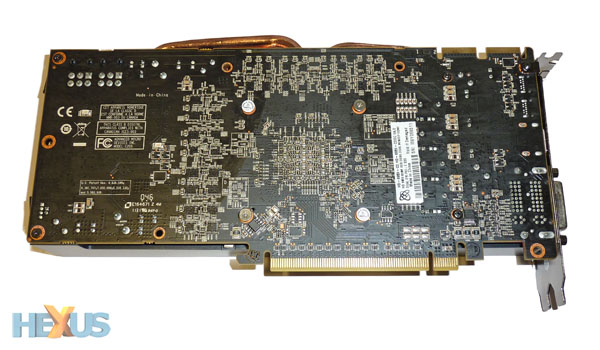 The 2GB of faster-than-reference GDDR5 memory is all contained on the top side. The only aspect of note here are the two CrossFireX connectors. Get happy with your credit card, put them on a suitable board and four cards can be tied together.
XFX is keeping the entire package simple, so while this is a XXX model going by the specification sheet, the toned-down appearance, medium-level core overclocking and lack of bundled games means that value is pushed to the fore, though the £230 retail price remains on the high side for this class of card. Warranty is an industry-standard two years, by the way.