A monster is born
We classify graphics cards in three broad categories. Low-end cards provide a reasonable boost in performance over integrated graphics and can, with low-detail settings, play most modern games at a 720p resolution.
Mid-range cards, usually costing between £100-£200, offer significantly more power, enabling you to run a 1080p resolution with decent image-quality settings.
Spend a bank-busting £500 and the very best GPUs become available. Right now, AMD headlines its graphics-card act with the fearsome Radeon HD 6990 4GB monster, while NVIDIA also goes for the twin-GPU approach with its GeForce GTX 590 3GB. Both produces lusty frame-rates at an exotic 2,560x1,600-pixel resolution and vie for the title of world's fastest graphics card.
While our benchmarks show the AMD Radeon HD 6990 to be the (slightly) faster card of the two behemoths, one can make a case for NVIDIA's beastie if you only play certain games
ASUS wants to settle this 'who-is-fastest' argument once and for all. You see, two years on from the original MARS card, the company is now going all medieval on NVIDIA's GeForce GTX 580 by combining two of them on to a fully-custom offering. To be made available in limited quantities - 999, all told - we present the Republic of Gamers MARS II.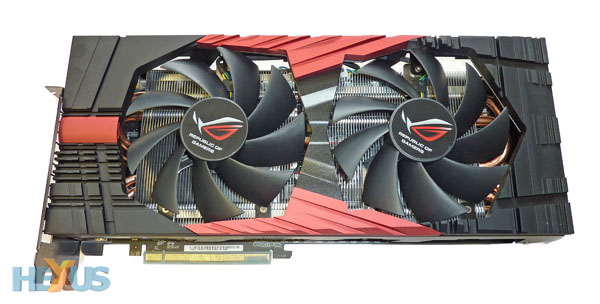 The card looks fairly standard with a cursory glance. But then take a good look at the relative size of PCIe x16 slot and rear bracket. It's not just huge; it's plain ridiculous in size.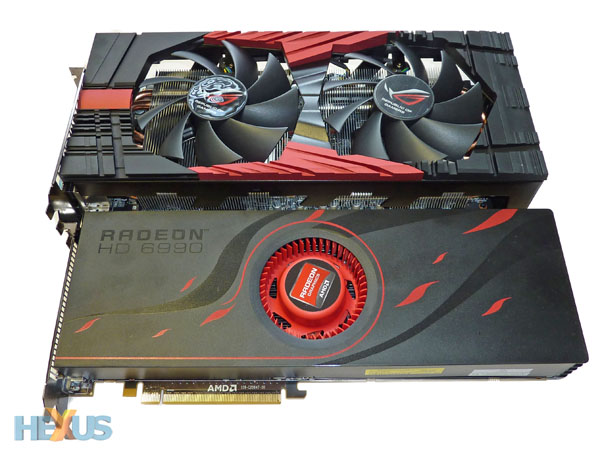 You'll probably know that the Radeon HD 6990 4GB is no shrinking violet - it's the largest card we've previously tested - yet it looks and feels small in comparison. The Radeon's 305mm (l) x 100mm (d) x 40mm (h) dimensions are dwarfed by the MARS II's 315mm x 130mm x 60mm measurements.
But that's not all. The ASUS monster tips the scales at 2,380g - the weight of most mid-range notebooks - while the Radeon, which is considered porky by any reasonable standard, is a relatively scale-friendly 1,155g.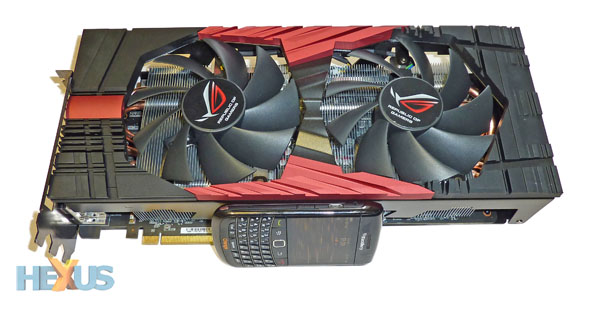 OK, you get the idea, it's about as massive as the average American. Its size and cooling ability are directly related to what it has to cool, obviously, and underneath reside two full-fat GeForce GTX 580 GPUs.
Remember, NVIDIA's GTX 590 also takes in two high-end GeForce 5-series GPUs on to one board but doesn't go the whole nine yards by using two hot-running GTX 580s. This little table should describe the differences:
| GPU | GTX 590 | MARS II |
| --- | --- | --- |
| Core | Fermi v2 | Fermi v2 |
| Shaders | 2 x 512 | 2 x 512 |
| Core speed | 607MHz | 782MHz |
| Shader speed | 1,215MHz | 1,564MHz |
| Memory speed | 3,414MHz | 4,008MHz |
| Memory size | 3,072MB | 3,072MB |
| Memory pathway | 2 x 384-bit | 2 x 384-bit |
MARS II is a scaled-up version of the GTX 590. The faster frequencies, which are a tad better than a reference GTX 580, and associated voltage-bumps means that a regular GTX 590's cooler cannot cope with the load. This is why ASUS has designed the MARS II from the grounds-up.
Back-of-the-envelope calculations indicate that, under ideal conditions, MARS II will be some 25 per cent faster than an already-quick GTX 590.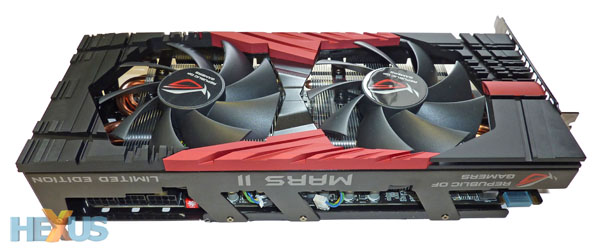 Keeping all that power in check is the job of the oversized heatsink. It's constructed from solid metal rather than the usual plastic. Two 120mm PWM-controlled fans push air over the heatsinks. Having large fans means they don't need to spin as fast to generate a certain airflow, though there remains the problem of a larger deadspot directly underneath.
Fire the MARS II up and the fans spin at 700rpm when the card's idling, rising to 2,000rpm under the harshest in-game load. Core, shader and memory frequencies can be changed by using the bundled GPUTweak software, while the GPU's core voltage is maxed out at 1.063V, up from the 1.0.38V default.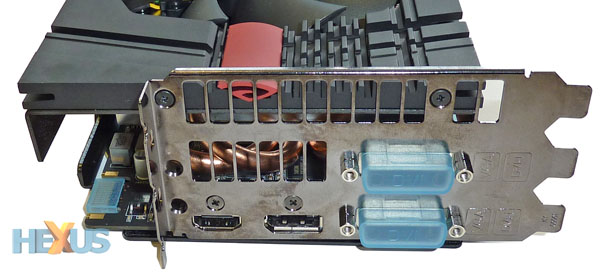 The 60mm-tall card takes up three PCIe slots. We'd normally lambast a manufacturer for doing this, but this is no ordinary card. Aimed at the hardcore enthusiast who should have an open-air setup or large chassis, the card's size isn't a deal-breaker. Indeed, you might say it's one of the attributes.
A couple of dual-DVI ports sit alongside full-size HDMI and DisplayPort. Having two GPUs underneath enables the card to run multi-display 3D Vision Surround.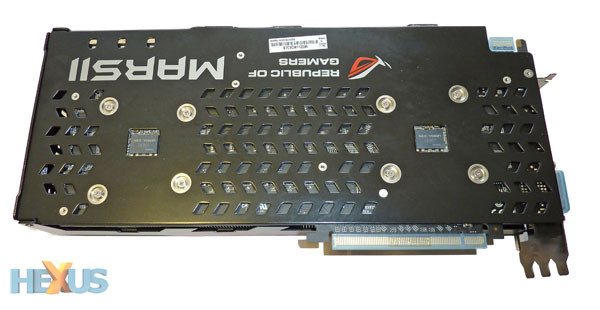 The location of the two GTX 580 cores is shown on the back, along with a couple of film capacitors from NEC. The goodies are on the top, clearly.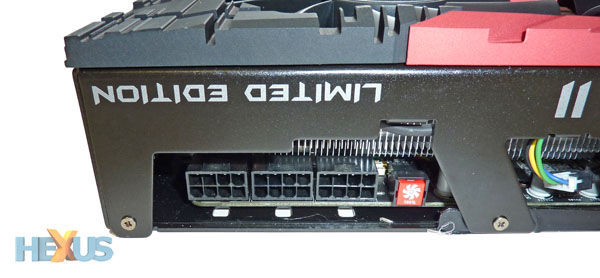 Zooming into one side, MARS II has three 8-pin PCIe connectors, or one more than a GTX 590 or Radeon HD 6990. We know that a single GTX 580 has a board-power rating of 244W, so it's reasonable to assume that two, operating at full-speed, as here, can consume somewhere in the region of 500W - ASUS wouldn't give us a board TDP.
The fans' speed can be overridden by pressing the red button the right, automatically increasing them to a maximum 2,500rpm, which, while loud, isn't overly annoying - making more of a 'whooshing' sound than a high-pitched shriek.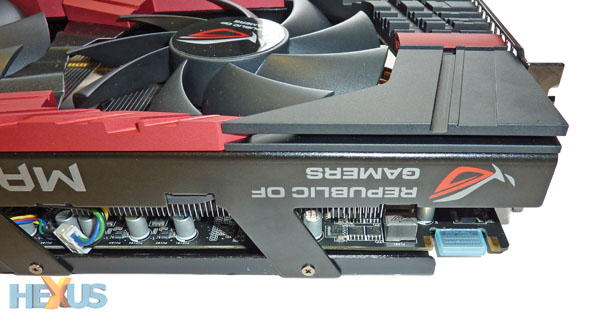 Moving on down to the right shows the SLI finger that can be used to connect another MARS II to the system. We'll refrain from using any further colourful adjectives pertaining to cost, power and performance at this point. ASUS points out that its Rampage III Extreme or Rampage III Extreme Black Edition are configured to handle two MARS II cards in tandem.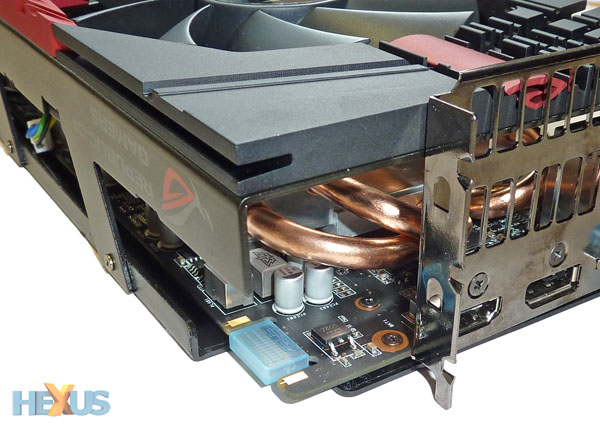 Each GTX 580 GPU has an individual heatsink that's married to four thick heatpipes. Coming from taking good looks at the GTX 590 and Radeon HD 6990, the lack of a fully-enclosed cooler comes as bit of a surprise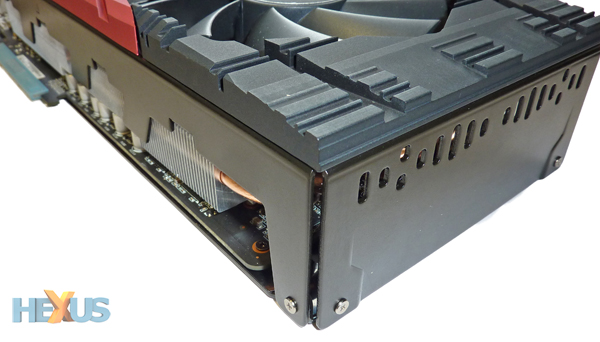 And you can clearly see that heat can escape into the chassis from almost every angle.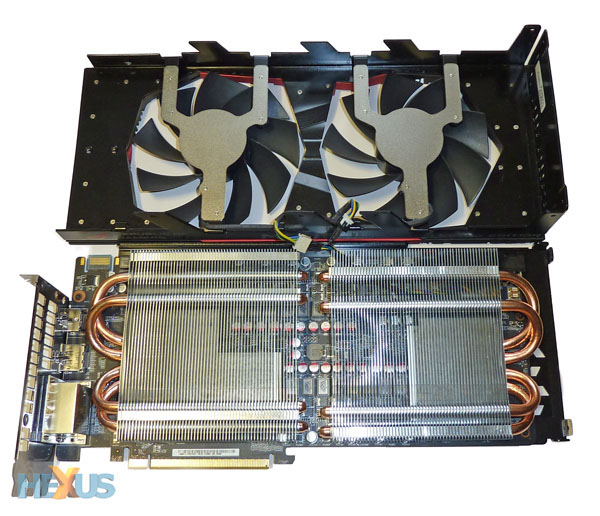 Unscrew the steel cooler, which makes up almost half the weight of the MARS II, and the two heatsinks come into view. Each GPU has access to a GTX 580-matching 1.5GB of GDDR5 memory, totalling 3GB for the card, and it's run at fractionally faster than GTX 580 speeds. They're connected together by a nF200 bridging chip, by the way.
ASUS uses a 21-phase power supply for this monster, and recommends potential purchasers have a 1,000W PSU with 42A on the 12V line.
The ROG MARS II raison d'etre is simple: it's designed to be the world's fastest graphics card. Built like a tank and pairing a couple of GeForce GTX 580 GPUs - with an extra 10MHz core speed thrown in for good measure - ASUS reckons they'll sell for... wait for it, £1,149, including VAT. Pricing is ludicrous, clearly, but that has never particularly bothered ASUS' extreme engineers.