Introduction
NVIDIA's GeForce GTX 580 remains the fastest single-GPU graphics card on the planet, but what makes the seven-month-old design particularly interesting is that AIB partners have been granted free reign to tweak the product to their heart's content.
Browse your local store shelves today, and you might be challenged in locating a card based on NVIDIA's rather-good reference design. Instead, what you'll find is a smorgasbord of manufacturer-specific variations touting everything from improved cooling to quieter operation, more memory and greater performance.
So how do you choose between them? We've already taken a close look at a heavily-overclocked model - the Gigabyte GTX 580 Super Overclock - and though we found the card to be better than reference in practically every way, we did lament the fact that it sports only 1.5GB of memory. That amount is in keeping with NVIDIA's reference specification, but with various partners now touting double that amount, cards such as the Super Overclock are at risk of being overshadowed - after all, isn't more always better?
To find out, we're putting Inno3D's 3GB GeForce GTX 580 HAWK Edition under the microscope.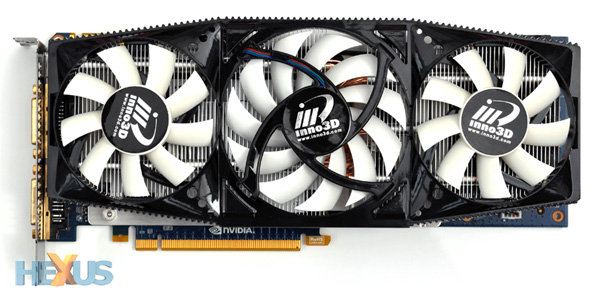 Introduced as a custom-cooled derivative of the GeForce GTX 580, Inno3D's £400 card pairs NVIDIA's fastest single GPU with a hefty 3GB frame buffer via a standard 384-bit bus.
The doubling up of memory is more than enough ammunition for the marketing department, but the remainder of the HAWK Edition's spec sheet is surprisingly mild. Despite the extravagant cooler - which we'll cover shortly - Inno3D's card isn't pre-overclocked and is instead shipped to run at NVIDIA's default speeds of 772MHz for the core, 1,544MHz for the 512 shader processors and an effective 4,008MHz on memory.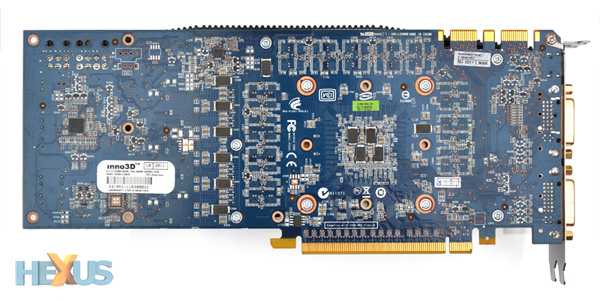 The HAWK Edition card adopts the same PCB layout as NVIDIA's reference board - albeit in a nice shade of blue - and a pair of SLI fingers are included for users eyeing up extreme multi-GPU configurations. Remember, you'll need a minimum of two cards to power a three-screen 3D Vision Surround setup.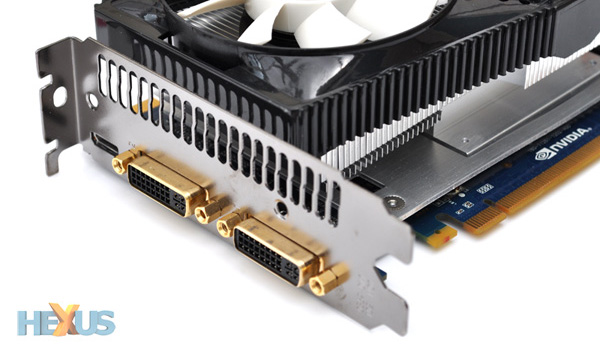 In keeping with a standard GTX 580, Inno3D's choice of outputs include a pair of dual-link DVI connectors and mini-HDMI 1.4a, while power is sourced from a combination of six- and eight-pin PCIe connectors.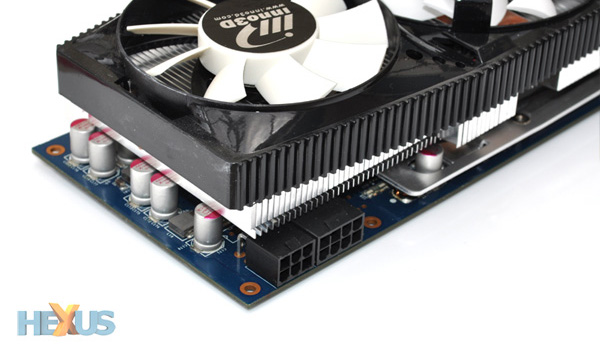 Par for the course thus far, but Inno3D's card visibly sets itself apart with a gargantuan triple-fan cooler. The meaty-looking thermal solution extends the card's overall thickness to roughly 60mm - that's the best part of three expansion slots - and you'll need a motherboard with well-spaced PCIe lanes to accommodate two or more cards running in unison.
It's far from being the prettiest of coolers, but what it lacks in tact it more than makes up for in cooling capability.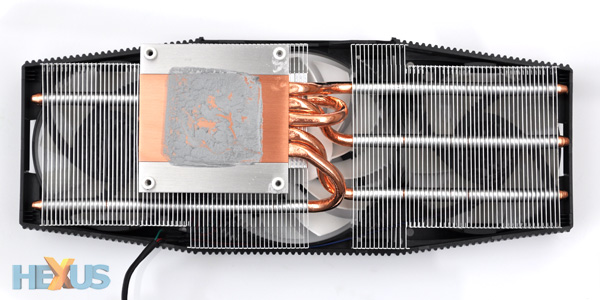 Underneath the three PWM-controlled fans (90mm, 80mm and 80mm) you'll find a thick slab of aluminium fins designed to draw heat away from the GPU.
Infused with five copper heatpipes, the giant heatsink encompasses the entire length of the PCB and sits neatly above an aluminium plate that draws heat away the card's other vital components.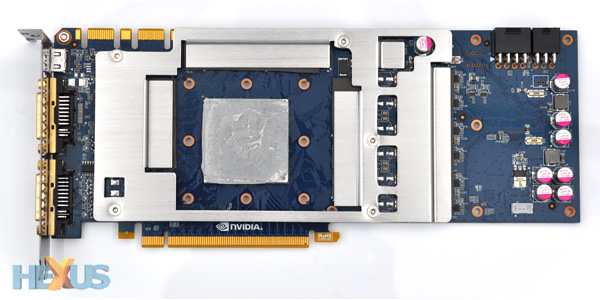 Cooling performance should be excellent - and we'll examine the card's thermal credentials later in the review - but the question we really want answered is this; will the 3GB frame buffer offer a significant boost in performance?
To get the answers, we're comparing the 3GB Inno3D GTX 580 HAWK Edition (£400) with a standard 1.5GB GTX 580 from ASUS (£390) and a heavily-overclocked 1.5GB GTX 580 SOC from Gigabyte (£420).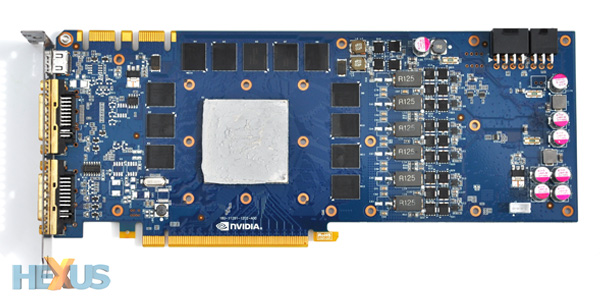 Are those higher-density memory chips worth the additional outlay? Let's find out.