KFA2 GeForce GTX 460 WHDI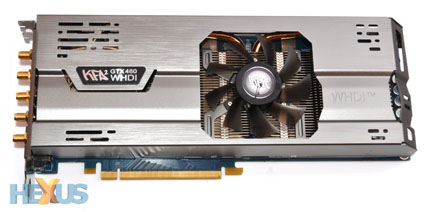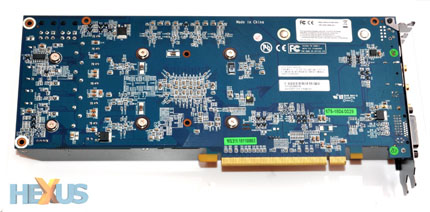 In order to integrate WHDI technology onto a GeForce GTX 460, KFA2 has lengthened its PCB to almost 27cm. That's roughly 6cm longer than NVIDIA's reference design, and the card dimensions aren't going to bode well in a compact chassis.
What's more of a concern, however, is price. While regular 1GB GeForce GTX 460 graphics cards are available at around the £120 mark, KFA's WHDI derivative fetches a whopping £345. That's a helluva premium, and it limits the card's appeal to only those who don't have the option of running cables or moving equipment. Let's face it, you've got to really need a wireless solution in order to shell out the extra 188 per cent.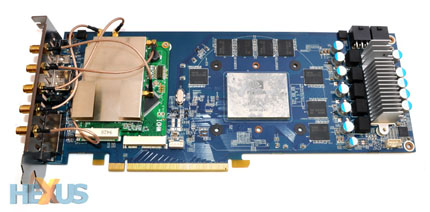 So what are you actually getting for the additional outlay? Well, under the silver shroud, KFA's elongated PCB houses an AMIMON transmitter chip alongside an NVIDIA GTX 460 GPU armed with 336 processor cores and a full 1GB GDDR5 frame buffer.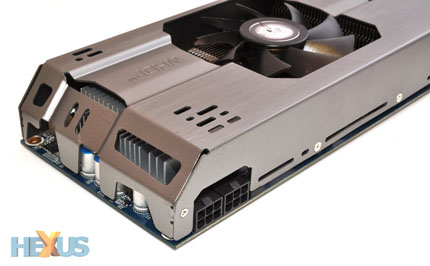 Sticking to NVIDIA's default specifications, KFA's card is shipped to run with frequencies of 675MHz, 1,350MHz and 3,600MHz for GPU, cores and memory, respectively, and power requirements haven't changed either, with this version of the GTX 460 continuing to rely on two six-pin PCIe connectors.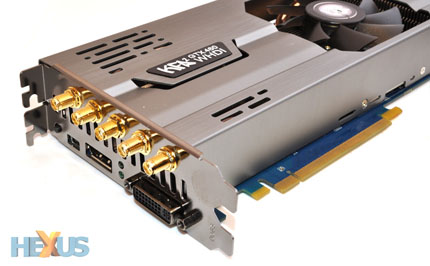 A basic 75mm fan sat atop an aluminium heatsink with two copper heatpipes makes up the card's cooling solution, but there's nothing basic about the outputs. Serving up something entirely unique, the WHDI card offers wired HDMI and DVI outputs, as well as five connectors for the bundled antennas.
Two small LEDs indicate network activity, and there's also an important mini-USB port thrown into the mix. Connect it to any one of your motherboard's USB sockets and it enables the use of a USB input device via the remote receiver.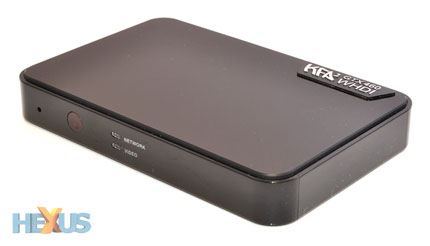 Bundled and pre-paired with the graphics card, KFA's receiver is compact and light, measuring 95mm x 148mm x 22mm and weighing just 161g. The glossy-black finish is highly-susceptible to fingerprint marks, but it's small enough to go unnoticed and there's a neat vertical dock included in the box, too.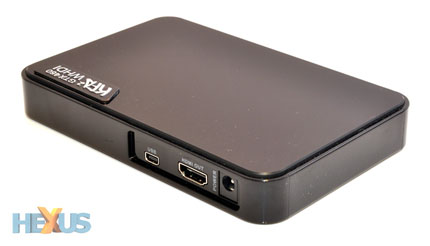 Keeping it simple, the rear of the receiver houses a power connector for the bundled mains adapter, a HDCP-compliant HDMI 1.3 output and a mini-USB jack.
It's a tidy implementation of WHDI technology on a graphics card, but it isn't quite perfect. By opting for HDMI 1.3 connectivity - as opposed to the newer HDMI 1.4a standard - the KFA2 card can't wirelessly transmit stereoscopic 3D content, and there's no SLI connectivity, either, ruling out the option of doubling-up performance.
More importantly, there are some major issues with the receiver's mini-USB port. At the time of writing, the software drivers required to enable the USB signal to be transmitted wirelessly to the WHDI graphics card are only available for 32-bit operating systems. That's a pretty major oversight, and the fact that this graphics card was first announced three months ago suggests that 64-bit users are being left out in the cold.
There's also only a single mini-USB port available, so those wanting to connect both a keyboard and a mouse will have to rely on a separate USB hub to make it happen. Making matters worse, the USB port works with all wired keyboard and mice but has only been tested to function with a few wireless solutions from Logitech, and it doesn't support hot-plugging - meaning a system restart each time you connect a new peripheral. Not particularly user friendly, especially if your PC happens to be on the other side of the house.
The current firmware is labeled a beta, and that goes someway toward explaining the hit-and-miss functionality, but the actual implementation of the USB port is an excellent idea (what use is remote audio and video if you can't control it?). We just hope it's built upon, as 64-bit support can't come soon enough.