Reference, so we'll do something different
Feeling flush? Fancy owning the fastest graphics card in the world? Well, let's point you in the direction of the AMD Radeon HD 6990 4GB. This dual-GPU monster sits bemused if you run games at a 1,680x1,050 resolution. Heck, it spends time waiting for an Intel Core i7 980X - that's the second-best consumer CPU available right now - to spit out the basic triangles needed to feed the card's 3,072 shaders and 5TFLOPS-plus of compute power. Yes, sir, it's a fast beast alright.
So how do we tackle such a monster when it scoffs at running games on a 30in, 2,560x1,600-pixel monitor? The rather easy answer is to chuck even more pixels in its direction, made possible by using a three-screen setup and AMD's Eyefinity software.
Sapphire Radeon HD 6990 4GB
But before we spill the beans on just how it performs when used with a trio of super-thin-bezel Samsung monitors, let's take a quick peek at the Sapphire card.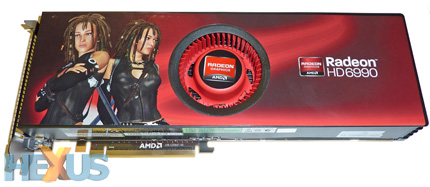 AMD has done all the hard work in constructing a PCB and cooling solution that can tame 450W of power running through the board. Sapphire doesn't bother with a custom version; this one's towing the reference line.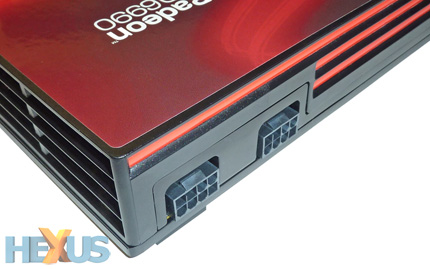 And that means two 8-pin power connectors that suck the 12V life out of most mid-range PSUs. Sapphire recommends a 700W PSU as a minimum when running one card, though something with a little more spare capacity would be wise.

Remember how the reference card has a BIOS switch that toggles between the standard (830MHz/5,000MHz, 1.12V) and OC (880MHz/5,000MHz, 1.175V) clocks and voltages? Sapphire has yet to decide whether to warranty any HD 6990s that fail due to the increased power demands of the OC setting. In an effort to educate the user to the pitfalls of running in OC mode, there's a yellow sticker that directs you to AMD's page detailing the potential issues that can befall an 'out-of-spec' card.
It appears as if AMD is not prepared to warranty cards damaged when running at the higher speeds, which is silly given that the option is present on the board. The yellow sticker is supposed to be a deterrent against toggling to the higher speed, though we removed and re-attached it without obvious indications of tampering. Leaving partners somewhat in the lurch, this isn't AMD's finest marketing hour, especially as other partners have already been on record and stated that they will warranty all cards. Sapphire is sure to follow suit, we believe. In fact, it has to.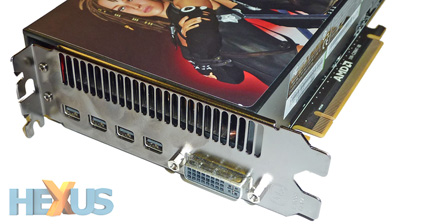 On to more mundane matters, the rear gives a glimpse of the five native outputs on the board; we'll talk more about them in the section below.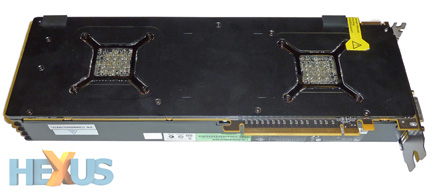 And it's as reference as reference can be on the back. Sapphire throws in a trio of miniDP adapters - to SL DVI (passive and active) and HDMI (passive) - to get you up and running with three mixed-input monitors.
Costing some £530 it had better be good, right?
Samsung super-thin monitors - MD230X3
AMD's Eyefinity technology seems great in theory, particularly on the Radeon HD 6990, which is plumbed out with four mini-DisplayPort connections and a solitary dual-link DVI port. This means a single card can drive five monitors without bother. 24in, 1080p screens, equipped with DVI, can be purchased for £150, while miniDP models weigh in from £200. In fact, purchasing three screens can represent a smaller outlay than the card itself.
But the intrinsic problem in putting monitors side-by-side is the annoyance caused by thick-ish bezels, twice over when two are sat next to each other. There's nothing quite as off-putting as having an inch-wide gap between screens. Help is at hand if budget is plentiful, mind, as Samsung has some super-sexy monitors that go by the humdrum name of MD230X3.
Supplied as a kit comprising of three monitors with waif-like bezels measuring just 7mm each, Samsung also throws in a stand to complete the package. Able to be mounted in portrait or landscape arrangements and representing amongst the thinnest LCD monitors available, they're a good fit for a super-deluxe Eyefinity system.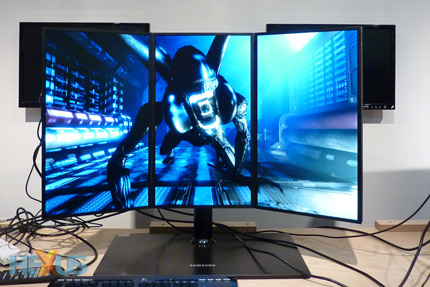 Yup, we confess, it's a messy lab.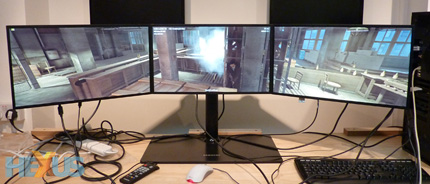 You can have it both ways; portrait or landscape.
Throwing 6.2MP (5,760x1,080 or 3,240x1,920 resolutions) at the Sapphire Radeon HD 6990 4GB should give it cause to blink, particularly when tasked with gaming at high/ultra-high-quality settings.
Forgetting conjecture and back to matters in hand, we hooked up the trio of svelte screens by using DVI and two mini-DisplayPort connectors. Let's now examine how well this Sapphire HD 6990 handles three full-HD monitors. Full system specs can be found here, and we take in 2,560x1,600, 3,240x1,920 and 5,760x1,080 resolutions, passing comment on each.