Introduction
The world has become accustomed to seeing unique, innovative products emerge from ASUS's four-year-old Republic of Gamers brand, but every once in a while the Taiwanese manufacturer throws out a humdinger that has gamers the world over frothing at the mouth.
Eleven months ago, the ROG MARS graphics card - a GeForce-based solution that touted the very best of NVIDIA graphics for a mind-boggling £1,000 - would have had the desired effect.
Today, ASUS is continuing the MARS legacy with an equally stupefying successor in the form of the ROG ARES.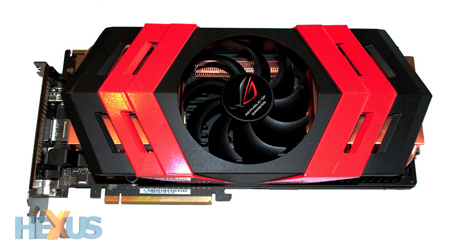 Named after the Greek God of war, ROG ARES showcases the cutting edge of AMD ATI graphics and will fetch an estimated £1,200 at retail when it launches in limited quantities.
Putting two full-fat HD 5870 GPUs on a custom PCB ala Sapphire's Radeon HD 5970 TOXIC, ARES becomes something of a Radeon HD 5870 X2 with a gargantuan 4GB frame buffer in tow.
It is in every sense a behemoth, and ASUS is going the extra yard to ensure its "uber-capable" card stands out as the ultimate graphics solution.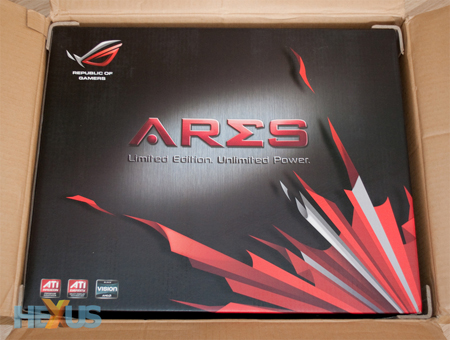 On arrival, you'll want to be certain that your hard-earned has been well spent, and ASUS's packaging is certainly reassuring. Measuring a mammoth 550mm x 445mm x 200mm, the ROG-branded retail box implies that this is no ordinary graphics card.
That sensation is further amplified by the weighty briefcase found within.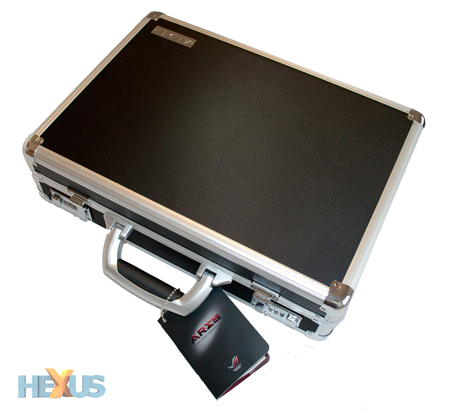 If there's a better way to house an extreme graphics card, we've yet to see it.
ASUS set out to create "a unique look and feel" that emphasis a hardcore experience right out of the box, and GPUs generally don't come more ostentatious than this.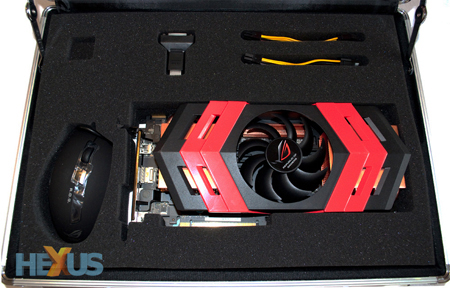 Inside the over-the-top-but-entirely-necessary packaging rests the card itself, along with a token ROG GX800 gaming mouse, a HDMI to DVI adaptor and a couple of PCIe power cables.
Does the card look just a tad familiar? It should, as ASUS's design is inspired by its first-ever dual-GPU graphics card; the 2005 EN7800GT.