Introduction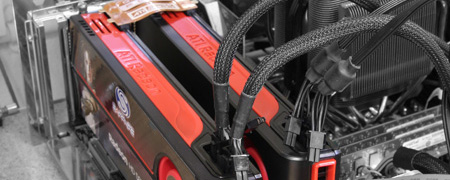 In case you missed it, AMD kicked off a generation of DirectX 11 graphics cards this morning with the introduction of its Radeon HD 5000 series - starting with two high-end products, the Radeon HD 5870 and Radeon HD 5850.
HEXUS has already given AMD's range-topping Radeon HD 5870 a thorough evaluation, but for those wanting more, we've got a little something extra in the form of CrossFireX benchmarks. Thanks to an extra sample from the kind folks at Sapphire, we've put a duo of Radeon HD 5870s through our test platform, churning out numbers that say "read 'em and weep" to last-gen cards.
In-the-know readers will also be aware that AMD is preparing a dual-GPU successor the Radeon HD 5870. Going by the codename of Hemlock, the Radeon HD 5870 X2 will squeeze two RV800 GPUs into a single package when it arrives later this year, creating a somewhat inelegant monstrosity that should, in theory, eat benchmarks for breakfast.
Putting a pair of Radeon HD 5870s side-by-side in a CrossFireX configuration should give us an indication of what the Radeon HD 5870 X2 will be capable of. Let's take a look, and let's see if such a card could dethrone NVIDIA's dual-GPU GeForce GTX 295 as the fastest single graphics card on offer.