Introduction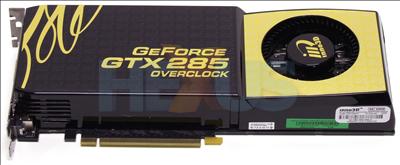 Set against a backdrop of economic uncertainty, NVIDIA continues to plough ahead with new launches in 2009. Last week saw the introduction of the dual-GPU GeForce GTX 295 - ostensibly a hybrid of GTX 280 and GTX 260 GPUs, sandwiched together on to one card.

Yesterday saw another GPU released, the GTX 285, which, arguably, cemented NVIDIA's position as provider, via its partners, of the fastest single-GPU graphics card.

Cutting through the hyperbole, GeForce GTX 285, priced at around £315 for a stock-clocked model, isn't much more than a faster-clocked GTX 280, with the boost in clocks enabled by a move to a smaller, more-efficient manufacturing process.

The lower power-draw has enabled partners to release factory-overclocked models right out of the gate, and Inno3D has been one of the first to take advantage with its, well, OVERCLOCK SKU.

We take a look to see how GTX 285 OC scales and whether it's worth spending the extra cash over a regular card. Read on to find out.