Introduction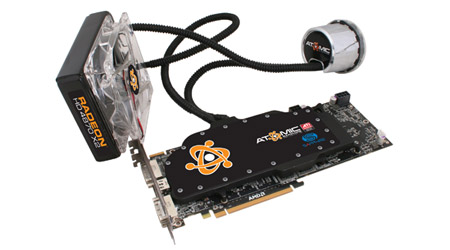 AMD's Radeon HD 4870 X2 has comfortably held the title of world's fastest single-board graphics card since its arrival in August 2008. By squeezing two Radeon HD 4870 1GB GPUs onto a single PCB and hooking them up via internal CrossFire, it dishes out ridiculous amounts of performance that you-know-who just can't seem to match.
Irrespective of the performance lead, however, the Radeon HD 4870 X2 isn't without its faults. The reference card ships with a dual-slot design that's simply enormous, yet, despite the sheer size of the cooler, we found the card gets far too close to 100°C when under load. Hardly suited to your average consumer or the enthusiast looking to put two side-by-side for quad-GPU action, we feel.
What we need, then, is an easy-to-use liquid-cooled single-slot solution, and Sapphire has risen to the task by giving AMD's Radeon HD 4870 X2 its exclusive ATOMIC treatment.
The limited-edition Sapphire Radeon HD 4870 X2 ATOMIC, pictured up top in its closed-loop entirety, claims to be the "fastest ever single-slot liquid cooled card". It'll cool both GPU and CPU simultaneously, whilst promising lower temperatures and reduced system noise, too.
Sounds ideal for the enthusiast who demands the best available performance without generating enough heat to warm a small home. At a suggested price of $699, the card needs to tick all the right boxes so let's see if it does.