Introduction
Late last month, NVIDIA announced revision 180 of the ForceWare driver for its GeForce graphics cards.
Bullish in regards to the driver's new feature set and increased performance, the green team felt the release warranted the moniker of "Big Bang II" - the first bang, if you remember, signalled the arrival of SLI.
Although without new features as significant as SLI, Big Bang II brings its own selection of goodies to the table, including support for multi-display SLI and the option for users to dedicate a specific GPU to PhysX calculations. To find out more about the features themselves, head on over to our previous run-through as today's article will focus on one area alone; performance.
According to NVIDIA, ForceWare 180, a.k.a. GeForce Release 180, a.k.a. Big Bang II, will provide ample performance boosts in a wide range of games when compared to driver release 178.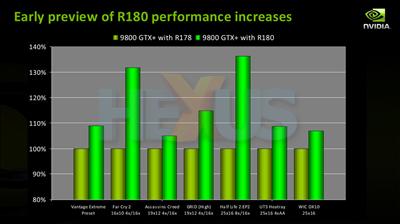 So confident is the green team, that its website tells users to expect a 38 per cent boost in Far Cry 2, a 25 per cent boost in Devil May Cry 4, a 15 per cent boost in Company of Heroes: Opposing Fronts, an 18 per cent boost in Race Driver: GRID and a whopping 80 per cent boost in Lost Planet: Colonies. That's just naming a few purported performance increases, but you get the idea.
What we - and no doubt the consumer - want to know, is are these suggested performance leaps a reality, or a case of extreme optimism? Let's take a look.