The Radeon RX 6700 XT MBA Card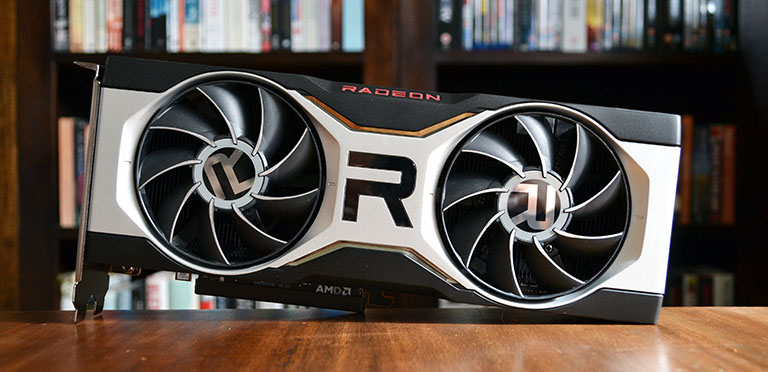 The simplest way to construct the Radeon RX 6700 XT board would have been to use the dual-slot RX 6800 and transplant the GPU and memory over to that PCB. AMD has evidently not done precisely that as the heatsink has changed between generations.
Though measuring the same 267mm (10.5in) long, RX 6700 XT's heatsink is 10mm narrower and consequently sits at the same level as the I/O bracket. The other clear change is with fan configuration, as this model drops to two instead of three, though the spinners are now 88mm instead of 80mm. As is the norm these days, they switch off entirely at low loads.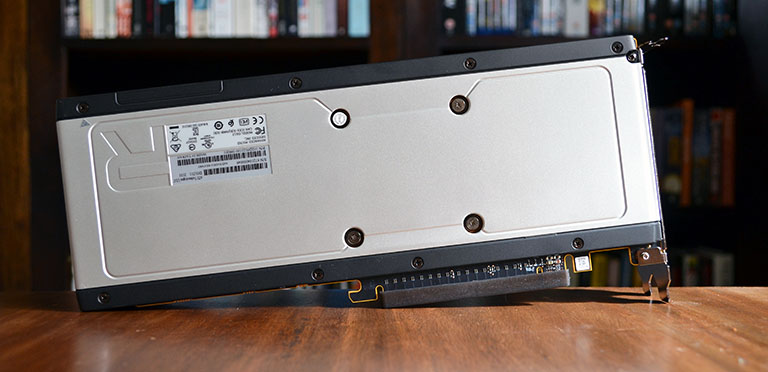 Underneath, AMD uses a 10-layer PCB and nine-phase voltage regulation. RX 6700 XT's heatsink is far less substantial than on its more powerful sibling; this card weighs just 886g compared to the 1,385g heft of the RX 6800 MBA card.
A large portion of that weight is saved by eschewing the full card-wide heatsink and replacing it with a less substantial dual-heatpipe-connected cooling assembly, which raises the question of how much higher the GPU is able to run past its stratospheric 2,581MHz Boost Clock.
One style difference is with the full-coverage rear heatsink which, in our estimation, looks better than the RX 6800 XT braced rear.

Power is sourced through a familiar combination of standard 6+8-pin connectors that are located a bit further in than on RX 6800/XT. AMD recommends a 650W supply for this board.
The AMD logo is backlit in red by default, which is the colour we'd leave it at.
One departure is evident in the I/O department as AMD switches out the USB-C to a third DisplayPort. That's not the issue it could be as few of our readers happened to use that connector present on the RX 6800 Series.