The Sapphire RX 5600 XT Pulse OC
As noted on the previous page, AMD organised a Sapphire Radeon RX 5600 XT Pulse card in for evaluation.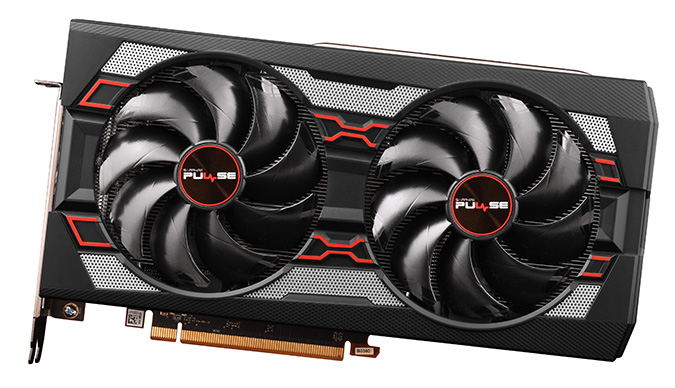 Sapphire is no stranger to producing best-in-class cooling solutions for its range of AMD cards. The RX 5600 XT is no exception. Knowing that the underlying die is Navi 10, which also powers the RX 5700 and XT SKUs, it is entirely sensible that the company reuses existing cooling.
This is why the review card is outfitted with what appears to be the same cooler as present on the RX 5700 Pulse. In a nutshell, that means dimensions of 254mm x 135mm x 47mm - which make it stand proud of the standard I/O bracket - width that's marginally over two slots, and first-class construction throughout.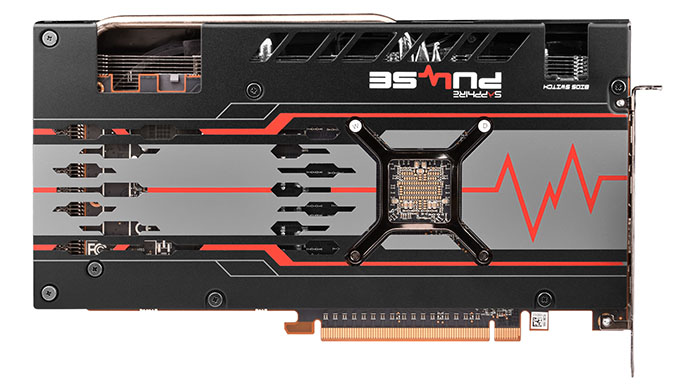 As before, the two 95mm dual-ball-bearing fans switch off at low load for a practically silent experience during everyday computing, and both are easily removable for cleaning and maintenance purposes. A large aluminium heatsink continues to span the entire length of PCB. The whole affair is meaty, too, tipping the scales at 850g, helped by having three heatpipes run across the heatsink. A secondary heatsink attached to the memory and power phases, but the chokes and caps are not cooled in the same way, instead relying on the air generated through the heatsink to keep them at decent temperatures.
There's no RGB here, with Sapphire choosing to illuminate the Pulse model's side logo with red LEDs that, unfortunately, cannot be turned off in software.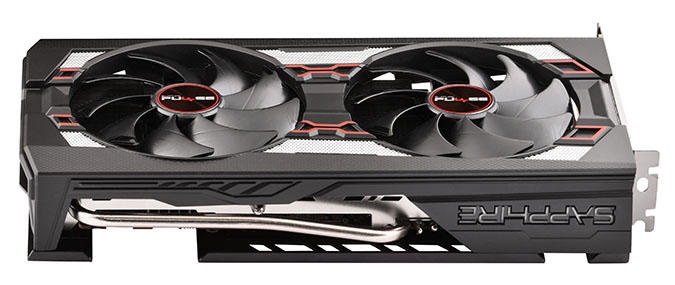 Sensibly, power is sourced from a single 8-pin connector, outputs include a single HDMI and three DisplayPort, and the card is outfitted with a dual BIOSes. The default mode enables the (new) factory overclock, at a 160W TGP, and the secondary, silent BIOS drops speeds to 1,620MHz boost, 12Gbps memory, alongside a more restrained 135W TGP.
In keeping with other recent Pulse Series, the RX 5600 XT is also eligible for the three-month Xbox Game Pass for PC promotion.
Cutting to the chase, Sapphire is retailing this card for £269.99, which is reasonable, especially as it is overclocked on both core and memory.
Sapphire has a new-and-improved TriXX software utility that is worth a mention. The Boost function uses a combination of resolution upscaling and Radeon Image Sharpening to increase performance by as much as 20 per cent. There is, of course, a trade-off in terms of image quality, but it is nonetheless a handy to tool to have, and a key point of differentiation between Sapphire and other partners. You can read more about TriXX Boost in our prior analysis.
Last but not least, Sapphire has informed us that only a small number of cards have made it through into the channel, mainly in China, equipped with the original BIOS that needs to be flashed in order to achieve the enhanced 1,750MHz boost and 14Gbps memory, as tested here.
For those that do receive such a card - usually enthusiasts who pre-order as soon as the listing goes live - Sapphire is making available the relevant BIOS on its website, alongside how-to-flash instructions and a video tutorial. There's not much more Sapphire can do given AMD's change of strategy late in the day.