Board appearance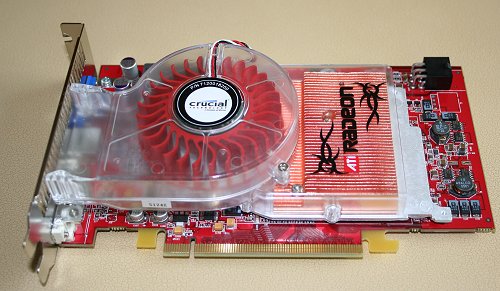 Reference card strikes again! Take away the Crucial sticker on top of the heatsink and a second sticker on the PCB and this could be any one of a number of ATI Radeon X850 XT PCIe cards. Crucial, sadly, has not deviated from the reference design one jot. Take, for example, GeCube's UniWise X850 XT card that we reviewed a short while back. Its custom cooler not only made it one of the quietest R480-based cards on the market, the use of single-slot cooling opened up the form factors in which it could be used. We expect that kind of innovation from the likes of Crucial, yet appearance, and dare we say performance, will be strictly reference. A shame, really, as cooling is one area in which a card partner can distinguish itself in.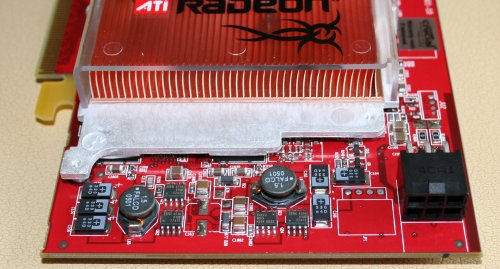 A look at the front shows the now-usual 6-pin PCI-Express power connector on the right. In terms of cooling, X850 XT reference cards use a copper heatsink with an off-centre, enclosed GPU fan that pulls away the hot air that's absorbed by the heatsink and exhausts it out of the back. The fan's size forces Crucial, amongst others, to use a double-height card. X850 XT PCBs are smaller than their NVIDIA equivalents, so setting up in small cases isn't an area of concern. The reference fan is a touch louder than we would like, although you'd only really notice it in a quiet system.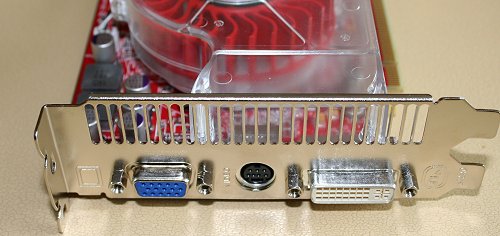 Dual-DVI outputs are usually reserved for X850 XT PE cards. Crucial's 'XT makes do with HD15, S-Video (TV-Out only, we're afraid), and DVI-I. 'PE versions are usually clocked in at 540MHz core and 1180MHz RAM. Crucial's 'XT model runs modestly lower at 520MHz core and 1080MHz RAM.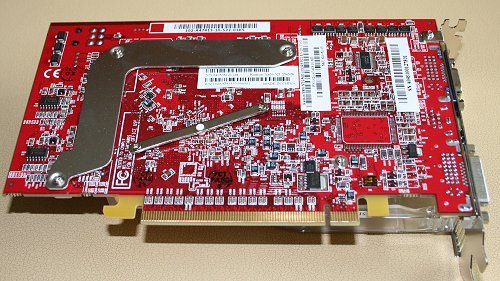 You can immediately tell where ATI's Rage VIVO ASIC, if implemented, would be located. The left-hand brace hides 1.6ns-rated Samsung memory chips. There's some TIM in between the two, thankfully.

The lack of commentary on the appearance is purely down to Crucial's decision to use a reference-based design. That's nothing new, as the majority, if not all, Crucial ATI-based cards have stuck to the reference letter.