Introduction
There's a war brewing in what the industry has classed as the new mid-to-high-end graphics segment. In the space of a week, consumers looking to spend between £300 and £500 on a graphics card have been presented a quartet of new options to choose from; Nvidia's GeForce RTX 2060 Super and 2070 Super, as well as AMD's Radeon RX 5700 XT and RX 5700.
All four have shown promise, but the two competitors are a long way apart when it comes to the breadth of custom-cooled partner cards being made available in a timely fashion. Nvidia's roster is vast, with an entire slew of partner models coming to retail just seven days after launch, but AMD's custom offerings aren't thought to be arriving in meaningful quantities until August at the earliest.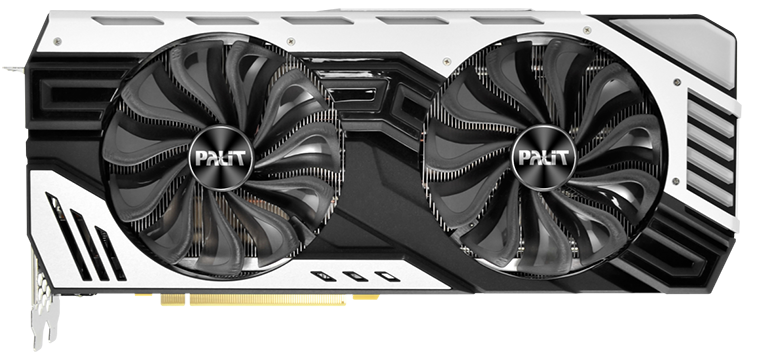 Advantage Nvidia, you would think, and it's a somewhat ironic state of affairs, as the quality of team green's Founders Edition is such that there's no real urgency for custom alternatives. In fact, you could argue that Nvidia's partners have been put in an awkward spot by being made to compete with a well-engineered reference board that is first to retail. It is AMD's relatively basic reference designs that are crying out for someone to come along and strap-on bigger and better coolers.
The availability, quality and pricing of these custom cards may well be where the battle is won, and we're expecting to be flooded with review samples in the weeks ahead. First through the post box is Palit's GeForce RTX 2070 Super JS. Palit's marketing department must have suffered a collective heart attack when Nvidia announced its plans to label its latest RTX graphics cards as Super, as the Taiwanese firm already has an RTX 2070 Super JetStream in its arsenal, and a Super Super JetStream just sounds all wrong. It's a confusing roster, but just know that the Super JS is the newer, more powerful card.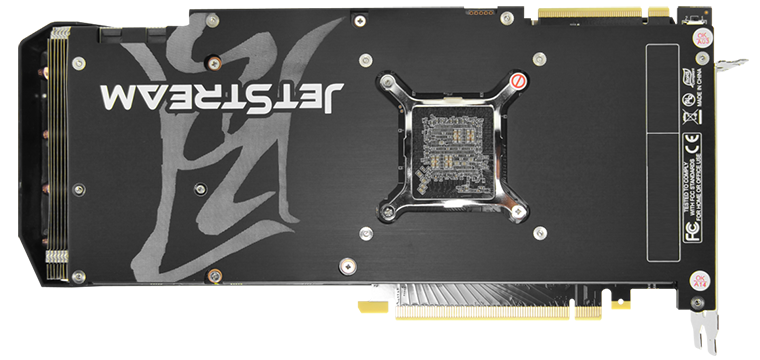 Pricing has been kept under wraps right up until launch, but Palit has traditionally proven competitive so we expect the Super JS to come in reasonably close to Nvidia's £475 Super Founders Edition. Landing the wrong side of £500 would be unfortunate, despite the inclusion of a meatier dual-fan cooler. As expected, Palit has simply repurposed its existing 2070 Super JetStream cooler, giving the Super JS a familiar look and feel; it still measures a hair under 300mm in length and tips the scales at a hefty 1.3kg. It also happens to be noticeably taller the PCIe bracket, and spills liberally into the third expansion slot. It's a monster alright.
Given the size of the full-length heatsink, the dual 95mm fans, five heatpipes and aluminium backplate, you expect a factory overclock of some sort. Palit obliges by raising boost clock from 1,770MHz to 1,815MHz, while the 8GB GDDR6 frame buffer hums along at a reference 14Gbps. Power is sourced from an eight-plus-eight configuration across the card's top edge, and with the RTX 2070 Super being so closely related to the RTX 2080, there's also an NV Link connector for those few who still wish to dabble with a multi-GPU configuration.

A factory overclock on memory might have been nice, but other than that the Super JS specification is in line with our expectations of a custom partner card. What's useful is that Palit includes a Dual BIOS configuration as standard. The first BIOS (default) sets the 1,815MHz overclock, and for anyone who prefers a near-silent PC, the second BIOS reduces speeds to reference levels while enabling a 0dB fan mode, whereby the fan switches off at low load (<60ºC).
The downside to Palit's Super JS, in our estimation, is that it isn't the prettiest of cards. Whether or not graphics card aesthetics should be of any concern at all is another argument entirely, but if you are hoping to showcase your board in a windowed chassis, the Palit card has a plasticky vibe about it, and the gaudy RGB lighting across the top and side doesn't help matters. This is where Nvidia's Founders Edition has left partners in a quandary; Super JS's toy-like appearance inevitably isn't anywhere near as elegant as the dual-slot, mirror-finish reference design.

Around back, we're surprised to find that Palit has dropped the USB-C port in favour of the standard quartet of traditional outputs; HDMI 2.0b and a trio of DisplayPort 1.4a. This seems to be a developing theme on partner cards, giving the Founders Edition another potential advantage.
Elsewhere, there's also some competition with regards to the game bundle. For a limited time, Nvidia is offering Wolfenstein: Youngblood with the purchase of any qualifying GeForce RTX graphics card. Said title supports real-time ray tracing, making it an ideal companion for the RTX 2070 Super, but is AMD's offer of a three-month Xbox Game Pass with the Radeon RX 5700 XT a better deal? Depends on what you like to play, but here's hoping that increased competition will make bundled games a more frequent occurrence.