The New Radeons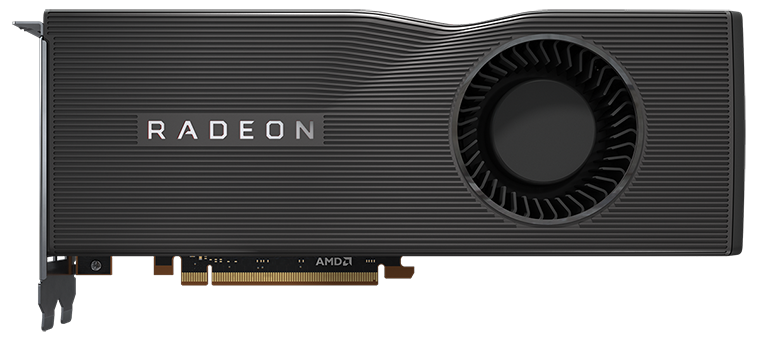 Here it is, the Radeon RX 5700 XT in the flesh, and no, we didn't accidentally drop it. What looks like a dent in the top of the shroud is actually supposed to be an aesthetic enhancement. AMD calls it the 'power contour,' but in truth, it's a strange addition to a blower-style cooler that's long overdue a refresh.
We had hoped to see AMD attempt to challenge Nvidia's Founders Edition in terms of design and cooling, but no such luck. Not that the RX 5700 XT is a bad-looking card, mind. Aside from the dent, which we deem dreadful, the matte-grey colour scheme comes across as modern and sophisticated, and the backlit Radeon badge across the top adds just the right amount of sparkle.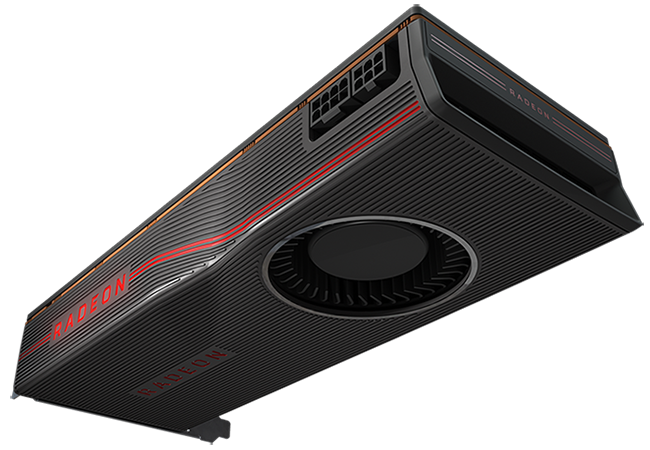 Measuring 10.5in from head to toe, AMD's reference board is practically the same length as Nvidia's rival RTX Super, and conforms to a typical dual-slot form factor. The aluminium shroud and backplate encase the underlying PCB nicely, but despite the use of a vapour chamber, seven-phase VRM and graphite-based thermal interface material, we have reservations concerning the cooling capabilities of the blower-style cooler. A similar design proved to be hot and bothered for previous-generation Vega, and it's a shame AMD hasn't been more adventurous this time around. A dual-fan cooler would have been nice to see.
The reference board is what it is, but what's more of a concern is that AMD hasn't managed to get a meaningful quantity of silicon to its partners in time for launch. The situation could change in the coming weeks, but the latest info from our sources is that custom-cooled partner boards aren't likely to be available in good numbers until nearer the end of August, at the earliest. An uninspired reference board and zero partner cards is hardly ideal on day one, and this is something AMD needs to address sooner rather than later.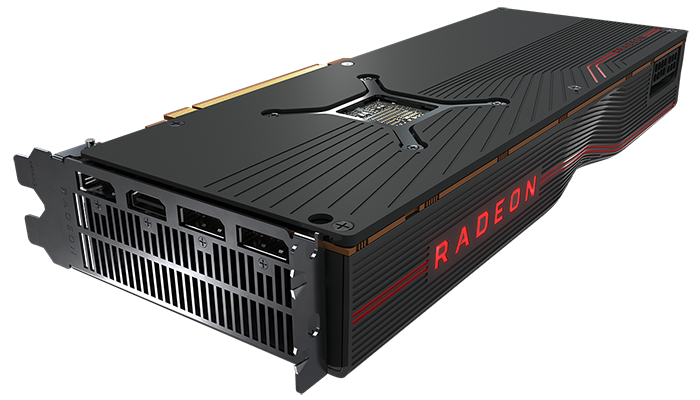 In the input/output department, power is sourced by a six-plus-eight configuration at the far end of the top side, and around back, on the silver I/O plate, is the usual assortment of three DisplayPort 1.4 and one HDMI 2.0b. There's no love for USB Type-C, though given that the architecture can support VirtualLink, we wonder if partner cards will consider such a feature when custom PCBs come to the fore.
AMD hasn't yet felt the need to migrate to HDMI 2.1 - FreeSync support negates any urgent need for the newer HDMI standard's Variable Refresh Rate (VRR) technology - however the Navi cards do support DisplayPort 1.4 Display Stream Compression. Used to compress the data being sent to the monitor, DSC will help enable support with high-resolution panels running at higher refresh rates, i.e. 4K at 144Hz.
All the essentials are present, however we can't escape the feeling that AMD might have done more for its Navi debut, and that's certainly the impression left by the second-rung RX 5700, which looks decidedly more plain, with no illuminated Radeon branding, and no backplate, either. This is one area in which Nvidia's Founders Edition coolers have raised the bar, and there's no two ways about, as far as first impressions go, the RX 5700 doesn't look or feel like a $349 product.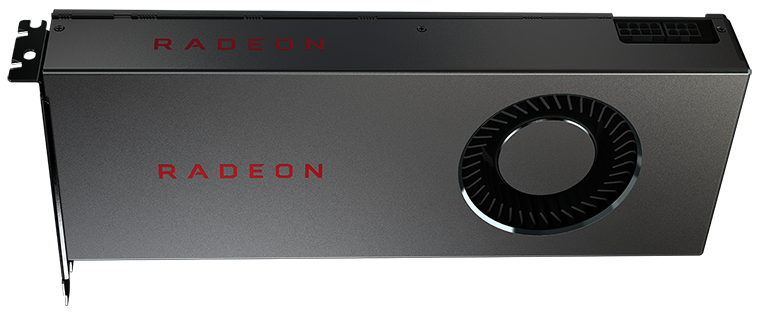 Can a bundle help enhance the overall appeal of the RX 5700 Series? Perhaps. At launch, both the RX 5700 XT and RX 5700 will be eligible for a decent selection of games via a three-month subscription to Xbox Game Pass for PC. The growing list of eligible games includes the likes of Football Manager 2019, Metro Exodus, Forza Horizon 4 and the excellent Hollow Knight, and though you don't get to keep any games after the pass expires, we suspect it's only a matter of time before subscriptions such as this become the norm for graphics bundles.
What's important to remember is that RX 5700 XT and RX 5700 aren't intended to be ultra-high-end enthusiast parts. These are, for all intents and purposes, direct replacements for the outgoing RX Vega 64 and RX Vega 56. Forward-looking features such as hardware-accelerated ray tracing are thought to be in AMD's plans for RDNA 2, but for these first-generation Navi products, it's very much a case of increased efficiency, improved performance and lower power consumption at lower price points. Let's now see if the cards deliver.