Introduction
Nvidia's GeForce GTX 1650 heralds the new Turing architecture in its most price-conscious form. Cards based on this TU117 die retail from $148 (£138), which is some way below the $219 (£199) asking fee for the next level up, the GTX 1660. But as our benchmarks have already shown, performance, at this price point, is middling at FHD and mediocre at QHD. The main reasons are a combination of savage architecture cuts and the presence of the older, price-comparable Radeon RX 570 GPU that's plain faster.
But still, GTX 1650 has merit for those that want an energy-efficient GPU able to fit into a wide range of systems. Quoted with a 75W TDP, it can run without additional power cables, so we see it as a small, unobstrusive graphics primed for SFF PCs. This is exactly how MSI views the GPU, especially in Aero form.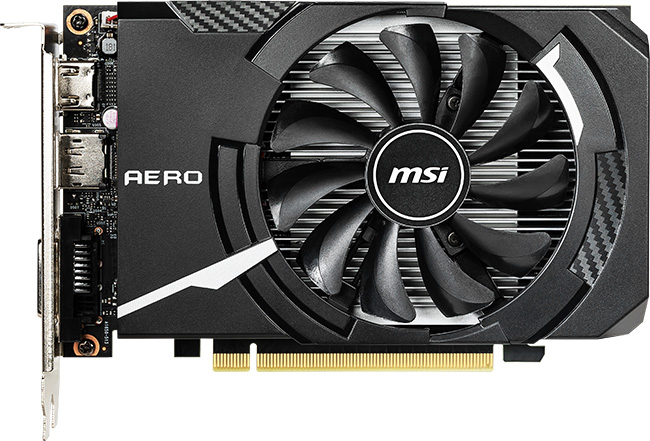 Here's the Aero ITX OC, which fits in below the Ventus and Gaming lines as MSI's most budget-friendly option, currently priced at £150, or £12 above the cheapest GTX 1650 cards. The mini-ITX form factor makes sense for the target market, with the card measuring 170mm x 111mm x 38mm and weighing 375g.
MSI has done Aero ITX before, on the previous-generation GTX 1050 and GTX 1060, so taming a 75W GPU is easy work for established cooling. Though the heatsink shroud is made entirely out of plastic and features mock carbon sections for a racy look, build quality is robust. The central fan remains on at all times, consistent with other GTX 1650s, and there's no lighting for cost-saving purposes.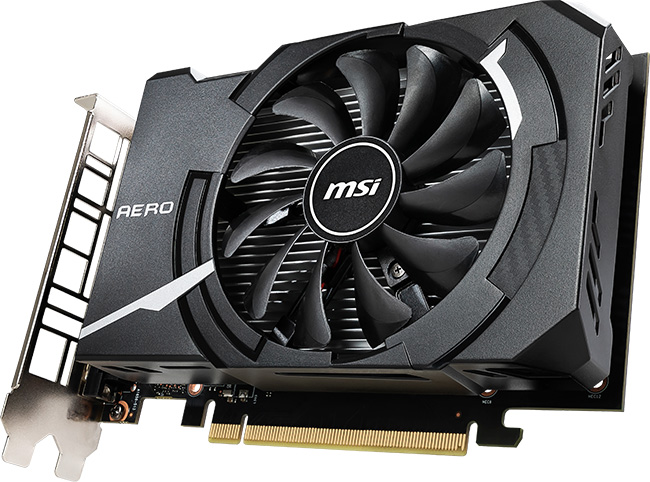 The OC portion of the name is reference to MSI increasing the core boost clock from 1,685MHz to 1,740MHz. What's more surprising is that our sample actually runs at a stable 1,940MHz across the benchmarks, which is faster than the chunkier EVGA. Memory speed, meanwhile, is a stock 8Gbps.
Going mini-ITX usually precludes an external power plug, and we are glad to see that the Aero relies on the juice provided by the PCIe bracket alone. This is GTX 1650 done right, because there is no need for larger cards. Again, keeping costs in check, there's no backplate or any superfluous styling. We can imagine it fitting into £600 small-form-factor base units from a number of SIs.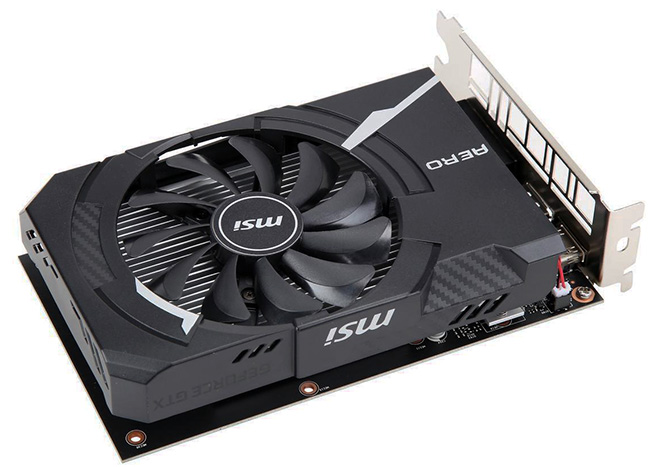 Pulling off the heatsink shows that MSI does a good job with the cooling, with thermal tape between the aluminium heatsink and 4GB of GDDR5 memory. It's also sensible to cool the hotter-running components on the left-hand side, though such an approach means that it's effectively heatsink upon heatsink. MSI needs this additional cooling because the single fan's airflow, mostly blocked by the heatsink, doesn't easily reach the PCB.
Outputs continue the sensible theme; the card is stocked with dual-link DVI, HDMI and DisplayPort. Other than price, which looks to be a semi-permanent sticking point with GTX 1650, MSI's card hits many of the right notes. Let's now benchmark and see if the promise holds true.