The EVGA XC Gaming
EVGA retails six GeForce GTX 1650 GPUs. Going against the grain of Nvidia's thinking, the sextet uses an additional power connector even though TDP is specified as 75W in all cases. Three cards arrive with standard Nvidia speeds of 1,685MHz boost while the other trio has overclocking to various degrees. The XC Gaming (1153-KR) is interesting because it is the shortest but also the thickest.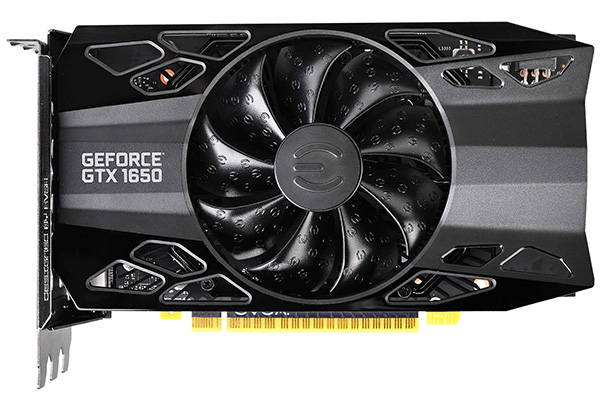 This exact heatsink and design is also used on the 1151-KR model that ships with standard core frequency. That means a card measuring 190mm long, 111mm high, and one that take up, unusually at this end of the market, 2.75 slots. Do we actually have a problem with the three-slot spacing? The answer is no in a regular chassis though users looking to install it into a proper small-form-factor case may need to reassess. The real question is whether it needs to be three slots for a 75W GPU? We don't think so.
The upshot of a lack of card width is a single fan effectively suspended over a thick aluminium heatsink. There's no reason for it to mimic the multi-heatpipe, full-coverage approach of premium models. Instead, it literally is a finned slab of metal on top of a simple PCB.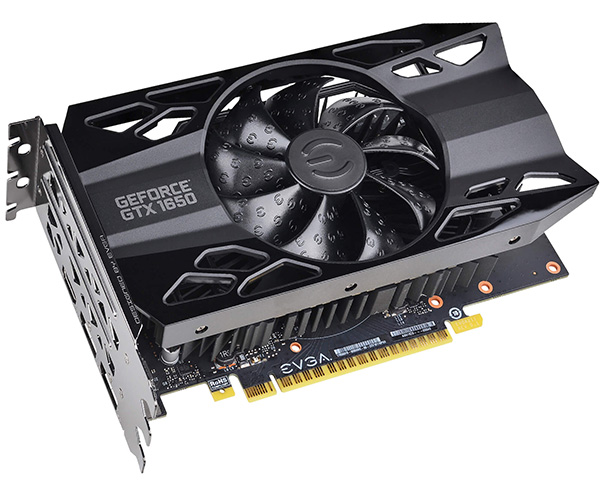 There's no dedicated cooling for the GDDR5 memory or power-regulation components. EVGA relies on the downward airflow produced by the fan to cool any other components, and this is why it remains on at all times, spinning at a minimum 35 per cent even when the GPU is idle.
Understanding the construction of the heatsink makes clear why there's no RGB lighting or any fancy effects. This is cooling the old-school way, where you chuck as much metal at the problem as possible. The good news is that EVGA increases the core speed from 1,665MHz boost to 1,860MHz - a 11.7 per cent hike - and the sample card averaged an impressive 1,920MHz across our titles.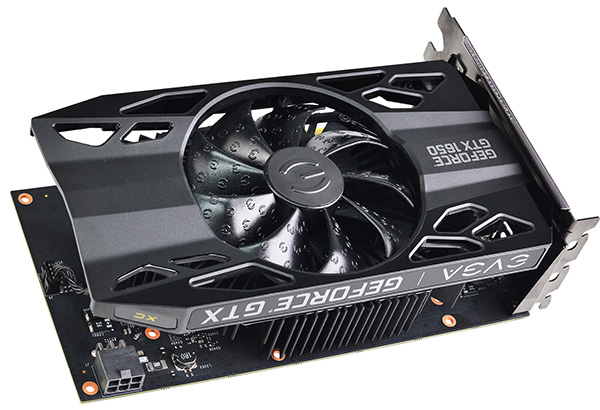 Memory speed is kept at the default 8Gbps, but as you will see later on, overclocks quite well. It's for this additional potential that EVGA adds that six-pin power connector on the left-hand side. Could it have done without? On the stock-clocked model, probably.
Outputs look a bit weird on a card with such a tall I/O section. There's merely dual DisplayPort and a single HDMI. We reckon EVGA would have been better served adding DVI for maximum compatibility to users rocking much older systems and monitors - there's certainly enough space to do so.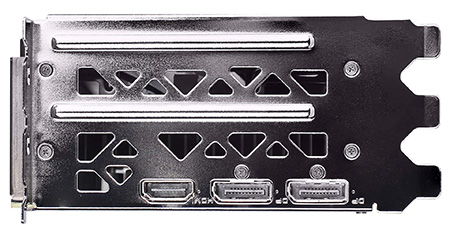 Increasing the core clock and opting for a chunky design inflates the retail cost to £165 or so, putting it directly in the cross hairs of the aforementioned Radeon RX 570 4GB. Right-o, on to the benchmarks.
EVGA backs the card with a standard three-year warranty. At the time of writing, Nvidia is not offering any free games to sweeten the bundle but EVGA has taken it upon itself to bundle GRIP: Combat Racing - a well-reviewed game released late last year. Good on EVGA for doing so.