Introduction
Which OEM makes the very best graphics cards? That's a tough one to call, but we wouldn't hesitate to put MSI in our top three. The manufacturer's Gaming X range is typically well received here at HEXUS HQ, exhibiting attractive traits such as low noise, good cooling and a healthy overclock in one well-built package.
We don't have any real qualms with the firm's existing portfolio, but MSI reckons there's room for improvement based on fan feedback. According to the manufacturer, existing Gaming X products use a red-on-black colour scheme that isn't suited to every build, and though the company has frequently extolled the virtues of its dual-fan cooler, it can no longer ignore the fact that many consumers go by the assumption more is better.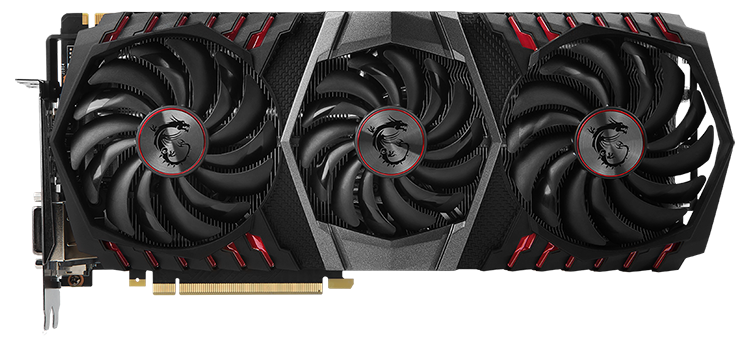 Not wanting to be perceived as lagging behind, MSI has made the inevitable decision to add another triple-fan cooler to its arsenal in the form of the GeForce GTX 1080 Ti Gaming X Trio. Priced at around £770 and designed to slot in between the high-end Gaming X and extreme Lightning Z, the Gaming X Trio borrows elements from both existing cards to combat the likes of the Asus ROG Strix, EVGA FTW3 and Gigabyte Aorus.
First impressions are favourable as MSI doesn't appear to have skimped in creating this substantial piece of kit. The standard Gaming X was no shrinking violet, but Gaming X Trio is even bigger, measuring 325mm in length, 48mm wide, and rising above the standard PCIe bracket to 140mm in height. The card occupies the best part of three slots, yet while it looks and feels impressive, we're surprised MSI has opted to retain red LED highlights on the front side. Though these can be switched off, there's no option to change colour and given that the Trio is designed to suit a wider range of builds, we reckon MSI has missed a trick by not implementing RGB illumination throughout.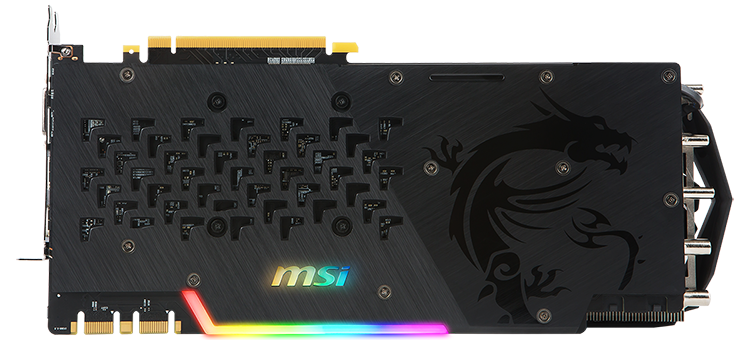 The red elements on the front are a nod to Trio's underlying Gaming X PCB, but the triple-fan cooler is of Lightning Z heritage and is joined by a full-size metal backplate lined with an RGB strip. The various lighting effects do look cool, but it's a shame they can't be fully synchronised with the red LEDs elsewhere, and if we're nitpicking, the RGB bar could be longer - the current implementation covers less than half the full length of the card.
MSI's aesthetic choices are going to divide users - we reckon it's a good-looking card, provided red plays a part in your build - but the key selling point here is the extreme cooler. Peeling away the shroud reveals an expansive array of aluminium fins interspersed by six heatpipes (two of which are supersized) that traverse the nickel-plated copper base plate. A metal cooling plate provides additional cooling for the memory chips, and a trio of favoured Torx 2.0 fans provide the airflow. These turn off when GPU core temperature is below 60ºC, and given that this is effectively a re-purposed Lightning Z cooler, we don't imagine the Gaming X Trio will have any bother taming the GTX 1080 Ti GPU.

Such a monstrous cooler suggests aggressive shipping frequencies, but MSI plays it safe by configuring the card with base and boost clocks of 1,544MHz and 1,658MHz, respectively. That's identical to the dual-fan Gaming X, but shy of some of the similarly priced cards we've reviewed in the past. Furthermore, the 11GB frame buffer is stock clocked, too, operating at an effective 11Gbps.
On the plus side, MSI's decision not to go gung-ho ought to result in ultra-low temperatures and minimal noise output. And if you do wish to implement a higher manual overclock, the presence of dual eight-pin power connectors ought to give decent headroom. A pair of SLI fingers are also available, but do be aware that the grandiose construction results in a weight of nearly 1.5kg. The card does exhibit signs of sag in our test platform, and MSI attempts to combat any potential droop with a bundled metal support bracket that attaches to the PCIe slot directly below the card. In practise, the horizontal support is fiddly and offers limited success - users wanting a better solution ought to consider the optional Graphics Card Bolster.

There's no change in terms of display outputs, with MSI retaining the tried-and-trusted Gaming X formula of dual-link DVI, two DisplayPort 1.4 and a pair of HDMI 2.0.
Choice is abundant when it comes to custom GeForce GTX 1080 Ti graphics cards - the available options really do put AMD's Radeon RX Vega rollout to shame - and MSI's latest offering has merit by offering improved cooling over the existing Gaming X, without the overclocking focus and expense of the full-fat Lightning Z. The £770 price tag might appear jaw-dropping, but it's in line with our expectations of a well-built implementation of Nvidia's fastest 10-series GPU. Let's run some numbers and see how GTX 1080 Ti stacks up in new games and on the latest driver.