Testing methodology
Sapphire Radeon RX 570 Pulse OC 4GB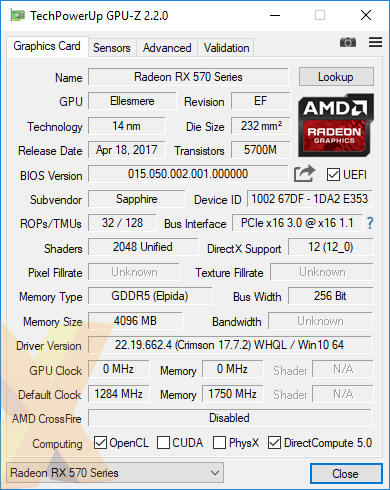 GPU Comparisons

GPU

Memory

Miscellaneous

Cores

Base
(MHz)

Boost
(MHz)

Size
(MB)

Clock
(MHz)

Bus
(bits)

Power Config

Driver

Sapphire Radeon RX 570 Pulse OC
2,048
-
1,284
4,096
7,000
256
8
17.7.2
Palit GeForce GTX 1060 StormX
1,280
1,506
1,708
6,144
8,008
192
6
384.94
Asus GeForce GTX 960 Strix
1,024
1,253
1,317
2,048
7,200
128
6
384.94
HEXUS Graphics Test Bench

Hardware Components
Product Page
Processor
Intel Core i7-6700K (overclocked to 4.4GHz)
intel.com
CPU Cooler
Noctua NH-D15S
noctua.at
Motherboard
Asus Z170 Pro
asus.com
Memory
Crucial Ballistix Sport LT 32GB (2x16GB) DDR4-2400
crucial.com
Power Supply
be quiet! Dark Power Pro 11 850W
bequiet.com
Primary Storage
256GB Samsung 950 Pro
samsung.com
Secondary Storage
512GB SK hynix Canvas SC300
skhynix.com
Chassis
Fractal Design Define R5 Windowed
fractal-design.com
Monitor
Philips Brilliance 4K Ultra HD LED (288P6LJEB/00)
philips.co.uk
Operating system
Windows 10 (64-bit)
microsoft.com
Benchmark Suite

Synthetic Benchmarks
3DMark
Fire Strike, Fire Strike Extreme, Time Spy and Time Spy Stress Test
VRMark
Orange Room and Blue Room
Gaming Benchmarks and Settings
Deus Ex: Mankind Divided
DX12, TAA, Ultra Quality
Doom
Vulkan, TSSAA (8TX), Ultra Quality
Gears of War 4
DX12, TAA, Ultra Quality
Hitman
DX12, FXAA, Ultra Quality
Rise of the Tomb Raider
DX12, SMAA, Very High Quality
Total War: Warhammer
DX12, FXAA, Ultra Quality
General Benchmarks
Power Consumption
To emulate real-world usage scenarios, we record system-wide mains power draw both when idle and while playing Gears of War 4
Temperature
To emulate real-world usage scenarios, we record GPU core temperature both when idle and while playing Gears of War 4
Noise
A PCE-318 meter is used to record noise levels when idle and while playing Gears of War 4
Overclocking
Maintaining out-the-box voltage, we increase the card's power target and aim for an optimal balance of core and memory overclock.
Notes
To minimise the impact of any CPU bottlenecks, our test platform is configured with a quad-core Intel Core i7-6700K processor overclocked to 4.4GHz across all cores and 32GB of Crucial Ballistix Sport LT DDR4 memory set to run at 2,400MHz using the built-in XMP profile.
For this benchmark suite, we have an array of games tested at FHD (1,920x1,080) and QHD (2,560x1,440) resolutions. Where applicable, any vendor-specific enhancements such as PhysX and TressFX are disabled to help even the playing field. In-game benchmark results are recorded as average frames per second and minimum fps is included where available.
Appreciating the market this card is aimed at, we have run numbers at 1080p and 1440p with the same image-quality settings found in our premium suite. This means you can cross-compare at your leisure.
We have benchmarked the Sapphire using the latest-available drivers and a rival GeForce costing the same £250 with the latest ForceWare. Our readers sometimes comment that we only look at new cards and compare against what you can buy now, rather than evaluate what kind of performance leap is achieved when jumping from a reasonable card from the last generation. To that end, we have benchmarked the popular GeForce GTX 960 2GB (launched January 2015) and will show you just how much of an advantage you can hope to achieve if playing games at the best IQ settings.