Introduction
The GeForce GTX 1080 Ti remains the preferred choice for ultra-high-end PC gaming and Nvidia's partners are understandably eager to put forth an assortment of custom cards designed to tempt the deep–pocketed enthusiast.
Inno3D, Asus, Aorus, MSI and EVGA have already sent in their favoured designs for review purposes and today Palit is getting in on the action with the range-topping GTX 1080 Ti GameRock Premium Edition.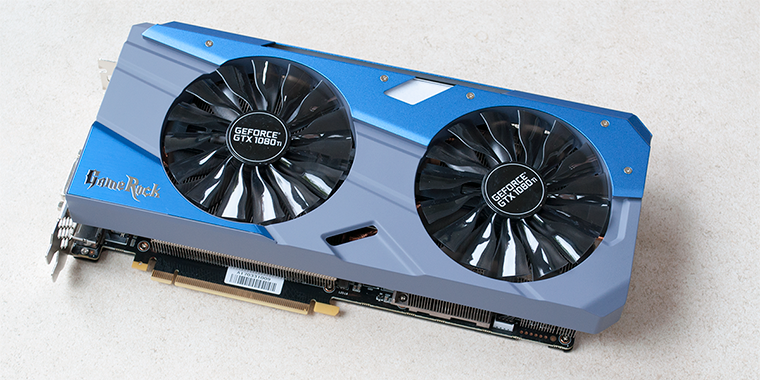 While many competitors have set out to over-engineer at every available opportunity, Palit plays it relatively safe by taking an old-school approach with only a few modern twists. The end result is a card that isn't the best looker, but delivers the might of a factory overclocked GTX 1080 Ti for £690 - that's £60 less than, say, the Aorus Xtreme, and pricing isn't a million miles from a regular Founders Edition board.
Those demanding a certain level of finesse at this price point may be left wanting, as the GameRock Premium Edition is a chunky solution measuring 285mm x 133mm x 58mm, weighing 1,320g and occupying the best part of three slots. It has the look and feel of a previous-generation beastie, and though build quality is decent throughout, the GameRock shroud isn't particularly sleek and the black-and-blue colour scheme is an acquired taste.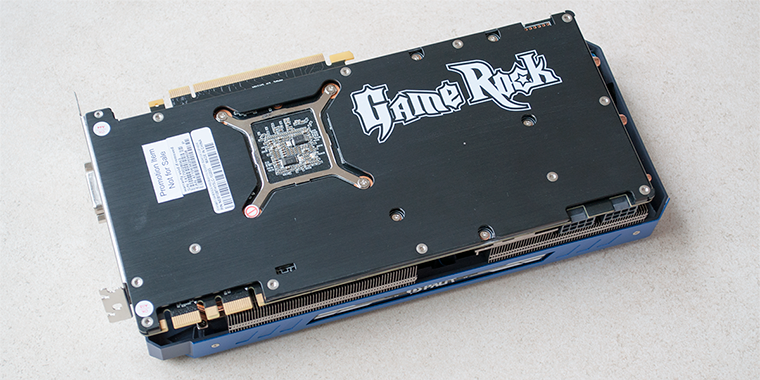 If you're of the opinion that graphics card aesthetics are irrelevant - or you happen to like to GameRock design - there's good news as Palit doesn't skimp in the areas that matter. The PCB is lined with a full-size backplate, giving the card good rigidity throughout, while power is upgraded to two eight-pin connectors serving a custom 12+2-phase design.
Although Palit has five GTX 1080 Ti models in its stable, the GameRock Premium Edition is the pick of the bunch in terms of shipping frequencies. Out-the-box base and boost clocks register at 1,595MHz and 1,709MHz, respectively, while the 11GB GDDR5X frame buffer hums along at a default 11Gbps. It is interesting to note that Palit sets the card to use an 'OC' profile by default, though users can switch to 'Gaming' mode using the dual-BIOS to activate reduced frequencies of 1,556MHz base and 1,670MHz boost.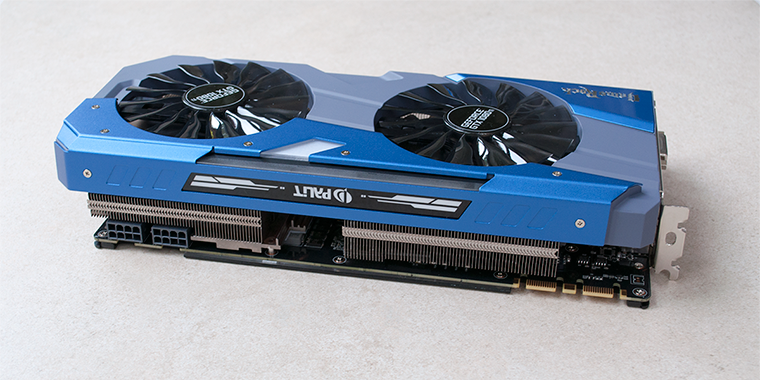 Taming the GPU shouldn't be a problem for a card of this size as Palit takes a bigger-is-better approach. The large size allows for a 22 per cent increase in aluminium fins and though the pictures are deceiving there are actually four fans sandwiched into the cooler. Look close enough and you'll notice the card features a pair of stacked fans - Palit calls it 'TurboJET4' and the theory is for the top and bottom fans to spin in the opposite direction to deliver an 'anti-vortex' solution.
No high-end card would be complete without the customary selection of RGB lights and the GameRock Premium Edition has a fair few lining the top edge of the PCB and shroud. Illumination colour can be customised using the free-to-download ThunderMaster utility or be set to change based on GPU temperature, but Palit's implementation isn't as elegant as we'd hoped. The backlit logo illuminates nicely, however there aren't enough LEDs across the top of the PCB to create a seamless finish - the six illumination spots stick out like a sore thumb.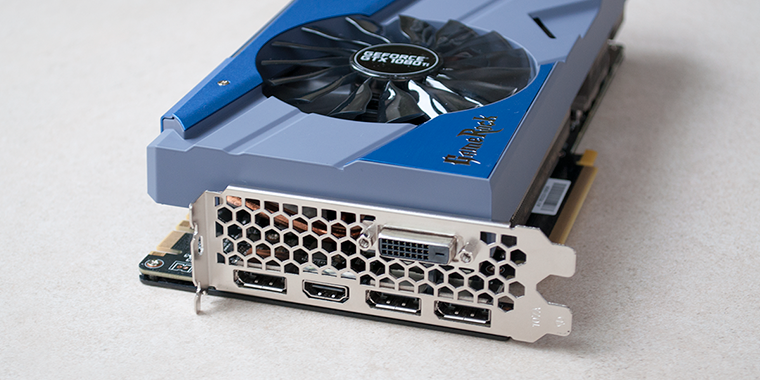 Elsewhere, the features you'd expect on a custom GTX 1080 Ti are present and accounted for. SLI fingers allow for multi-GPU configurations, the fans all switch off at low load, and the standard array of display outputs - dual-link DVI, HDMI 2.0 and a trio of DisplayPort 1.4 - make it easy to drive multiple high-res monitors.
We don't anticipate any major surprises in the performance department as very little separates the various overclocked GTX 1080 Tis, but we are interested in seeing how the GameRock Premium Editions fares with regards to temperature, noise and overclocking. Let's get to it.