Introduction
Enthusiast gamers wanting the very best in graphics technology needn't waste time pondering which GPU to buy. If there's room in the budget, Nvidia's GeForce GTX 1080 Ti is without a doubt the stand-out choice. The more pertinent question for hardcore gamers is which specific GTX 1080 Ti is best?
Nvidia's Founders Edition laid the foundation but isn't ideal when it comes to cooling or real-world frequencies. We've seen Inno3D go one better with the iChill GeForce GTX 1080 Ti X3 and today we turn our attention to one of the best-known partner cards, the Asus ROG Strix.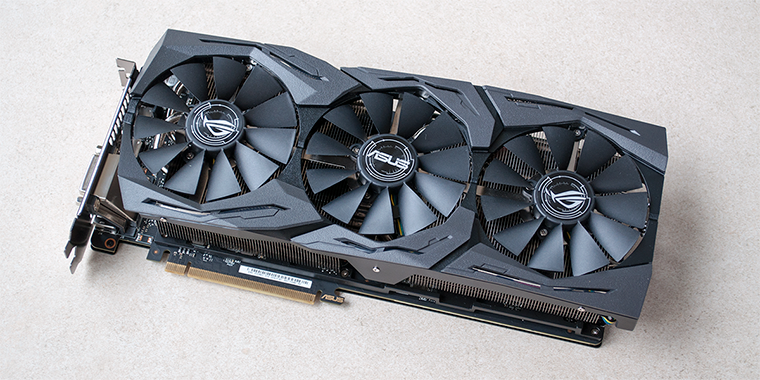 The full name, to be precise, is the Asus ROG Strix GeForce GTX 1080 Ti OC, and the price tag is £800. That's a whopping £100 premium over the aforementioned Founders Edition, but then, if you're in the market for Nvidia's finest, there's a good chance you favour speed, style and substance over something as trivial as value.
Asus's behemoth has plenty of goodness in all departments. The card itself measures 300mm in length, 134mm in height and occupies two-and-a-half slots. You'll need a good-sized chassis and you may even want to consider a GPU brace, as this particular ROG Strix tips the scales at a substantial 1,292g.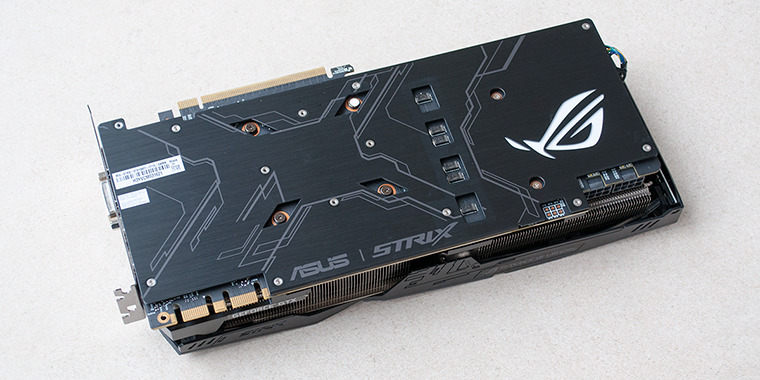 It's a monster alright, and so it should be. Asus reckons the thicker 2.5-slot design allows for a 40 per cent increase in heatsink surface area, and this time around the six internal heatpipes traverse through a 'MaxContact' heatspreader that it said to utilise 'precision machining' to provide better contact with Nvidia's 250W chip. A die-cast baseplate helps cool the memory and VRM, while a full-sized backplate offers extra reinforcement. Point is, the card feels rock-solid throughout, yet should be whisper-quiet during use courtesy of three 'wing-blade' fans that switch off when temperature drops below 55ºC.
All that cooling is a nod toward heightened out-the-box frequencies. Base and boost clocks are set at 1,569MHz and 1,683MHz, respectively - up from 1,481MHz and 1,582MHz on Nvidia's Founders Edition - but the 11GB GDDR5X frame buffer remains clocked at a default 11Gbps. Users wanting to turn things up another notch can install the free-to-download Asus GPU Tweak software utility and activate an OC profile that further raises boost clock to 1,708MHz and sets memory to an effective 11,100MHz.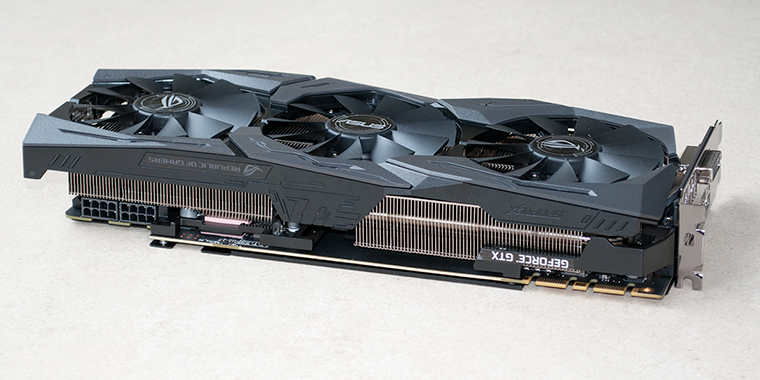 We expect to see the Asus card do a grand job of maintaining top speed under load, and it's helped in part by a 10+2 power delivery and dual eight-pin connectors. SLI remains an option for those willing to contend with the pros and cons of a multi-GPU setup, and Asus also adds a few useful features of its own.
The first, dubbed 'FanConnect II,' takes the form of two four-pin headers at the far end of the PCB that allow the user to attach case fans for focussed air flow. These automatically respond to GPU temperature, but should you choose to keep a closer tab on proceedings, the Asus software can be used to create a custom fan curve set to respond to your choice of CPU or GPU temp.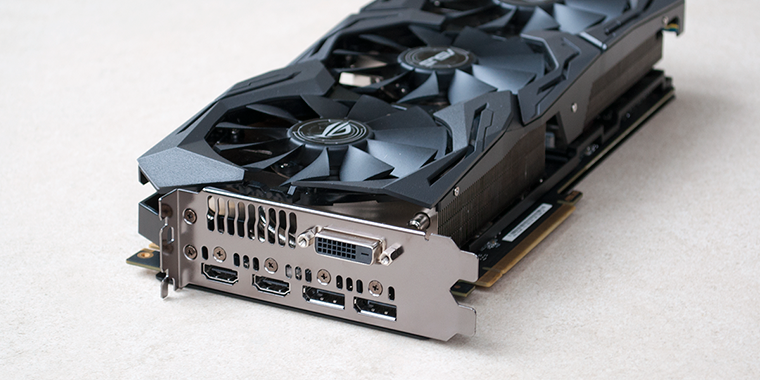 The second value-add, as you might have guessed, is Aura RGB lighting. Asus's LEDs are present on both shroud and backplate (the backlit RoG logo looks particularly neat), but the real trick is the ability to synchronise effects with other Aura hardware. If you agree with the sentiment that one can never have too many lights, you'll be pleased to find a four-pin Aura RGB header alongside FanConnect II for further expansion.
Last but not least, the display outputs have been tweaked to include dual HDMI 2.0 (handy if you're into virtual reality), dual DisplayPort 1.4 and, unlike the Founders Edition, DVI is thrown in for good measure. There's plenty to suggest that this is the GTX 1080 Ti that enthusiasts will gravitate toward, but let's see what the benchmarks reveal in regards to real-world frequencies, operating temperatures, power consumption and noise.