The Card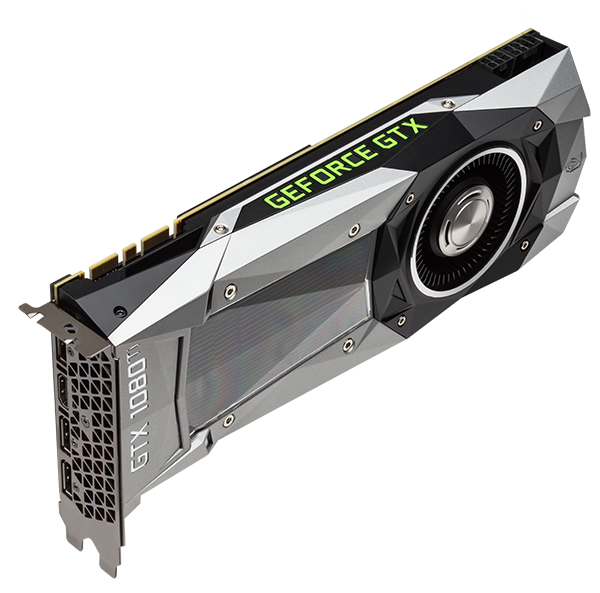 There is little mistaking an Nvidia Founders Edition card. The GeForce GTX 1080 Ti measures 10.5in long and is therefore very similar to a whole host of other cards from the FE stable.
Build quality is up to the usual high standards, and we can see why many enthusiasts go for this design rather than trust an AIC to do the job properly.
Inter-family homogenuity leads to the mistaken belief that this is exactly the same as other GeForce GTX cards out there. There are subtle, key differences, however.
Nvidia understands that this card, rated with a 250W TDP, has need for more airflow than, say, the GeForce GTX 1080. To that end this model has twice the airflow area as that card. Accomplishing this means that the DVI port, present on that GPU as well as Titan X, is removed altogether.

Nvidia goes on further to say that the power-delivery system has been much improved, too. GTX 1080 Ti features a seven-phase 2x dual-FET power design that's capable of supplying up to 250 amps of power. Having 14 dual FETs means that this board should have the cleanest power delivery to date, translating to better GPU Boost potential. Nvidia is so bullish in this regard that it promotes the possibility of achieving up to 2GHz Boost speeds.
A standard 250W TDP is plumbed out via the usual salvo of 6-pin and 8-pin power connectors. Top marks for guessing that the GeForce GTX logo lights up when the card is switched on.

And if one card simply isn't enough, GTX 1080 Ti can run in dual-GPU configurations for potentially better performance. We say potentially because multi-GPU scaling is fast becoming to domain of the games engine developer rather than GPU software architect. As before, the right-hand backplate cover can be removed to improve airflow between SLI'd cards.

You can spy the larger internal chamber from this shot. Going down this route means the card houses a trio of DisplayPort and a single HDMI connection. We expect to see Nvidia's partners follow suit, so watch out for their designs.
Think of the GeForce GTX 1080 Ti 'Founders Edition' as evolutionary rather than revolutionary design.