Test Methodology
Intel Core i7-6700K Specification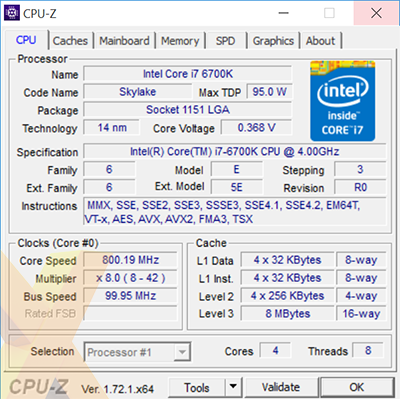 Comparison Processor Configurations

CPU

Intel

AMD

Core i7-6700K

Core i7-5775C

Core i7-4790K

Core i5-4690K

Core i7-3770K

Core i7-2700K

A10-7870K

A10-7850K

CPU Base Clock

4.0GHz

3.3GHz

4.0GHz

3.5GHz

3.5GHz

3.5GHz

3.9GHz

3.7GHz

CPU Turbo Clock

4.2GHz

3.7GHz

4.4GHz

3.9GHz

3.9GHz

3.9GHz

4.1GHz

4.0GHz

CPU Cache

8MB

6MB

8MB

8MB

8MB

8MB

4MB

4MB

CPU Cores / Threads

4 / 8

4 / 8

4 / 8

4 / 4

4 / 8

4 / 8

4 / 4

4 / 4

CPU TDP

91W

65W

88W

88W

77W

95W

95W

95W

Integrated Graphics

HD 530

Iris Pro 6200

HD 4600

HD 4600

HD 4000

HD 3000

Radeon R7

Radeon R7

IGP Base Clock

300MHz

300MHz

350MHz

350MHz

650MHz

850MHz

866MHz

720MHz

IGP Turbo Clock

1.15GHz

1.15GHz

1.25GHz

1.20GHz

1.15GHz

1.35GHz

-

-

Socket

LGA 1151

LGA 1150

LGA 1150

LGA 1150

LGA 1155

LGA 1155

FM2+

FM2+

Lithography

14nm

14nm

22nm

22nm

22nm

32nm

28nm

28nm

Motherboard

Asus Z170-K

Asus Z97-A

Asus P8Z77-V

Gigabyte G1-Sniper-A88X

BIOS

0323

2401

2104

F10

Memory

Corsair Vengeance LPX 8GB DDR4 (2x4GB)

Corsair Vengeance 16GB DDR3 (2x8GB)

Memory Timings

15-15-15-36-2T @ 2,133MHz

9-10-9-27-2T @ 1,866MHz

11-12-11-31-2T @ 2,133MHz

Disk Drive

SK hynix Canvas SC300 (512GB)

Power Supply

Corsair AX760i (760W)

CPU Cooler

Noctua NH-D15

Operating System

Microsoft Windows 10 (64-bit)
Benchmark Suite

CPU Benchmarks
HEXUS PiFast
Our number-crunching benchmark stresses a single core by calculating Pi to 10m places
Cinebench R15
Using Cinebench's multi-CPU render, this cross-platform benchmark stresses all cores
wPrime 2.1.0
Another number-crunching benchmark that stresses all available CPU cores/threads
Memory Benchmarks
AIDA64 v5.30.3500
Benchmark that analyses memory bandwidth and latency
Multimedia Benchmarks
HandBrake 0.10.2
Free-to-use video encoder that stresses all CPU cores (64-bit)
PCMark 8 v2.4.304
System-wide examination run using Creative preset with OpenCL acceleration
3DMark v1.5.915
Graphics test run using the popular Fire Strike preset
IGP Benchmarks
Grand Theft Auto V
1,920x1,080, normal quality
Middle-earth: Shadow of Mordor
1,920x1,080, low quality preset
Total War: Rome II
1,920x1,080, medium quality preset
Discrete Gaming Benchmarks (GeForce GTX 980)
Grand Theft Auto V
1,920x1,080 and 3,840x2,160, FXAA, 16xAF, Very High Quality
Middle-earth: Shadow of Mordor
1,920x1,080 and 3,840x2,160, Ultra Quality Preset
Total War: Rome II
1,920x1,080 and 3,840x2,160, Extreme Preset
Miscellaneous Benchmarks
Power Consumption
To emulate real-world usage scenarios, we record system-wide mains power draw when idle, when encoding video via HandBrake and while playing Middle-earth: Shadow of Mordor
Notes
We have evaluated from scratch and therefore used the clean slate as a pretext to include testing on Windows 10 with the latest available drivers.
Intel has released a steady stream of new processor families in the preceding four years so we thought it a good idea to pull in the best of the Sandy Bridge, Ivy Bridge, Haswell, Broadwell and Skylake families to see how they compare against one another.
We've run a trio of games using integrated graphics at relatively low levels of visual quality alongside a 1080p resolution and, more pertinently for those looking for real-world use cases, installed a reference GeForce GTX 980 GPU and run both 1080p and 4K benchmarks in accordance with the settings used in our graphics reviews. Any CPU-side weakness is likely to be found out at 1080p.
Still rocking that Core i7-2700K from 2011 and wondering if the newest Skylake technology makes sense for you? Let's find out.