Introduction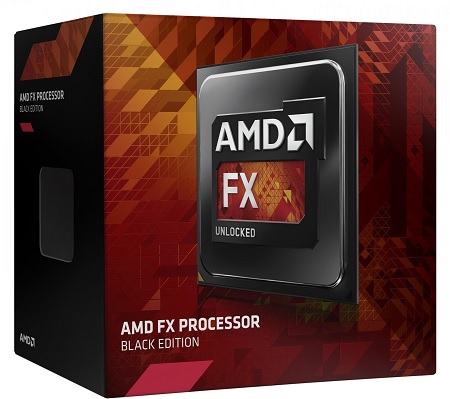 There are no major updates for AMD's FX processor series on the horizon, meaning the shelf-life of dated 32nm Piledriver-based silicon is set to be prolonged even further. For many enthusiasts the AM3+ socket has arguably run its course, but AMD believes there is still plenty of longevity in the old beast, and it may well be right.
Since the first iteration of Piledriver was released in October 2012, the FX-8350, AMD's FX processor series has relied on product refreshes and large price cuts to stay competitive against increasingly powerful offerings from Intel. We've witnessed the release of FX-9000 branded parts with out of the box Turbo frequencies as high as 5GHz, but also new FX-8000 E-series parts tailored for more energy-efficient operation within 95W thermal envelopes.
A few months ago we took a look at the fastest E-Series part, the FX-8370E, and today we are examining the more mainstream FX-8320E. The energy efficient credentials of the FX-8320E are almost a façade when comparing power consumption to Intel's latest Haswell microarchitecture. However, the FX-8320E does demand attention for the pure fact it offers eight full processing cores for as little as £110 ($147).
AMD Eight-Core FX Series Processors

APU Model

CPU Cores

CPU Base Clock
(GHz)

CPU Turbo Clock
(GHz)

L2 Cache

Memory Support (MHz)

Socket

TDP (W)

Suggested Price

FX-9590

8

4.7

5.0

8MB

DDR3-2,133

AM3+

220

$229.99

FX-9370

8

4.4

4.7

8MB

DDR3-2,133

AM3+

220

$210.99

FX-8370

8

4.0

4.3

8MB

DDR3-1,866

AM3+

125

$199.99

FX-8370E

8

3.3

4.3

8MB

DDR3-1,866

AM3+

95

$199.99

FX-8350

8

4.0

4.2

8MB

DDR3-1,866

AM3+

125

$179.99

FX-8320

8

3.5

4.0

8MB

DDR3-1,866

AM3+

125

$146.99

FX-8320E

8

3.2

4.0

8MB

DDR3-1,866

AM3+

95

$146.99
The FX-8320E boasts an octa-core design with a 3.2GHz base clock, a 4GHz turbo frequency, 8MB of L3 cache and a 95W TDP. Geared towards budget-minded consumers AMD sees the FX-8320E as being most competitive when paired with one of its sweet-spot graphics cards, such as an R9 270X or R9 285, alongside 8GB of DDR3-1866MHz memory and a refreshed motherboard like the AM3+ MSI 970 Gaming. Using said configuration allows the barebones of a capable 1080p gaming machine to be assembled for around £400.
In a fairly cut-throat processor market where does the FX-8320E fit in exactly? On pricing alone the FX-8320E is a direct competitor to Intel's Haswell Core i3 parts which cost between £90 and £130. At close to the £100-mark the FX-8320E is also a solid £40 cheaper than Intel's Haswell Core i5 range which varies between £140 and £190. Such value for money still makes AMD a force to be reckoned with.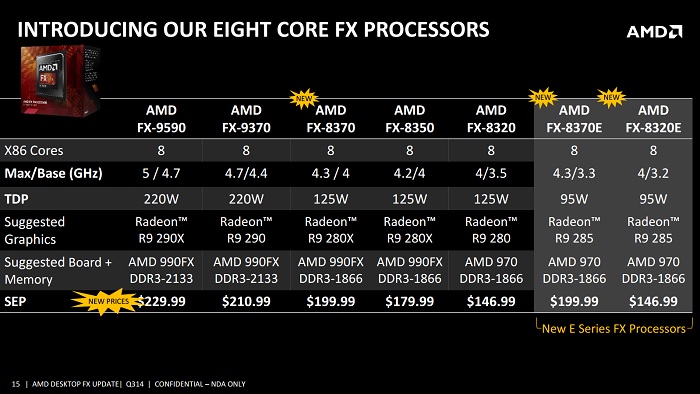 One of the most apparent limitations of AMD's FX processors has been the dated motherboard options available to system builders. Few motherboard vendors paid attention to their 970/990X/990FX range since its inception in 2011 alongside Bulldozer, expecting a new AMD chipset or socket would provide the impetus for new product launches, that impetus did not arrive.
Towards the end of last year the situation did start to change as motherboard vendors launched major refreshes of their AM3+ products. ASUS came to market with R2.0 versions of many of its FX motherboards and MSI extended its Gaming series to the AM3+ socket. Despite the age of AMD's FX processors the platform is still relevant to current consumers.