Introduction
It's hard to believe that the best part of a decade has passed since AMD sent tremors through the industry with its multi-billion-dollar acquisition of ATI Technologies. Since that momentous deal in 2006, the much-vaunted 'Fusion' of CPU and GPU has promised to deliver "a new class of accelerated processor that combines more compute capabilities than any processor in the history of computing".
There's no questioning AMD's vision - graphics are now an integral component of nearly every consumer CPU - yet the chip manufacturer's Accelerated Processing Unit (APU) hasn't always managed to leverage its best available technologies.
Flick through the history books and you'll recall that 2011's 'Llano' brought together AMD's K10 CPU and ageing Radeon HD 5000-series graphics alongside a somewhat-inelegant Fusion Controller Hub. 2012 heralded the arrival of 'Trinity' and the amalgamation of much-maligned Piledriver CPU cores with Radeon HD 6000 graphics, while last year's 'Richland' offered little more than increased operating frequencies.
The resulting chips had their strengths, however it always felt as though the APU was playing catch-up. That all changed at the turn of the year with the introduction of 'Kaveri' - a 28nm revision that led the way on both fronts by debuting AMD's new Steamroller CPU cores and pairing them with up-to-date GCN (Graphics Core Next) graphics. Backed-up by an array of enhancements that include better branch prediction, an improved scheduler and heterogeneous Uniform Memory Access (hUMA), the APU as we know it today is laying the groundwork for the forward-looking Heterogeneous System Architecture (HSA).
Those of you interested in the technical aspects of Kaveri can refer back to our prior analysis of AMD's desktop parts. The focus of today's review is arguably more relevant to mainstream consumers as the genuine goodness of the latest-generation APU has belatedly made its way to mobile PCs.
AMD Mobile APU Comparison

APU Model

CPU Cores

CPU Clock

CPU Turbo

L2 Cache

GPU Brand

GPU CUs / Shaders

Max GPU Clock

Memory Support

TDP

28nm Kaveri, 2014 (Steamroller CPU + GCN GPU)
AMD FX-7600P

4

2.7 GHz

3.6 GHz

4 MB

Radeon R7

8 / 512

686 MHz

DDR3-2133

35 W

AMD FX-7500

4

2.1 GHz

3.3 GHz

4 MB

Radeon R7

6 / 384

553 MHz

DDR3-1600

19 W

AMD A10-7400P

4

2.5 GHz

3.4 GHz

4 MB

Radeon R6

6 / 384

654 MHz

DDR3-1866

35 W

AMD A10-7300

4

1.9 GHz

3.2 GHz

4 MB

Radeon R6

6 / 384

553 MHz

DDR3-1600

19 W

AMD A8-7200P

4

2.4 GHz

3.3 GHz

4 MB

Radeon R5

4 / 256

626 MHz

DDR3-1866

35 W

AMD A8-7100

4

1.8 GHz

3.0 GHz

4 MB

Radeon R5

4 / 256

514 MHz

DDR3-1600

19 W

32nm Richland, 2013 (Piledriver CPU + VLIW4 GPU)
A10-5757M

4

2.5 GHz

3.5 GHz

4 MB

HD 8650G

6 / 384

720 MHz

DDR3-1600

35 W

A10-5745M

4

2.1 GHz

2.9 GHz

4 MB

HD 8610G

6 / 384

626 MHz

DDR3-1333

25 W

A8-5557M

4

2.1 GHz

3.1 GHz

4 MB

HD 8550G

4 / 256

720 MHz

DDR3-1600

35 W

A8-5545M

4

1.7 GHz

2.7 GHz

4 MB

HD 8510G

6 / 384

554 MHz

DDR3-1333

19 W
Mobile Kaveri APUs, as detailed above, will launch in half-a-dozen quad-core variants, with dual-core models expected to follow at a later date. As a clear sign of AMD's faith in these new processors, the company has introduced the top two models - 7600P and 7500 - under the 'FX' umbrella. Historically used to differentiate enthusiast-grade desktop CPUs, the FX branding is being extended to mobile devices as a means to highlight high-performance parts, though this may be deemed foolhardy as recent FX processors have fallen short of expectations.
We're not entirely convinced by the new branding - the combination of A-Series and FX-Series APUs seems unnecessary, and it confuses matters when comparing mobile and desktop Kaveri parts. Both product lines share the same underlying architecture, yet there are no desktop APUs carrying the FX brand. Don't be surprised to see AMD rectify that in the months to come.
Branding habits aside, it's clear that mobile Kaveri is a noteworthy improvement over outgoing Richland. At launch, AMD will make available three standard-voltage 35W parts alongside a trio of ultra-low-voltage 19W solutions. Comparing the top-of-the-range chips from the Kaveri and Richland generations, we can see that the FX-7600P's enhanced quartet of 2.7GHz Steamroller CPU cores are clocked fractionally higher than the A10-5757M's 2.5GHz, and it boosts better, too, at 3.6GHz compared to 3.5GHz.
Cache size remains unchanged, however as expected there's a significant upgrade in the GPU department. In keeping with desktop Kaveri APUs, the graphics portion of the chip is now based on the GCN architecture that drives desktop graphics cards such as the Radeon R9 290X. As we know, each Kaveri Compute Unit (CU) is home to 64 shaders. Note, however, that the full compliment of 8 CUs is reserved for the range-topping FX-7600P, as is a maximum GPU clock speed of 686MHz.
Moving further down the product stack sees a reduction in shader count and, typically, lower GPU frequencies. AMD uses Radeon R7, R6 and R5 branding to differentiate between different levels, though higher doesn't necessarily mean better. The R6 Graphics featured in the A10-7400P are faster-clocked and better equipped than the R7 Graphics available to the FX-7500.
Keeping the CPU and GPU components well fed, AMD has also added support for high-speed DDR3 memory. We've experienced first hand the benefits of pairing an APU with faster RAM, so it makes sense for AMD to support at least 1,600MHz memory across all new APUs, rising to 2,133MHz for the FX-7600P. Support, of course, is one thing, while implementation is another, but the company assures us it is working closely with partners to ensure that suitable RAM is used at all times.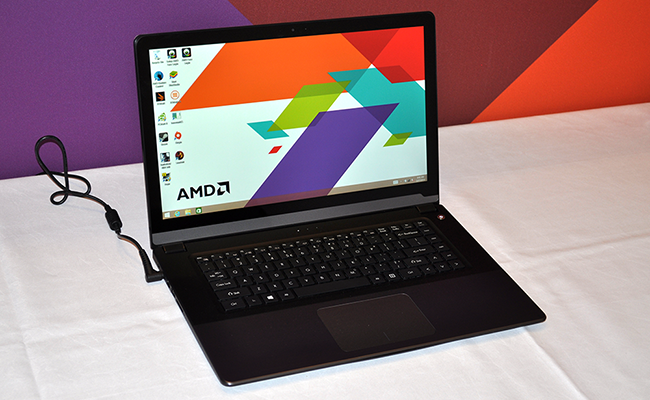 Reading between the lines, AMD has effectively taken its 95W desktop A10-7850K and reduced CPU base clock from 3.7GHz to 2.7GHz, while trimming GPU clock speed from 720MHz to 686MHz. This effectively creates the 35W mobile part we now know as the FX-7600P.
HEXUS was given the opportunity to test said chip at a pre-launch event in which we had brief access to a engineering sample Kaveri laptop, pictured above. The slim machine married an FX-7600P APU with 8GB of dual-channel 1,866MHz memory (not the maximum supported 2,133, surprisingly), a 256GB Samsung XP941 M.2 SSD and a full-HD display. Let's take a look at the benchmark results.