A new breed of APU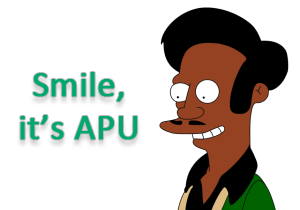 AMD released a trio of new Accelerated Processing Units (APUs) just the other day. Now updated to the Kaveri architecture using all-new Steamroller CPU cores and the latest GCN graphics for the GPU, AMD hopes to establish performance dominance at the £100 price point.
And it's a key market for the company to exploit, as perceived value is becoming more of a concern. Conveying the message that it's straightforward to build a small, competent, feature-rich PC for less than £500, powered by an APU, has obvious attraction for AMD.
You can read all about what makes them tick in the initial article, but here's the trio of new Kaveri chips alongside select APUs from the previous two generations:
APU Model

CPU Cores

CPU Base Clock
(GHz)

CPU Turbo Clock
(GHz)

GPU Brand

GPU Cores

GPU Base Clock
(MHz)

Max. DDR3
(MHz)

TDP

Launch Price
(US 1ku)

28nm Kaveri
A10-7850K

4

3.7

4.0

Radeon R7

512

720

2,133

95W

$173

A10-7700K

4

3.4

3.8

Radeon R7

384

720

2,133

95W

$152

A8-7600

4

3.3/3.1

3.8/3.3

Radeon R7

384

720

2,133

65W/45W

$119

32nm Richland
A10-6800K

4

4.1

4.4

HD 8670D

384

844

2,133

100W

$142

A10-6700

4

3.7

4.3

HD 8670D

384

844

1,866

65W

$142

32nm Trinity
A10-5800K

4

3.8

4.2

HD 7660D

384

800

1,866

100W

$122

A10-5700

4

3.4

4.0

HD 7660D

384

760

1,866

65W

$122
There's not a lot in it with respect to specifications. The review chip, A8-7600, has a configurable TDP mode that predicates performance. Run it at 45W TDP - considered to be a low TDP for a mainstream system - and the chip operates at a maximum of 3.3GHz on the CPU. Increasing this to 65W adds a potential 500MHz, up to 3.8GHz, but there's no commensurate bump for the GPU.
The A8-7600 is architecturally identical to the A10-7700K. It's a better bet, too, as the reduced TDP doesn't come at the cost of significantly lower clocks - the two different-class chips should benchmark fairly closely to one another, one would assume.
Expected to cost £90 when it shows up in retail in a few weeks, the A8-7600 is primed for small-form-factor systems where heat and power consumption attributes are just as important as application performance.
The Kaveri chips use the FM2+ socket. It adds a couple of extra pins over the FM2 form factor used by previous APUs, and this means potential users will need to invest in an FM2+ motherboard. AMD's partners have a relatively wide range of supporting boards on the market already, based on the A88X, A78 and select A55 chipsets, and they retail from £40.