New Chip, New Chipset
Here it is, the range-topping Core i7-4770K. Look familiar? Intel's package is the same physical size as Ivy Bridge and Sandy Bridge, but in keeping with recent trend, Intel's Tock brings about another socket change.
Nehalem (Tock) and Westmere (Tick) employed LGA1156, Sandy Bridge (Tock) and Ivy Bridge (Tick) made use of LGA1155, and Intel is using the micro-architecture enhancements available to Haswell (Tock) as a reason to switch to new LGA1150. Note that this socket will also be utilised by Broadwell (the 14nm shrink of Haswell and therefore the next Tick) in 2014.
A new socket means a new supporting chipset, so what can we expect from Intel's 8-series design?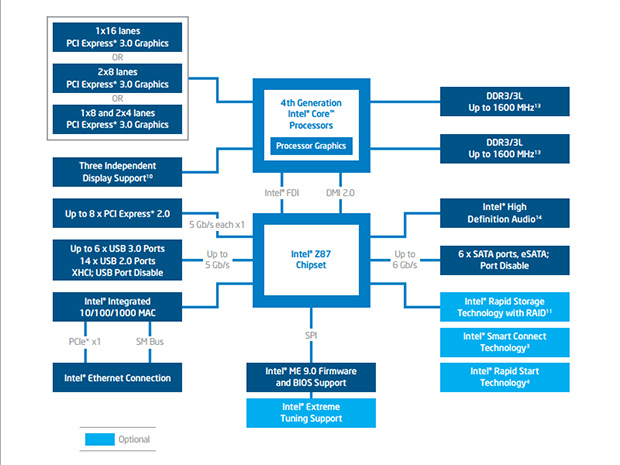 There are plenty of similarities to outgoing Z77, but there are a couple of important changes in terms of I/O, too. In an ongoing effort to bring as much as possible onto the CPU itself, Intel has moved the display controller over from the PCH. Makes you wonder why the Flexible Display Interface (FDI) remains, but that too has been trimmed from eight lanes to six.
The same quad-lane, 20Gbps DMI 2.0 bus connects the CPU to the revised PCH, but this time around the number of USB 3.0 ports has been increased from four to six, and the number of SATA 6Gbps has similarly been bumped up from two to six. The number of PCI-Express lanes remains identical to Z77, but Z87 is trimmed further by dropping support for conventional PCI routing.
Furthermore, to continue the power-saving theme, the desktop 8-series chipset is physically smaller. Part of this can be attributed to the display controller's move to the CPU, but we suspect Intel's PCH fabrication process has also been reduced from 65nm to a more-efficient, smaller 32nm.
Intel High-End Chipset Comparison

Chipset

Z87 (Haswell)

Z77 (Ivy Bridge)

Z68 (Sandy Bridge)

Processor Socket

LGA1150

LGA1155

LGA1155

CPU Interface

DMI

DMI

DMI

CPU Overclocking Support

Yes

Yes

Yes

IGP Enabled

Yes

Yes

Yes

Independent Display Support

3

3

2

CPU PCIe Configurations

1 x16 PCIe 3.0

1 x16 PCIe 3.0

1 x16 PCIe 2.0

or

2 x8 PCIe 3.0

2 x8 PCIe 3.0

2 x8 PCIe 2.0

or

1 x8 + 2 x4 PCIe 3.0

1 x8 + 2 x4 PCIe 3.0

x

Chipset PCIe Lanes

8 PCIe 2.0

8 PCIe 2.0

8 PCIe 2.0

Memory Channels

Dual

Dual

Dual

Memory Support

DDR3/3L 1,600

DDR3 1,600

DDR3 1,333

Native USB 3.0 Ports

6

4

x

Native USB 2.0 Ports

8

10

14

SATA 6Gbps Ports

6

2

2

SATA 3Gbps Ports

x

4

4

Smart Response Technology

Yes

Yes

Yes
From a features point of view, Z87 isn't a huge step up from Z77. The new chipset supports more high-speed USB and SATA interfaces, but once again this can be seen as more of a clean-up exercise. With a smaller PCH and a VRM integrated into the CPU itself, it should be easier for partners to create Z87 boards that are smaller, less-cluttered and more efficient. All signs suggest that the ATX form factor, introduced way back in 1995, may have its days numbered.