Leaving the best 'til last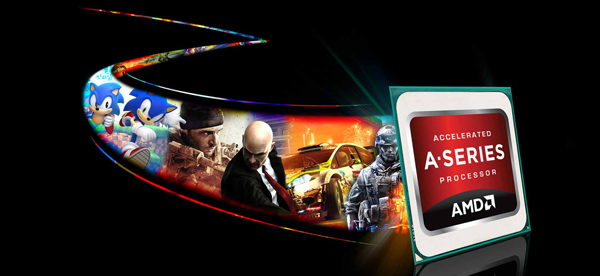 Here at HEXUS we've given AMD's second-generation 'Trinity' APU a fair crack of the review whip. The headline A10-5800K improved upon last-gen 'Llano' in almost every way; we examined just how well AMD's claim of Dual Graphics worked; saw comprehensive IGP performance gains by switching to faster memory, and then took the £75 A8-5600K for a spin.
The missing part of the overall APU jigsaw is an evaluation of a 65W, (relatively) energy-efficient part. An obvious candidate for this role is the A10-5700 chip, which shares much in design with the A10-5800K but snips in-use power-draw by one-third - to 65W from 100W.
AMD duly obliged and sent one packing in our direction, so without further ado, let's see if the A10-5700 is all that the specification intimates it will be.
| APU Model | CPU Cores | CPU Base Clock | CPU Turbo Clock | GPU Brand | GPU Cores | GPU Clock | L2 Cache | Max. DDR3 | TDP | Price |
| --- | --- | --- | --- | --- | --- | --- | --- | --- | --- | --- |
| A10-5800K | 4 | 3.8GHz | 4.2GHz | HD 7660D | 384 | 800MHz | 4MB | 1,866MHz | 100W | £90 |
| A10-5700 | 4 | 3.4GHz | 4.0GHz | HD 7660D | 384 | 760MHz | 4MB | 1,866MHz | 65W | £90 |
| A8-5600K | 4 | 3.6GHz | 3.9GHz | HD 7560D | 256 | 760MHz | 4MB | 1,866MHz | 100W | £75 |
| A8-5500 | 4 | 3.2GHz | 3.7GHz | HD 7560D | 256 | 760MHz | 4MB | 1,866MHz | 65W | £75 |
| A6-5400K | 2 | 3.6GHz | 3.8GHz | HD 7540D | 192 | 760MHz | 1MB | 1,866MHz | 65W | £50 |
This well-used table highlights the key attributes of seven second-generation desktop APUs. It's simpler to point out the differences between the A10 chips than spell out what's the same.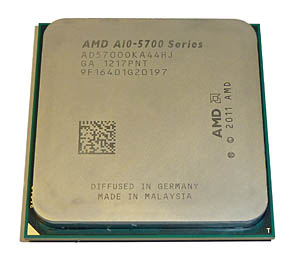 AMD needs to balance performance against a considerably lower power envelope. This is why A10-5700 is nominally clocked in 400MHz lower than the best APU. Note, however, the Turbo clock, which indicates the fastest speed the chip will run at under ideal conditions, is 4GHz. The rather large delta between base and Turbo clocks is often observed in mobile chips that ship with even-lower TDPs. Matters aren't as clear-cut as the CPU-side figures suggest; we'll go into more detail during benchmark commentary.
Shifting over to the integrated graphics provides pleasant reading, as AMD keeps to the full-fat Radeon HD 7660D architecture. The small compromise is a 40MHz diminution in core speed, meaning the on-board graphics performance should be practically as good as it gets.
Overview
A sensible analysis suggests that A10-5700's vital statistics indicate that it should benchmark at between 80-90 per cent of the A10-5800K. Appreciating that power-draw is inextricably linked in with performance, we'll happily take that trade-off for a potentially quieter, energy-efficient system.
The A10-5700 is more a fit-and-forget chip than the two surrounding it in the table. It lacks the 'K' suffix, denoting that the CPUs' multiplier cannot be manually increased upwards. We're not overly concerned about jacking-up the frequency of the four execution cores, mind, as AMD still enables users to increase the GPU speed above 760MHz; it's not locked in any meaningful way. Also, you may know that increasing the base clock - 100MHz default - naturally pushes up the CPU, memory and GPU speed: there's more than one way to skin this particular overclocking cat.