Introduction
It is just over a year since AMD launched its flagship consumer CPU. Probably known to you as 'Bulldozer' and brought to market under the performance-intimating FX branding, AMD's grounds-up design, comprised of up to eight cores, generally failed to win us over. We finished off that review by saying 'AMD's gone down a path with Bulldozer from which there is no turning back, so while there's nothing intrinsically horrible with the FX line of chips, given the price, we feel as if the balancing act of die size, modules, cores, speeds, IPC and power-draw - the facets that define a modern processor - aren't nearly as impressive as we'd hoped for.'
The year since the FX chips' launch has seen witness to Intel launching the third-generation Core 'Ivy Bridge' processors, while AMD has also been busy bringing the next iteration of accelerated processor unit (APU) technology for Trinity-based laptops and desktops. Point is, the CPU-only FX brand has been largely forgotten.
The four new FX chips
AMD is hoping to resuscitate the FX's fortunes by rolling in the second-generation FX CPUs today. Based on the 'Piledriver' architecture that first debuted in cut-down form on the aforementioned Trinity APUs, here's how the refreshed line-up takes shape.
| APU Model | Architecture | CPU Cores | Modules | CPU Base Clock | CPU Turbo Clock | L2 cache | L3 cache | Unlocked | Socket | TDP | Price |
| --- | --- | --- | --- | --- | --- | --- | --- | --- | --- | --- | --- |
| FX-8350 | Piledriver | 8 | 4 | 4.0GHz | 4.2GHz | 8MB | 8MB | Yes | AM3+ | 125W | £150 |
| FX-8320 | Piledriver | 8 | 4 | 3.5GHz | 4.0GHz | 8MB | 8MB | Yes | AM3+ | 125W | £130 |
| FX-6300 | Piledriver | 6 | 3 | 3.5GHz | 4.1GHz | 6MB | 8MB | Yes | AM3+ | 95W | £100 |
| FX-4300 | Piledriver | 4 | 2 | 3.8GHz | 4.0GHz | 4MB | 4MB | Yes | AM3+ | 95W | £95 |
| FX-8150 | Bulldozer | 8 | 4 | 3.6GHz | 4.2GHz | 8MB | 8MB | Yes | AM3+ | 125W | £135 |
We've included the present-generation FX-8150 Bulldozer part for comparison purposes. A high-level overview shows that there's significant commonality between the fundamental stats of the best Piledriver and Bulldozer CPUs. Both have eight cores - split over four modules with two cores apiece - carry the same on-chip cache, use the same socket, are hewn on the same 32nm process, and ship with the, wait for it, same TDP. What's more, both are big chips, weighing in 315mm², compared to the Intel Core i5-3570K's 160mm².
If so much is the same, as appears to be the case, what's changed? The rather large clue is in architecture used for the CPU cores: Piledriver vs. Bulldozer.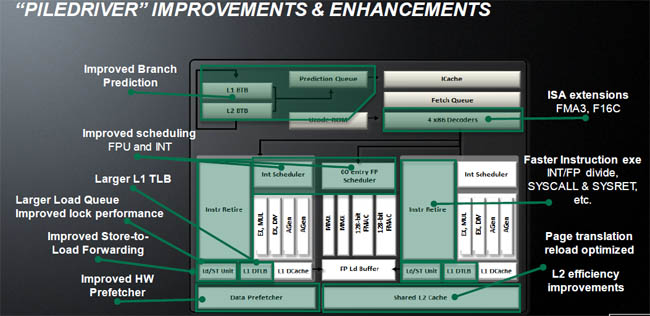 Technical insight
This AMD-supplied technical overview, which also applies to Trinity APUs, provides insight into how Piledriver cores improve upon incumbent Bulldozer. Taking the more-important ones in turn, Piledriver's potential performance is boosted by a three-way fused multiply-add (FMA3) instruction intended to enhance the potency of AVX extensions. Intel is due to incorporate the same FMA3 instruction in its upcoming Haswell processor, lending weight to its widespread acceptance next year.
Then there's the improved branch-prediction unit, bigger L1 translation lookaside buffer (TLB), better use of L2 cache by way of a beefed-up hardware prefetcher. The liberal use of the word 'improved' in the last two sentences and the AMD picture remain at odds with just how much extra oomph they actually provide. The much-needed instructions-per-clock (IPC) enhancements, shaded in green, don't offer a magic bullet to cure Bulldozer's anaemic light-load performance. Rather, the highlighted sections provide iterative improvements that, when combined, boost Piledriver's IPC by less than 10 per cent on a frequency-to-frequency basis when compared against Bulldozer.
Piledriver, then, is a refined version of Bulldozer. AMD understands that across-the-board improvements of <10 per cent aren't going to cut it for a supposedly new core, especially when it needs to do battle against Intel's impressive third-generation Core chips, so the top-line part, FX-8350, ships with a higher base frequency - 4GHz - though boosts to an FX-8150-matching 4.2GHz under full gas. This extra base frequency is the second component in helping increase performance, obviously.
The 4GHz native clock tentatively suggests that AMD employs some nifty resonant clock mesh technology to keep power-draw in check at high speeds. AMD has informed us that the first iteration of Piledriver cores do not feature such a mesh, though higher-clocked future cores may well be forced to implement it.
Understanding Piledriver the easy way
A succinct way of thinking about the new Piledriver-based FX CPUs is to understand the basic architecture of Bulldozer, sprinkle an extra five-to-10 per cent performance by way of a bunch of small technical improvements, and then add another five per cent through frequency uplift. The net result, on average, is the FX-8350 beating the last-gen FX-8150 by five-to-15 per cent across a broad range of benchmarks.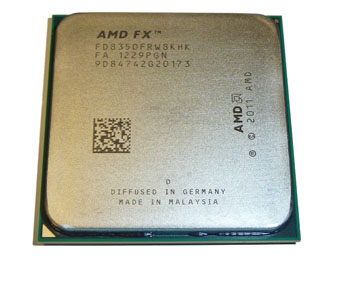 In a sensible move that won't have enthusiasts lamenting the need to purchase a new motherboard, Piledriver chips will work on AM3+ socket boards that already support the Bulldozer variant; the lack of manifestly new technology precludes the move to another socket, a la Trinity vs. Llano APUs.
£150 for an eight-core chip with a 4GHz default clock sounds mighty tasty on paper, but do remember that any FX platform will require a discrete graphics card to be installed; the chip doesn't feature any form of integrated graphics.
FX-8350 is up against it, too, as the asking price brings the altogether-impressive Intel Core i5-3570K into the mix. Let's find out which is best.