A familiar flavour
Mobile first, desktop second
In a wide-ranging interview with AMD vice president of desktop marketing, Leslie Sobon, HEXUS learnt that 'mobility' is the buzzword permeating the boardrooms of the Austin-based chipmaker. It can be argued that this focus on mobility has been a key driver in AMD pushing out its next-generation accelerated processing unit (APU), codenamed Trinity, into laptop computers first.
The Trinity APU made its notebook debut back on May 15 this year and, despite AMD's bombastic enthusiasm at that time, we've yet to see this new CPU-and-GPU technology gain a steadfast foothold into a market dominated by processors from arch-rival Intel. Underscoring the chasm between technology and marketing, Dell's UK site doesn't even enable users to filter laptops by AMD processors.
Now treading on ground more familiar to enthusiasts and technology influencers, almost five months after the initial release, AMD is bringing this same Trinity APU goodness to the desktop. The premise here is to offer mainstream CPU performance and class-leading integrated graphics from a single chip that's priced at mass-market (sub-£100) levels.
But AMD's been down this all-in-one chip route before, right? Just over a year ago the firm launched the first-generation desktop APU family, codenamed Llano, and we surmised that while the competent CPU cores were based on old technology, the chip's graphics performance, taken from AMD's Radeon division, was in a different, better league to Intel's. The first question you'll likely ask is how is Trinity different to Llano? We're glad you did. The following table illustrates the basic changes on the best APUs from each generation.
Trinity vs. Llano
| APU Model | Process | CPU Cores | CPU tech | Max CPU clock | GPU Cores | GPU Tech | Max GPU clock | AMD Turbo Core | Form factor | TDP |
| --- | --- | --- | --- | --- | --- | --- | --- | --- | --- | --- |
| Llano | 4 | 32nm | Stars | 3.0GHz | 400 | HD 5000 | 600MHz | No | FM1 | 100W |
| Trinity | 4 | 32nm | Piledriver | 4.2GHz | 384 | HD 6000 | 800MHz | Yes, v3.0 | FM2 | 100W |
There are at least three important differences between the first- and second-generation desktop APUs. Trinity uses AMD's Piledriver CPU technology instead of the older Stars architecture of Llano. Equipped with fundamentally higher frequencies - 4.2GHz (Turbo) vs. 3.0GHz - one could assume that Piledriver's performance is markedly better. This assumption is often incorrect, as the new CPU design, which takes its guts from the much-maligned Bulldozer architecture, isn't as potent as it may seem at first glance.
Trinity recovers nicely by integrating a GPU that's based on discrete Radeon HD 6000-series tech and AMD takes the opportunity of clocking it in higher than Llano's HD 5000-series-derived GPU, too. Perhaps most importantly of all to system builders and do-it-yourself enthusiasts, AMD's move from Llano to Trinity, while based on the same 32nm manufacturing process, is divergent enough to require a new socket, FM2, and, consequently, a new motherboard.
For the tech aficionados out there, desktop Trinity's 32nm slab of silicon measures 246mm² and weighs in at 1.30bn transistors, compared to Llano's 228mm² and 1.18bn. There's really not much in it from a manufacturing-cum-economics point of view.
This section provides at-a-glance differences between APU generations. We've previously covered Trinity's architecture in far more detail right over here, so do trouble those brain cells if you need further insight into just how it works.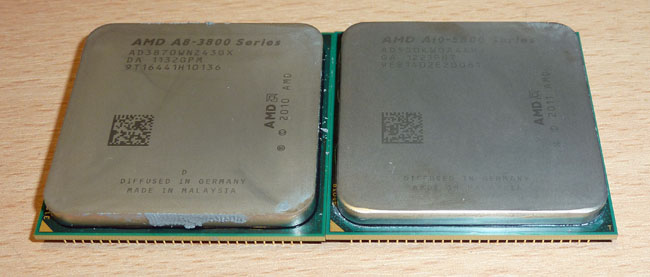 The key takeaways are that while AMD's Trinity desktop APU appears to be the same as Llano when literally viewed from an entirely superficial level, an overhaul of the CPU and revamp of the GPU portion means they couldn't be much more different inside.
Tech bores me, which models can I get?
| APU Model | CPU Cores | CPU Base Clock | CPU Turbo Clock | GPU Brand | GPU Cores | GPU Base Clock | L2 Cache | Max. DDR3 | TDP | Price |
| --- | --- | --- | --- | --- | --- | --- | --- | --- | --- | --- |
| A10-5800K | 4 | 3.8GHz | 4.2GHz | HD 7660D | 384 | 800MHz | 4MB | 1,866MHz | 100W | £100 |
| A10-5700 | 4 | 3.4GHz | 4.0GHz | HD 7660D | 384 | 760MHz | 4MB | 1,866MHz | 65W | £100 |
| A8-5600K | 4 | 3.6GHz | 3.9GHz | HD 7560D | 256 | 760MHz | 4MB | 1,866MHz | 100W | £80 |
| A8-5500 | 4 | 3.2GHz | 3.7GHz | HD 7560D | 256 | 760MHz | 4MB | 1,866MHz | 65W | £80 |
| A6-5400K | 2 | 3.6GHz | 3.8GHz | HD 7540D | 192 | 760MHz | 1MB | 1,866MHz | 65W | £55 |
AMD is introducing at least six Trinity APUs today, promising plenty of stock at your favourite retailer. Technology has changed from one generation to the next, clearly, but branding remains much the same. AMD divides desktop Trinity into A10, A8, A6 and A4 families and plays around with speeds, cores and power TDPs in an effort to differentiate models.
All APUs feature on-the-fly overclocking for the CPU assuming there is power budget to do so. K-series chips are unlocked, meaning that the user can increase frequencies/multipliers without impediment. AMD touts bi-directional auto-overclocking, known as Turbo Core 3.0, where either the CPU or GPU's speed is increased in response to a particular application's needs, usually achieved by marginally downclocking the portion of the APU that's not under significant load. However, jumping ahead of ourselves for a moment, our sample's GPU would not boost past 800MHz in any game.
Carrying on from the previous generation, select discrete Radeon cards can be paired with the on-chip GPU for what AMD terms Dual Graphics. Further tapping into the power of the onboard GPU, AMD enables multi-monitor Eyefinity gaming. Common sense dictates that such Eyefinity-enabled titles will need to run at low-ish resolutions and image-quality settings; an APU's graphics aren't nearly as potent as a discrete mid-range card's.
Our pick of the sextet is the A10-5700; it nearly matches the range-topping A10-5800K in absolute performance yet ships with a significantly lower TDP of 65W. The quad-core APUs carry 4MB of L2 cache, split into 2MB chunks for each Piledriver module - which, remember, consists of two execution cores.
Pricing, too, is keen, with these APU costing between £45 and £100. This is perhaps more of a testament to Intel's perceived performance hegemony than AMD's desire to manufacture value-focussed APUs. AMD would dearly love to charge substantially more than £100 for its best-ever desktop APU.
Bah, humbug, a new motherboard?
Yup, FM2-type APUs simply don't fit, or run, on older FM1 boards used for Llano chips. Investment in a Trinity APU means laying down some more cash for a new motherboard, and here are your choices: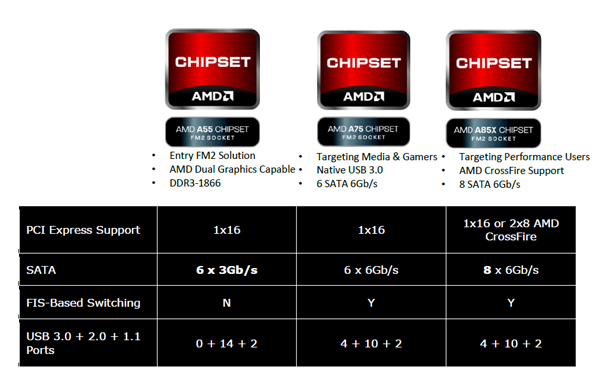 Unashamedly taken from the AMD press deck, this slide details the A55, A75, and A85X chipsets in perfunctory fashion. We find it slightly perplexing that AMD has chosen to keep the same model branding as on Llano boards, and having socket-incompatible A75 'FM1' and A75 'FM2' co-exist for a while will doubtless confuse customers. Whatever the case, ASUS, Gigabyte MSI are to launch a raft of supporting boards.
First-page summary
We've learned that AMD is finally bringing its next-generation APU, dubbed Trinity, to the desktop. It carries the same overarching x86 CPU and Radeon GPU architecture of first-generation Llano but supplants both with newer iterations of the technology.
Set against the backdrop of Intel improving its Core processors with the use of Ivy Bridge technology and promising even-greater improvements with next year's Haswell chips, AMD needs desktop Trinity to sell well. Let's now subject the range-heading A10-5800K to some stringent competition from both AMD's previous-generation Trinity and two iterations of Core i3. Who wins out?