Specification
AMD were forced to make a number of architectural changes to ensure operation at higher frequencies. It appears as if Intel faced no such problem as the 2.8GHz part is, for all intents and purposes, architecturally the same as any Northwood that has gone before. Let's have a look at the new chief of the Northwood clan.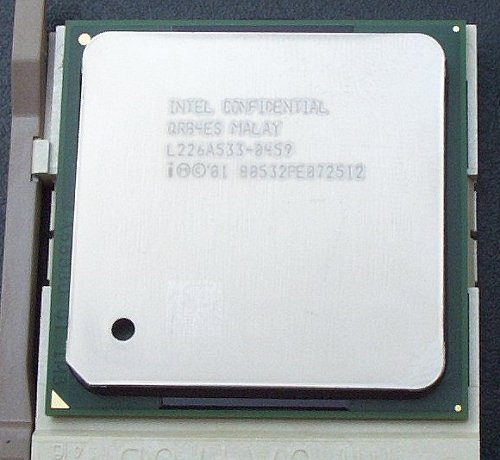 Intel are well-known for distributing review samples with 'Intel Confidential' etched on the integrated heat spreader. All Northwood review samples that I have seen thus far have been identical in that respect. You cannot glean any meaningful information from the codes contained on it. The situation, however, will be different when this CPU is released in retail form. Expect to see the speed, origin, and stepping etched on the IHS. It looks and feels the same as any other P4, save for the fact that it runs faster than the rest.
Specifications
Intel® Pentium IV Northwood 2.8GHz (21x133FSB (Quad-pumped))

Intel® NetBurst™ Micro-architecture

0.13 micron manufacturing process, 131 / 146mm² die sizes

8kb of L1 data cache, 12kb of L1 trace execution cache

512kb of L2 advanced transfer cache

Copper interconnects

133FSB, Quad-pumped to 533MHz

55 million transistors (12.2 million added for an extra 256kb cache)

1.525v operating voltage

68.4w power output

Integrated heat spreader

S478 microPGA form factor
Can you spot the one relatively minor change from all previous Northwoods ?. The operating voltage has been bumped up by 0.025v from 1.5v to 1.525v. Is this a sign that yields are not currently as impressive as Intel would like, and therefore need to raise the operating voltage to validate operation at higher frequencies ?. We'll find out in due course when I try to overclock this processor. This should tell us what kind of headroom there is on this particular sample.
So, just to recap, this Pentium 4 Northwood runs at 2800MHz on a 133MHz front-side-bus, 266Mhz faster than yesterday's flagship P4, but, apparently, needs a little extra voltage to do so. The 68.4w required at 2.8GHz is 9w greater than the incumbent 2.53GHz CPU. As wattage requirements escalate, enhanced motherboard power circuitry and upgraded coolers will be required. There have been rumblings on the web regarding a motherboard specification change for the upcoming 3.06GHz part, too.
On another note, hyper-threading does not seem to be enabled on this CPU. Hyper-threading, where the OS recognises 2 CPU on one die, has to work on both a hardware and software level. It may well be present on a hardware level, but will probably only be implemented at a time when Intel see fit. Here is what Intel's CPU counting program and SiSoft SANDRA thought of this 2.8.


New Stepping ?
There have been rumours flying around the web that the 2.8GHz P4 marks the beginning of a new stepping for the Pentium 4 processor. The Stepping ID has changed from 4 to 7. Looking at the cache information between the 2.26GHz and 2.8GHz processors, we see the following. Firstly the 2.26B

Note the 64 entries in the 4K byte page. Now the 2.8GHz P4

The doubling of this entry seems to stand out here. Maybe useful for future Hyper-threading ?. My thanks to Ryszard for noting this observation.