Taking Core i7 to the Extreme
The need for speed
It's now three years since Intel released the Core i7 processor and associated X58 chipset, making up the LGA1366 platform. Then ushering in a new era for high-performance PCs and with numbers still to be bettered by AMD's rival Bulldozer chip, Intel's has the high-end desktop market sewn up for a while.
Enthusiasts flocked to the now-defunct Core i7 920 - a quad-core, eight-threaded chip available, at the time, for sub-£200 - and Intel extended the LGA1366 platform's usefulness by wielding an improved range of chips hewn from a 32nm process that sport six cores and 12 threads, though stratospheric pricing keeps them out of the reach of most.
Scribble down a PC wishlist and Intel's Core i7 990X is the bee's knees. Saliently putting the £770 asking price aside for a moment, the 3.46GHz chip is the fastest consumer CPU available - no ifs, buts or maybes, and Intel can readily release a '995X' that's nothing more than a minor clock bump - the architecture still has frequency legs to spare.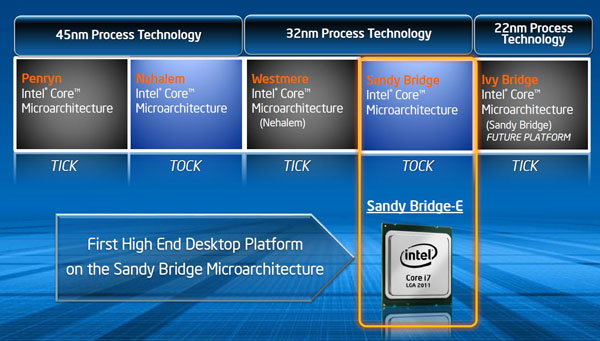 But the chip giant is committed to investing in new architectures and releasing chips on what it terms a tick-tock strategy. Unfortunately for Core i7 (LGA1366) and X58, powerful as they doubtless are, they're considered yesterday's news. Today's hottie is the excellent mainstream Sandy Bridge range, better known to you as the second-generation desktop Core i3/i5/i7. These chips excel in many areas, not least with respect to the diametrically-opposed attributes of low power consumption and tip-top performance.
Intel, then, has taken all this Sandy Bridge know-how and brought it to bear on a trio of high-end processors that are the natural successor to LGA1366/X58. Say hello to the Sandy Bridge Extreme.
First off, here's a very high-level overview of how the new chips compare with existing premium Intel models. This'll provide a solid footing for analysing architecture changes during this discourse.
Model number
Cores / Threads
Clock Speed
(GHz)
Max Turbo
(GHz)
IGP
Process
Cache
Interface
Memory channels
TDP
Turbo tech
Socket
Price
Intel Core
i7 3960X
6/12
3.30
3.90
N/A
32nm
(Sandy Bridge)
1.5MB L2
15MB L3
DMI 2.0
Quad
DDR3-1,600
130W
2.0

LGA2011

X79

$999
Intel Core
i7 3930K
6/12
3.20
3.80
N/A
32nm
(Sandy Bridge)
1.5MB L2
12MB L3
DMI 2.0
Quad
DDR3-1,600
130W
2.0

LGA2011

X79

$564
Intel Core
i7 3820
4/8
3.60
3.90
N/A
32nm
(Sandy Bridge)
1MB L2
10MB L3
DMI 2.0
Quad
DDR3-1,066
130W
2.0

LGA2011

X79

$294
Intel Core
i7 990X EE
6/12
3.46
3.73
N/A
32nm
(Westmere)
1.5MB L2
12MB L3
QPI
Triple
DDR3-1,066
130W
1.0

LGA1366

X58

$999
Intel Core i7 970
6/12
3.20
3.46
N/A
32nm
(Westmere)
1.5MB L2
12MB L3
QPI
Triple
DDR3-1,066
130W
1.0

LGA1366

X58

$583
Intel Core
i7 950
4/8
3.06
3.33
N/A
45nm
(Bloomfield)
1MB L2
8MB L3
QPI
Triple
DDR3-1,066
130W
1.0

LGA1366

X58

$294
Intel Core
i7 2700K
4/8
3.50
3.90
Intel HD 3000
32nm
(Sandy Bridge)
1MB L2
8MB L3
DMI 2.0
Dual
DDR3-1,600
95W
2.0

LGA1155

H, P, Z 6-series

$332
More of the same?
There are to be three new chips based on the Sandy Bridge Extreme architecture: the Core i7 3960X, 3930K and 3820. The trio share a number of similarities with the incumbent LGA1366 high-end chips, as both sets of CPUs are based on Intel's established 32nm technology, run without any form of pre-plumbed integrated graphics, have a 130W TDP, and, tellingly, share the six-core, 12-thread setup (Core i7 3820 excepted).
If it's more of the same but with a tweak here or there, what gives, because it's been a while since the Core i7 980X/990X's inception, right? Well, let's do the sensible thing and compare top-line part vs. previous top-line part.
Core i7 3960X vs. Core i7 990X
A spare $999 will buy you either a new-generation Core i7 3960X or last-gen Core i7 990X. The newer chip's actually clocked in a little lower, at 3.3GHz - matching Core i7 980X EE - but that figure isn't important. What's more interesting is the Turbo Boost frequency which is the speed the chip's cores can run at under certain constraints. One benefit of the Sandy Bridge architecture presents itself here, as the Core i7 3960X uses v2.0 of Turbo Boost. What this really means is the processor can boost speed better than the 990X in all circumstances, and here's how:
Model number/cores active
Native speed
One core
Two cores
Three cores
Four cores
Five cores
Six cores
Intel Core
i7 3960X
3.30GHz
3.90GHz
3.90GHz
3.70GHz
3.70GHz
3.60GHz
3.60GHz
Intel Core
i7 990X EE
3.46GHz
3.73GHz
3.73GHz
3.60GHz
3.60GHz
3.60GHz
3.60GHz
You see, the native speed is practically irrelevant if Turbo Boost is switched on in the BIOS, and there is no reason why it shouldn't be.
The Core i7 3960X matches the Core i7 990X's speed when five or six cores are used and beats it if fewer cores are active. Not escaping the eye of the eagled-eyed reader, Core i7 3960X continues with Sandy Bridge's 100MHz base clock, meaning multiplier jumps are 100MHz, not 133MHz, per the older Core i7 990X. The takeaway here is that Intel is making better use of the chip's TDP, maximising performance through a more-granular Turbo Boost implementation.
More bandwidth
The next meaningful boost comes way of more available memory bandwidth. Core i7 3960X uses an extra memory channel - one DIMM per channel - that's also officially rated at a higher speed than Core i7 990X's three-channel, DDR3-1,066, though this is pragmatically misleading as practically every X58 board allows one to increase memory speed to 1,600MHz. But comparing like for like, Core i7 3960X can tap into 51.2GB/s compared to Core i7 990X's 25.6GB/s - or exactly double. Be aware that the cache design and consumer desktop applications' usage has historically meant that a super-abundance of memory bandwidth isn't necessarily realised.
Different socket - more cost?
This one's rather obvious in the move between architectures. Intel's decision to include a fourth memory channel and a plethora of behind-the-scenes tweaks is manifested by a chip that's well, just plain larger. Core i7 3960X uses an LGA2011 socket and, therefore, requires a new supporting chipset called X79.