How we test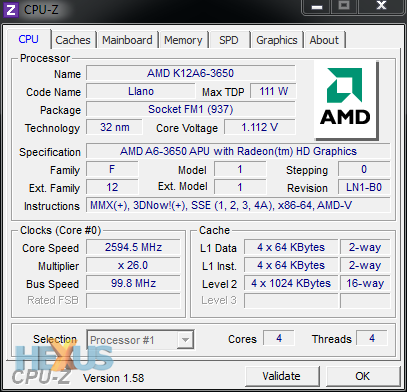 CPU comparisons

CPU
Approx.
pricing
Clock speed
Cores threads
Motherboard
Chipset
Int. Graphics
Graphics driver
Memory
Memory timings
AMD A8-3850
£100
2.9GHz
4/4
ASRock A75 Pro4
FM1
HD 6550D
Cat 11.7
DDR3 1,600
9-9-9-24-2T
AMD A6-3650
£90
2.6GHz
4/4
ASRock A75 Pro4
FM1
HD 6530D
Cat 11.7
DDR3 1,600
9-9-9-24-2T
AMD Phenom II X6 1100T
£140
3.3GHz
6/6
ASUS Crosshair IV Formula
890FX
-
-
DDR3 1,600
9-9-9-24-2T
AMD Phenom II X6 1055T
£120
2.8GHz
6/6
ASUS Crosshair IV Formula
890FX
-
-
DDR3 1,600
9-9-9-24-2T
AMD Phenom II X4 980BE
£140
3.7GHz
6/6
ASUS Crosshair IV Formula
890FX
-
-
DDR3 1,600
9-9-9-24-2T
AMD Phenom II X4 975BE
£130
3.6GHz
4/4
ASUS Crosshair IV Formula
890FX
-
-
DDR3 1,600
9-9-9-24-2T
AMD Athlon II X4 645
£80
3.1GHz
4/4
ASUS Crosshair IV Formula
890FX
-
-
DDR3 1,600
9-9-9-24-2T
Intel Core i7 2600K
£230
3.4GHz
4/8
ASUS P8Z68-V Pro
Z68
HD 3000
Intel '2361
DDR3 1,600
9-9-9-24-2T
Intel Core i5 2500K
£160
3.3GHz
4/4
ASUS P8Z68-V Pro
Z68
HD 3000
Intel '2361
DDR3 1,600
9-9-9-24-2T
Intel Core i5 2500
£150
3.3GHz
4/4
ASUS P8Z68-V Pro
Z68
HD 2000
Intel '2361
DDR3 1,600
9-9-9-24-2T
Intel Core i3 2100
£90
3.1GHz
2/4
ASUS P8Z68-V Pro
Z68
HD 2000
Intel '2361
DDR3 1,600
9-9-9-24-2T
Intel Core i5 650
£140
3.0GHz
2/4
Gigabyte H55M
H55
HD Graphics
Intel '2361
DDR3 1,333
9-9-9-24-2T
Intel Core i7 870
£140
3.6GHz
4/8
ASUS P7P55D
P55
-
-
DDR3 1,333
9-9-9-24-2T
Intel Core i5 750
£140
2.67GHz
4/4
ASUS P7P55D
P55
-
-
DDR3 1,333
9-9-9-24-2T
Intel Core i7 990X EE
£770
3.46GHz
6/12
ASUS P6X58D-E
X58
-
-
DDR3 1,333
9-9-9-24-2T
Intel Core i7 980X EE
£430
3.33GHz
6/12
ASUS P6X58D-E
X58
-
-
DDR3 1,333
9-9-9-24-2T
Intel Core i7 970
£430
3.2GHz
6/12
ASUS P6X58D-E
X58
-
-
DDR3 1,333
9-9-9-24-2T
Intel Core i7 950
£180
3.06GHz
4/8
ASUS P6X58D-E
X58
-
-
DDR3 1,333
9-9-9-24-2T
*Suggested retail price
Common components

Discrete GPU
AMD Radeon HD 6950 2GB (Cat 11.5)
Power Supply
Corsair HX1000W (Zalman 400W for IGP tests)
Monitor
Dell 30in 3007WFP
Disk drive(s)
Corsair V128 SSD
Chassis
Corsair Obsidian Series 700D
Operating system
Windows 7 Ultimate, SP1, 64-bit
Benchmarks

CPU
AIDA64
Useful application to test memory bandwidth
HEXUS.PiFast
Using CPU power to crunch to constant to 10m places - light load
iTunes MP3
Encodes WAV files into 192kb/s MP3 - light load
CINEBENCH R11.5
Multi-CPU render - heavy load
TrueCrypt 7.0a
Encryption benchmark - heavy load
wPrime 2.0.4
Calculate 1024M prime numbers - heavy load
GPU
3Mark Vantage
DX10 benchmark that stresses the (i)GPU and CPU
Just Cause 2
DX9 benchmark taking in the popular game. 720p
COD: BO
30-second FRAPS through a frenetic section, 720p
StarCraft II
90-second FRAPS through a typical battle, 720p
Power-draw
Run at idle, wPrime load (2D) and Just Cause 2 load (3D)
Notes
18 CPUs ranging from £80 through to £800. We give you such a wide comparison for completeness. However, it makes sense to compare like for like. As such, please do look at the results of the A6-3650 against Intel's Core i3-2100 chip - it's priced at £90 and also has integrated graphics.
We have run all systems with a discrete Radeon HD 6950 2GB card for 2D tests, thereby minimising any memory-bandwidth penalties incurred by setups using integrated graphics.
As the A6-3650 is a budget CPU and one of its main selling points is the quality of the HD 6530D graphics, we have run select combinations - IGP-only - in the gaming and power-consumption benchmarks; you probably wouldn't use a £200 discrete card with it.