Introduction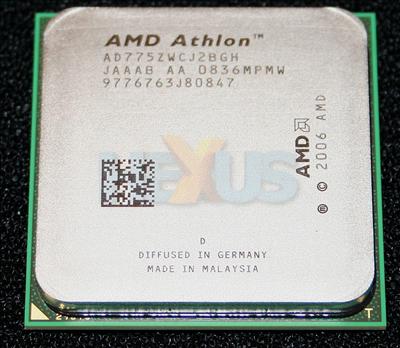 It's no secret that AMD will be launching updated Phenom quad-core processors very early next year, based on the company's 45nm manufacturing process, and if the signs that we saw last month are accurate predictors of overall clock-speed, then AMD should find itself somewhat back in the mid-range CPU game.

But whilst purporting to be faster than their incumbent brethren, parts based on a 65nm process, AMD's not going to worry Intel's Core i7 for a while yet. Appreciating this, the company needs to saturate the low-end market with affordable, decent-performing models. It's done this, kind of, by reducing the pricing of the ageing Athlon 64 X2 line to such an extent that a 3.1GHz model - Athlon 64 X2 6000+ - is now available for just £65.

AMD has to do more than just bring out the festive price-chopping machine, we feel, and a Phenom-derived dual-core CPU would fit the Christmas stocking nicely.

That's why, today, we're taking a look at an AMD Athlon X2 7750 Black Edition CPU, a 2.7GHz-clocked processor that has the beating guts of the Phenom inside.

Also priced at £65 or so, read on to find out if it's a value-orientated proposition just in time for Santa.