Introduction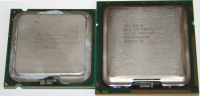 Today sees Intel beat up on none other than itself by officially announcing details of its next-generation microprocessor architecture, dubbed Nehalem.

Brought to the desktop under Core i7 nomenclature, three models will be available later on this month.

Our first foray into Core i7 country will take an in-depth look at the architecture and supporting chipset, X58. This will be followed, just a little later, with performance numbers comparing it against the best that's currently on offer for the home PC market.

Read on to find out what we think of Core i7.