Introduction
The last year has been particularly interesting on the CPU front. AMD came out swinging with its array of Ryzen chips from March 2017 onwards, Intel then upped its consumer game, for the first time in a while, in October 2017 when the 8th Gen Core family received a core-count boost. Most recently, AMD finally added an IGP to Ryzen in February 2018. Lots of change.
Such significant movements have shifted the performance landscape for all mainstream chips, and it's especially instructive to see the new value proposition at the mainstream end of the market characterised by CPUs costing £150 or less. Fighting in this space is the Core i3 range from Intel and the Ryzen 3 and 5 processors from AMD. Handily, they all have integrated graphics, too, enabling a fair comparison.
The first question that requires answering is where do the latest Core i3 chips fit into the Intel ecosystem. As usual, the spec table reveals all.
Mainstream Intel Core Series

Model

Cores /
Threads

Smart Cache
(MB)

Base
Clock
(GHz)

Turbo
Boost
2.0
(GHz)

Turbo
Boost
2.0
All-Core
(GHz)

PCIe
3.0
Lanes

IGP

IGPSpeed

Memory
Channels

Memory
Support

TDP
(W)

LGA
Package

MSP

Coffee Lake 8th Gen processors

Core i7-8700K

6 / 12

12

3.7

4.7

4.3

16

UHD 630

1,200

Dual

DDR4-2666

95

1151v2

$359

Core i7-8700

6 / 12

12

3.2

4.6

4.3

16

UHD 630

1,200

Dual

DDR4-2666

65

1151v2

$303

Core i5-8600K

6 / 6

9

3.6

4.3

3.9

16

UHD 630

1,150

Dual

DDR4-2666

95

1151v2

$257

Core i5-8400

6 / 6

9

2.8

4.0

3.8

16

UHD 630

1,050

Dual

DDR4-2666

65

1151v2

$182

Core i3-8350K

4 / 4

6

4.0

-

-

16

UHD 630

1,150

Dual

DDR4-2400

91

1151v2

$168

Core i3-8100

4 / 4

6

3.6

-

-

16

UHD 630

1,100

Dual

DDR4-2400

65

1151v2

$117

Select Kaby Lake 7th Gen processors

Core i7-7700K

4 / 8

8

4.2

4.5

4.4

16

HD 630

1,150

Dual

DDR4-2400

91

1151

$339

Core i5-7600K

4 / 4

6

3.8

4.2

4.0

16

HD 630

1,150

Dual

DDR4-2400

65

1151

$243

Core i3-7350K

2 / 4

4

4.2

-

-

16

HD 630

1,150

Dual

DDR4-2400

60

1151

$179

Core i3-7100

2 / 4

3

3.9

-

-

16

HD 630

1,100

Dual

DDR4-2400

51

1151

$117
Core i3 8th Gen vs. 7th Gen
There's been a significant change between generations - Coffee Lake vs. Kaby Lake - for the Core i3 family. Intel has taken the step of adding two more physical cores whilst keeping the thread count the same. This means that, at the same sorts of speeds, one would expect the 8th Gen parts to be about a third faster than the outgoing Kaby Lake. Of course, the exact gain depends upon application, but it is difficult to envisage a scenario where the Core i3-8100 or Core i3-8350K could be slower than their older brethren.
What hasn't changed is a lack of Turbo Boost capability. Both Core i3s have peak clocks of 3.6GHz and 4.0GHz for Core i3-8100 and Core i3-8350K, respectively. The frequencies are actually lower than the last generation, as shown by the table, but we would expect single-thread performance to be similar due to minor architectural improvements in the Coffee Lake design.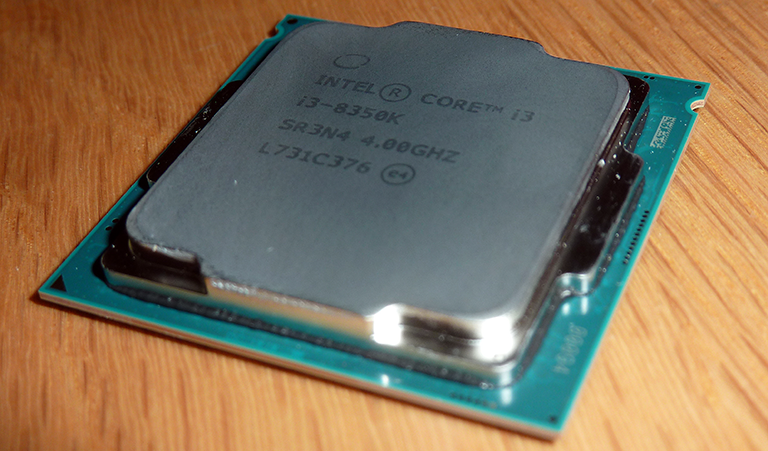 Typical of recent Intel chips, the Core i3-8350K uses an LGA socket
The Core i3-8350K costs around £160 and is offered unlocked, meaning the cores can be overclocked with a simple flick in the BIOS. Unlike AMD, whose architecture generally tops out at around 4GHz on air, Intel is able to push closer to 5GHz. Both chips use the UHD 630 graphics. Though the name is new, their capabilities are broadly in line with last year's HD 630. Great for energy efficiency and video playback but not so hot for any type of serious gaming.
Intel plumbs the K-version chip with a surprisingly high 91W TDP, compared to just 65W for the 8100, but we wouldn't worry too much about that as historically the unlocked part's TDP is overexaggerated.
Platform and Patch Considerations
Do be aware that opting for either 8-series chip will necessitate a new motherboard. They only work in the Z370 at present, and creating a clean break with the previous generation means that, for example, a Core i3-7100 won't work in said Z370 board. Such a move has important ramifications for the platform-level cost as the cheapest Z370 ATX boards start at £100
It is worth spending a moment to consider such platform considerations in view of what rival AMD has to offer. We know that our two review chips nominally line up against the Ryzen 5 2400G and Ryzen 3 2200G, also plumbed with integrated graphics, yet their AM4 compatibility translates to boards starting at £60.
Still, we're happy to see that both Intel and AMD have made strides into improving the performance of their mainstream CPUs, and both companies offer basic air coolers inside the packages - though not with the Core i3-8350K - that are backed by three-year warranties.
The spectre of Spectre and Meltdown persists more against Intel than AMD. To that end, the company is finally rolling out microcode updates to OEM partners. All numbers obtained in this editorial are from pre-patched silicon, though Intel reckons the post-patch performance impact to be in the region of five per cent (pdf file) for newer architectures and up to 10 per cent for sixth-generation Core chips.