Introduction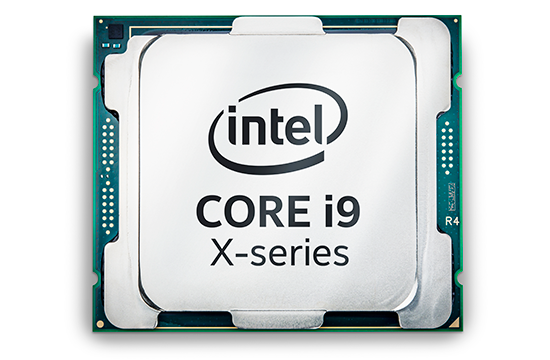 AMD seems to have rediscovered its mojo with the release of crowd-pleasing Ryzen processors, but in doing so may have awoken a sleeping giant filled with renewed resolve. That giant is Intel, and after years of unchallenged supremacy it is responding to the new threat by going into all-out attack.
The onslaught arrives in the form of the Core X-Series, a range of new 14nm CPUs described as Intel's most powerful, most scalable desktop processors to date. In an effort to appeal to a wide range of enthusiasts, prices start at $242 and extend right the way up to $1,999 for the all-singing, all-dancing Core i9-7980XE.
Said chip will boast a whopping 18 cores and 36 threads, but isn't expected to ship until Q4. For the time being power users will have to make do with the 10-core, 20-thread Core i9-7900X, priced at $999 and introduced as the first ever Intel Core i9 processor. All sounds rather good, however there are signs that Intel's retort to Ryzen has been fast tracked, resulting in uncertain availability, confusing segmentation and a few eyebrow-raising decisions.
Core X To The Rescue
It is no secret that Intel has dominated the high-end consumer CPU landscape for quite some time. Enthusiasts have argued that the chip giant has dragged its heels with new product launches, choosing to keep quad-core configurations as prime candidates while charging significant premiums for models carrying six or more cores.
AMD's decision to make eight-core Ryzen CPUs available from as little as $329 has put a cat among the pigeons, and with 16-core Ryzen Threadripper on the horizon, Intel has had to piece together a response in any way it can. The end result is a Core X line-up featuring processors based on either the current Kaby Lake or previous-generation Skylake architectures.
Intel Core X-Series

Model

Cores /
Threads

L3
Cache
(MB)

Base
Clock
(GHz)

Turbo
Boost
2.0
(GHz)

Turbo
Boost
2.0
All-Core
(GHz)

Turbo
Boost
3.0
(GHz)

PCIe
3.0
Lanes

Memory
Channels

Memory
Support

TDP
(W)

LGA
Package

Price

Skylake-X: coming later this year
Core i9-7980XE

18 / 36

TBC

TBC

TBC

TBC

TBC

TBC

TBC

TBC

TBC

2066

$1,999

Core i9-7960X

16 / 32

TBC

TBC

TBC

TBC

TBC

TBC

TBC

TBC

TBC

2066

$1,699

Core i9-7940X

14 / 28

TBC

TBC

TBC

TBC

TBC

TBC

TBC

TBC

TBC

2066

$1,399

Core i9-7920X

12 / 24

TBC

TBC

TBC

TBC

TBC

TBC

TBC

TBC

TBC

2066

$1,199

Skylake-X: available June 26
Core i9-7900X

10 / 20

13.75

3.3

4.3

4.0

4.5

44

Quad

DDR4-2666

140

2066

$999

Core i7-7820X

8 / 16

11

3.6

4.3

4.0

4.5

28

Quad

DDR4-2666

140

2066

$599

Core i7-7800X

6 / 12

8.25

3.5

4.0

4.0

-

28

Quad

DDR4-2400

140

2066

$389

Kaby Lake-X: available June 26
Core i7-7740X

4 / 8

8

4.3

4.5

4.5

-

16

Dual

DDR4-2666

112

2066

$339

Core i5-7640X

4 / 4

6

4.0

4.2

4.0

-

16

Dual

DDR4-2666

112

2066

$242
There's a lot to digest so let's start at the top. Of the nine Core X processors announced, the 12-, 14-, 16- and 18-core models won't arrive until later this year. It is logical to assume that Intel has decided to tease these parts to dampen the anticipation surrounding Ryzen Threadripper, but with most columns marked as TBC, it is clear that these chips are a work in progress. The Core i9-7920X is officially expected to ship in August, while the Core i9-7940X, i9-7960X and i9-7980XE are pencilled in for October, though these dates are subject to change.
That leaves five chips that will be available for pre-order from June 19, ahead of retail availability on June 26. Confusing matters, three of those are hewn from the Skylake architecture, while two are Kaby Lake born and bred. This division results in troublesome segmentation, as while all five CPUs share the same package - LGA2066 - only some will be able to take full advantage of the new X299 chipset, codenamed Basin Falls.
Socket To Me
Never shy to introduce a new chipset and socket, Intel's X299 is said to be the ultimate platform for gaming, content creation and overclocking. Offering up to 44 PCIe 3.0 lanes direct from the CPU, in addition to 24 from the chipset, X299 promises massive expansion capabilities as well as new-and-improved Turbo Boost 3.0 and quad-channel memory. Trouble is, only Skylake-X processors will offer support for many of the aforementioned features, and only the $999 Core i9-7900X will offer the vaunted 44 PCIe 3.0 lanes.
So why does Kaby Lake-X even exist on LGA2066? Good question, and we're struggling to find a legitimate answer. Both the Core i7-7740X and Core i5-7640X are essentially existing Core i7-7700K and Core i5-7600K parts with their IGP disabled and TDP increased from 91W to 112W. Greater headroom is said to allow for generous overclocking potential, but here's the caveat: using either the Core i7-7740X or Core i5-7640X will nullify certain motherboard features such as quad-channel memory.
Should anyone buy a Kaby Lake-X processor and an X299 motherboard, then? Perhaps not, though, there is an argument to be made for buying a quad-core CPU right now and upgrading to six or more cores if/when the need arises. But let's not pretend that Core X is designed to be available to all budgets; LGA2066 supersedes LGA2011v3 to become Intel's most extreme consumer platform, meaning X299 motherboards will not come cheap. With that in mind, enthusiasts eyeing up a new monster PC should be contemplating X299 and Core i9-7900X, which happens to be on the review table today.
The Core i9 Era
It is easy to pick holes in the Core X portfolio, yet for all our misgivings, there's no denying that the Core i9-7900X has the makings of a true CPU powerhouse. Proving that Ryzen has had an impact on Intel's product positioning, the new 10-core chip is 42 per cent cheaper than its predecessor, the Core i7-6950X, and likely to be significantly faster. It is still 100 per cent more expensive than the Ryzen 7 1800X, mind, but more cores and more performance tend not to come cheap.
Multi-core shootout: Core i9-7900X vs. Core i7-6950X vs. Ryzen 7 1800X

Model

Cores /
Threads

L3
Cache
(MB)

Base
Clock
(GHz)

Turbo
Clock
(GHz)

Turbo
Boost
3.0
(GHz)

XFR
(GHz)

PCIe
3.0
Lanes

Memory
Channels

Memory
Support

TDP
(W)

LGA
Package

Price

Core i9-7900X

10 / 20

13.75

3.3

4.3

4.5

-

44

Quad

DDR4-2666

140

2066

$999

Core i7-6950X

10 / 20

25

3.0

3.5

4.0

-

40

Quad

DDR4-2400

140

2011v3

$1,723

Ryzen 7 1800X

8 / 16

20

3.6

4.0

-

4.1

24

Dual

DDR4-2666

95

AM4

$499
Comparing the Core i9-7900X to the outgoing Core i7-6950X reveals significant gains in shipping frequencies. Base clock has risen by 10 per cent, turbo clock by 23 per cent and the Core i9 is able to maintain 4.0GHz across all 10 cores. Better still, with updated Intel Turbo Boost 3.0 technology, the 7900X is able to identify the two best-performing cores for single- or dual-core speeds of up to 4.5GHz. That means massive multi-core potential without having to sacrifice single-threaded speed, and Turbo Boost 3.0 is natively supported on Windows 10 as well as modern Linux distributions.
The other peculiarity in the table above is L3 cache, which at 13.75MB is little over half of what is available to the Core i7-6950X. Deceiving at first glance, the reduction in L3 is part of what Intel describes as a "rebalanced smart cache hierarchy," whereby the size of L2 cache has increased from 256KB to 1MB per core, while the L3 cache has gone from inclusive to non-inclusive. Such an arrangement should benefit certain workloads, and Core i9 processors are to be the first to support the long-awaited AVX-512 instruction set.
Plenty to mull over, but real-world performance is what ultimately holds sway. We've been able to spend some time benchmarking the Core i9-7900X, so let's see how the numbers stack up, shall we?