Test Methodology
AMD Ryzen 5 1600X and 1500X Specification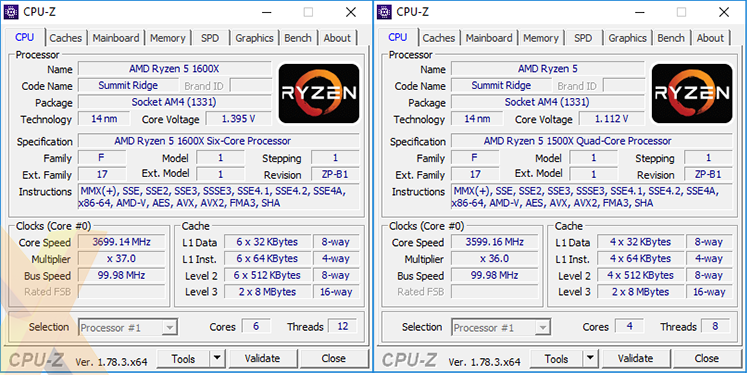 AMD Comparison Processor Configurations

CPU

Ryzen 7 1800X

Ryzen 7 1700X

Ryzen 7 1700

Ryzen 5 1600X

Ryzen 5 1500X

FX-9590

FX-6350

CPU Base Clock

3.6GHz

3.4GHz

3.0GHz

3.6GHz

3.5GHz

4.7GHz

3.9GHz

CPU Turbo Clock

4.0GHz

3.8GHz

3.7GHz

4.0GHz

3.7GHz

5.0GHz

4.2GHz

CPU Cache

20MB

20MB

20MB

19MB

18MB

8MB

8MB

CPU Cores / Threads

8 / 16

8 / 16

8 / 16

6 / 12

4 / 8

8 / 8

6 / 6

CPU TDP

95W

95W

65W

95W

65W

220W

125W

Integrated Graphics

-

-

-

-

-

-

-

IGP Base Clock

-

-

-

-

-

-

-

IGP Turbo Clock

-

-

-

-

-

-

-

Socket

AM4

AM4

AM4

AM4

AM4

AM3

AM3

Lithography

14nm

28nm

Motherboard

Asus Crosshair VI Hero

Asus Sabertooth 990FX R3

BIOS

5704 (1002 for Ryzen 5)

0212

Memory

Corsair Vengeance 32GB DDR4

Corsair XMS3 16GB DDR3

Memory Config

4x8GB

2x8GB

Memory Timings

16-17-17-36-1T

11-11-11-28-2T

Memory Speed

2,666MHz

1600MHz

Disk Drive

SK hynix Canvas SC300 (512GB)

Power Supply

be quiet Dark Power Pro 11 (1,000W)

Graphics Card

EVGA GeForce GTX 1080 FTW (378.66)

CPU Cooler

Noctua NH-D15S

Operating System

Microsoft Windows 10 (64-bit)
Intel Comparison Processor Configurations

CPU

Core i7-6950X

Core i7-6900K

Core i7-7700K

Core i5-7600K

Core i5-7350K

CPU Base Clock

3.0GHz

3.2GHz

4.2GHz

3.8GHz

4.2GHz

CPU Turbo Clock

3.5GHz

3.7GHz

4.5GHz

4.2GHz

-

CPU Cache

25MB

20MB

8MB

6MB

4MB

CPU Cores / Threads

10 / 20

8 / 16

4 / 8

4 / 4

2 / 4

CPU TDP

140W

140W

91W

91W

60W

Integrated Graphics

-

-

HD 630

HD 630

HD 630

IGP Base Clock

-

-

350MHz

350MHz

350MHz

IGP Turbo Clock

-

-

1,150MHz

1,150MHz

1,150MHz

Socket

LGA 2011v3

LGA 2011v3

LGA 1151

LGA 1151

LGA 1151

Lithography

14nm

Motherboard

Asus X99 Strix Gaming

Asus Z270E Gaming

BIOS

1401

0801

Memory

Corsair Vengeance 32GB DDR4

Crucial Ballistix 32GB DDR4

Memory Config

4x8GB

2x16GB

Memory Timings

15-15-15-36-1T

16-16-16-39-1T

Memory Speed

2,400MHz

2,400MHz

Disk Drive

SK hynix Canvas SC300 (512GB)

Power Supply

be quiet Dark Power Pro 11 (1,000W)

Graphics Card

EVGA GeForce GTX 1080 FTW (378.66)

CPU Cooler

Noctua NH-D15S

Operating System

Microsoft Windows 10 (64-bit)
Benchmark Suite

CPU Benchmarks
HEXUS PiFast
Our number-crunching benchmark stresses a single core by calculating Pi to 10m places
Cinebench R15
Using Cinebench's multi-CPU render, this cross-platform benchmark stresses all cores
wPrime 2.1.0
Another number-crunching benchmark that stresses all available CPU cores/threads
HandBrake 0.10.5
Free-to-use video encoder that stresses all CPU cores (64-bit)
Memory Benchmarks
AIDA64 v5.80.4084
Benchmark that analyses memory bandwidth and latency
Gaming Benchmarks (GeForce GTX 1080)
3DMark Time Spy
Graphics test run using the Time Spy default test
VRMark
VR test run using Orange Room test
Deus Ex: Mankind Divided
2,560x1,440, ultra settings
Hitman
2,560x1,440, ultra settings
Total War: Warhammer
2,560x1,440, ultra settings
Miscellaneous Benchmarks
Power Consumption
To emulate real-world usage scenarios, we record system-wide mains power draw when idle, when encoding video via HandBrake and while playing Deus Ex: Mankind Divided
Notes
All 12 processors have been tested afresh, with each platform employing the same hard drive, cooling, graphics card, power supply and operating system. As much as we could, we ran memory at the approved speeds for each processor. All Asus motherboards were flashed with the latest BIOS prior to testing.
AMD sent us a press kit with Ryzen 5 1500X and 1600X chips along with a B350 motherboard. The company argues that these mainstream Ryzen CPUs are best paired with the cheaper chipset, not least because it has worked hard with motherboard companies to ensure that, this time around, platform support is rock solid. We chose to keep consistency with Ryzen 7 reviews and use the Asus Crosshair VI Hero X370 motherboard, upgraded to the latest 1002 BIOS, and can report that stability has been improved markedly.
Looking into the speeds further, the R5 1600X has a 3.7GHz all-core boost, is able to turbo up to 4.0GHz on up to two cores, and add another 0.1GHz through XFR. The Ryzen 5 1500X does 3.6GHz all-core, 3.7GHz turbo and 3.9GHz XFR, suggesting that enhanced cooling plays a bigger part in its potential. We observed exactly these XFR frequencies during testing.
We used the newer Ryzen-Balanced power plan for testing both chips.