Introduction
There was febrile talk of just how the AMD Ryzen processor was going to shake up the enthusiast PC landscape by heralding Intel-matching performance at significantly lower price points. AMD has achieved that aim, as you can see by perusing our R7 1800X and R7 1700X reviews. Hugely capable in scenarios where applications take advantage of multiple threads, the Ryzen 7's only real weakness is slightly underwhelming performance in gaming, attributable to, AMD says, Windows not being optimised for the chips' SMT capability.
With the understanding that the initial batch of Ryzen 7 processors are built on the same wafers at GlobalFoundries, there is good reason to believe that, once overclocked, all will perform similarly. Such a suggestion makes sense knowing that all Ryzen chips are unlocked.
So what's stopping the intelligent enthusiast from picking the relatively budget Ryzen 7 1700, available for £320, and running it faster? And even if you don't want to, its conservative 65W TDP rating and generous 3.7GHz single-thread boost speed still make it an intriguing proposition.

Doesn't it make sense to save up to £170 compared to Ryzen 7 1800X and repurpose the savings elsewhere? We believe it does, so let's find out just what makes the R7 1700 tick along.
AMD vs. Intel: desktop CPUs with six or more cores

Model

Cores / Threads

Cache

TDP

Base Clock

Turbo Clock

XFR

Memory

Package

Price

AMD Ryzen 7 1800X

8 / 16

20MB

95W

3.6GHz

4.0GHz

Yes, 100MHz

DDR4-2666

AM4

£490

AMD Ryzen 7 1700X

8 / 16

20MB

95W

3.4GHz

3.8GHz

Yes, 100MHz

DDR4-2666

AM4

£390

AMD Ryzen 7 1700

8 / 16

20MB

65W

3.0GHz

3.7GHz

Yes, 50MHz

DDR4-2666

AM4

£320

Intel Core i7-6950X

10 / 20

25MB

140W

3.0GHz

3.5GHz

-

DDR4-2400

S2011-3

£1,600

Intel Core i7-6900K

8 / 16

20MB

140W

3.2GHz

3.7GHz

-

DDR4-2400

S2011-3

£1,000

Intel Core i7-6850K

6 / 12

15MB

140W

3.6GHz

3.8GHz

-

DDR4-2400

S2011-3

£620

Intel Core i7-6800K

6 / 12

15MB

140W

3.4GHz

3.8GHz

-

DDR4-2400

S2011-3

£420
Ryzen 7 1700 uses the same eight-core, 16-thread topology as the two dearer and faster chips. There's half the XFR boost, meaning that it won't go above 3,750MHz unless you delve into some manual overclocking, which we will do later on in the review.
The chip gives away some base frequency, of course, but we still expect multi-core benchmark numbers to be impressive: it doesn't take a genius to figure out this chip offers the best bang for your buck.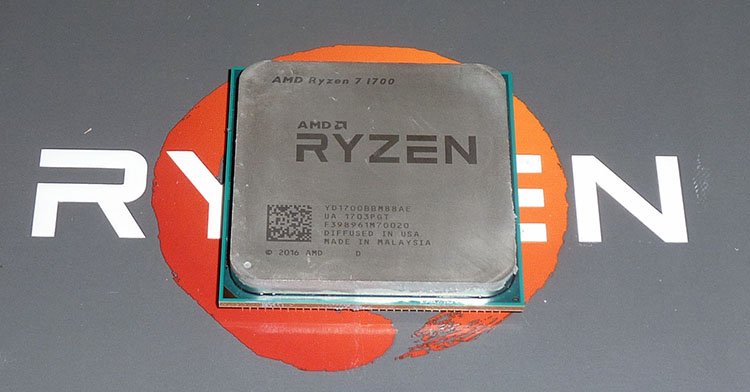 Cutting to the chase, let's examine just how potent the Ryzen R7 1700 can be, and whether it's actually worth spending additional money on the other two.