Introduction
In the eyes of many enthusiasts, performance in the desktop PC has stalled due to a lack of competition between the key semiconductor manufacturers. AMD, the underdog, has for too many years struggled to keep up with Intel, allowing the latter to put up its feet and focus on mobile parts while charging eye-watering amounts for many-core desktop chips based on previous-generation architecture.
Competition can be crucial to long-term innovation and better value in the marketplace, and it is for these reasons that legions of AMD fans continue to hope that Ryzen will re-establish the chip manufacturer as everyone's favourite dark horse.

The new processors, spearheaded by the Ryzen 7 1800X, don't quite have the ammunition to surpass Intel in the all-out performance stakes, yet given AMD's misfires in previous generations, the fact that Ryzen is at all competitive is an achievement in itself.
And the new chip is competitive in more ways than one. We won't dig through the modernised Zen architecture all over again - our initial review has that covered - but as a reminder we know that while Ryzen's single-thread performance is reasonable, the chip's real party trick is to offer massive multi-thread potential and to do so for an agreeable fee.
The Ryzen 7 1800X that first passed through our test bench offers eight cores, 16 threads and a peak frequency of 4.0GHz for £490. An Intel chip with that number of cores would cost over twice as much, so the 1800X looks a comparative bargain, or at least, it does until you start to consider other parts in the Ryzen 7 portfolio.
AMD vs. Intel: desktop CPUs with six or more cores

Model

Cores / Threads

Cache

TDP

Base Clock

Turbo Clock

XFR

Memory

Package

Price

AMD Ryzen 7 1800X

8 / 16

20MB

95W

3.6GHz

4.0GHz

Yes, 100MHz

DDR4-2666

AM4

£490

AMD Ryzen 7 1700X

8 / 16

20MB

95W

3.4GHz

3.8GHz

Yes, 100MHz

DDR4-2666

AM4

£390

AMD Ryzen 7 1700

8 / 16

20MB

65W

3.0GHz

3.7GHz

Yes, 50MHz

DDR4-2666

AM4

£320

Intel Core i7-6950X

10 / 20

25MB

140W

3.0GHz

3.5GHz

-

DDR4-2400

S2011-3

£1,600

Intel Core i7-6900K

8 / 16

20MB

140W

3.2GHz

3.7GHz

-

DDR4-2400

S2011-3

£1,000

Intel Core i7-6850K

6 / 12

15MB

140W

3.6GHz

3.8GHz

-

DDR4-2400

S2011-3

£620

Intel Core i7-6800K

6 / 12

15MB

140W

3.4GHz

3.8GHz

-

DDR4-2400

S2011-3

£420
AMD's range-topping CPU seems a steal compared to, say, a Core i7-6900K, but it's the second-rung offering that happens to have us intrigued. The Ryzen 7 1700X costs just £390 and loses out to its sibling in but one area: 0.2GHz of clock speed.
A £100 saving for the sake of 200MHz? Seems an acceptable trade-off, and with support for XFR, there's every possibility the chip will automatically boost closer to the 4.0GHz mark with a meaty cooler attached. And remember, all Ryzen processors are multiplier unlocked, so those of you who like to dabble in a bit of overclocking won't have your choices artificially limited.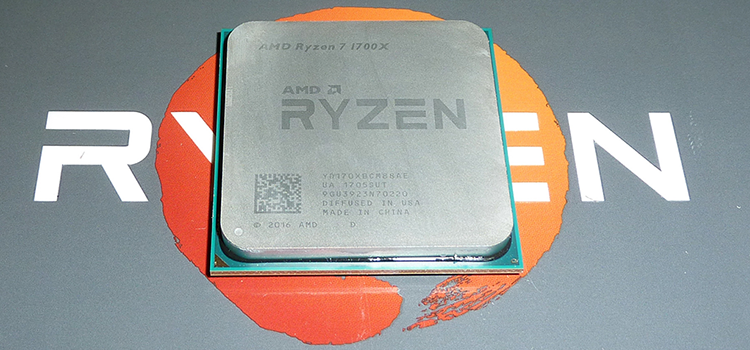 The question that remains, then, is how much of a difference does that additional 200MHz make? Let's put the 1700X to the test and unearth some more real-world Ryzen numbers.