Ryzen CPUs and Chipset
You will, we hope, by now have a keener appreciation of how Zen is put together and some of the smarts it is endowed with that enable consistently high frequencies.
AMD Ryzen 7 CPU Range

Cores / Threads

Transistors

Cache

TDP

Base Clock

Turbo Clock

XFR

Memory

Factor

Supplied Cooler

Price

Ryzen 7 1800X

8 / 16

4.8bn

20MB

95W

3.6GHz

4.0GHz

Yes, 100MHz

DDR4-2666

AM4

-

£490

Ryzen 7 1700X

8 / 16

4.8bn

20MB

95W

3.4GHz

3.8GHz

Yes, 100MHz

DDR4-2666

AM4

-

£390

Ryzen 7 1700

8 / 16

4.8bn

20MB

65W

3.0GHz

3.7GHz

Yes, 50MHz

DDR4-2666

AM4

Wraith Spire

£320
An initial trio of Ryzen 7 chips are available and shipping from today. They all use an eight-core, 16-thread topology, meaning that two CCX units are glued together via Infinity Fabric and presented in one package. Keeping them modern, AMD has tasked semiconductor manufacturer GlobalFoundries to produce them on a 14nm process, and this is one reason why, given that Zen is a much more impressive, wider core than Bulldozer, the TDPs are relatively modest and impressive.
The three chips are unlocked, bringing the question of why you would go for the two dearer processors? After all, they are all based on the same architecture. The answer varies on how you perceive the Ryzen chips. If all you desire is eight-core, 16-thread processing and want to run at a reasonable frequency, the Ryzen 7 1700 is a good bet. One could argue that it will run at 3.5GHz, on all cores, with a bit of tinkering in the BIOS.
AMD will say, if pushed, that the two premium models offer more scope for frequency as they're the best yields from the line. Adding credence to the limited headroom of the Ryzen 7 1700, which has half the XFR - the other two jump by up to 100MHz if your cooling is up to the task.
With the already-proven assumption that AMD is able to get very close to Intel's similar CPUs - eight- and 10-core - in multi-threaded performance terms, pricing is impressive. The 1800X, for example, is less than half the current price of the Intel Core i7-6900K, while the 1700 is about the same price as the Core i7-7700K but offers double the cores and threads, albeit at a reduced speed.
From a retail point of view, only the Ryzen 7 1700 arrives with a cooler - the Wraith Spire. The other two will simply be processors in a box. AMD, however, is to offer the Ryzen 7 1800X and 1700X to system builders with a new, improved cooling solution called Wraith Max, complete with an RGB lighting ring, ostensibly for easy integration into custom-built PCs. These builders will be encouraged 'not to sell' them onwards to consumers.
Motherboard Support
Ryzen processors use a new motherboard socket known as AM4. Moving to a new socket is an inevitable consequence of a clean-sheet design. To its credit, AMD has publicly announced that it doesn't plan to change sockets in the next few years, thus guaranteeing the next iteration of Zen will use the same form factor. Other Ryzen processors, such as the four- and six-core versions, plus those with integrated graphics, are to use AM4, too.
At launch, AMD says it has over 80 motherboards ready to go. The different spacing of the mounting holes, compared to AM3, means that cooler manufacturers have been busy releasing compatible mounting kits. Given the flurry of announcements recently, every top-tier manufacturer is ready and willing for AM4.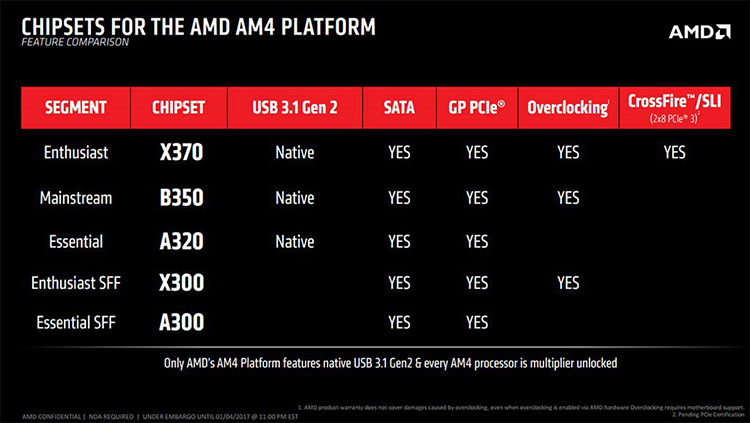 X370 is the chipset that most enthusiasts will look towards. It's much-needed, too, as the current raft of AMD motherboards, supporting older CPUs, are woefully out of date with respect to features.
Tied to the Ryzen chip via a four-lane PCIe 3.0 interface, X370 has six SATA ports, six USB 3.1 Gen 1, six USB 2.0 as well as a couple of the faster USB 3.1 Gen 2 ports as standard.
The Ryzen processors integrate a total of 20 PCIe lanes and X370 is the sole core logic officially able to split 16 of those lanes into two x8. Supporting multi-GPU with, naturally, CrossFire and SLI, it adds a further eight PCIe Gen 2.0 lanes for peripherals and super-fast storage. If you ask AMD, eight-core Ryzen needs to be paired with X370 for maximum performance.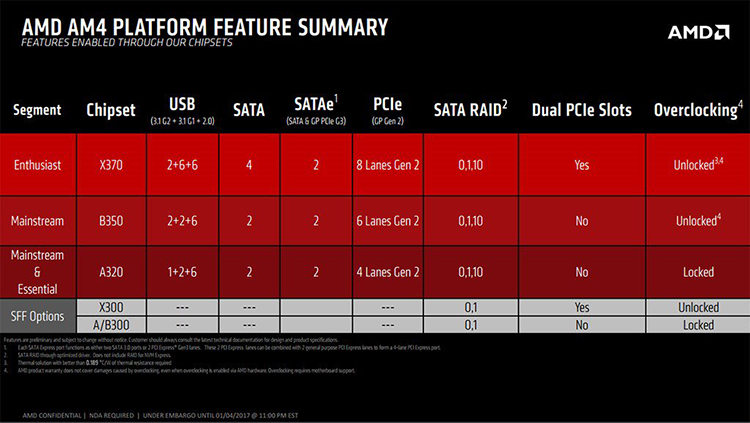 Mainstream B350 is rather more limited. It should ship with a single PCIe slot for graphics though some motherboard manufacturers may use two. There's CrossFire support in such cases yet no SLI compatibility - the extra cost for a license deemed not worthy on a value-orientated chipset. Elsewhere, there's a general trimming of USB ports and SATA capability.
Appealing to those who may be considering the cheaper four-core versions of Ryzen, the decidely budget A320 chops matters down further, and given its lack of focus on premium components, overclocking above and beyond Precision Boost is not officially supported. We keep mentioning official as enterprising motherboard manufacturers will likely find a way around.
Those looking to build small systems should pay heed to the X300 and A300/B300. There's not a lot of detail on their constituent parts right now, but we expect more to trickle though in the coming weeks.