World's first universal liquid cooler for GPUs
When you think of factory-sealed, closed-loop liquid coolers, a few existing CPU solutions probably come to mind - namely CoolIT's own ECO A.L.C. and Corsair's Hydro Series H50.
Transfer that very same technology to the the GPU, and you're thinking along the lines of the OMNI A.L.C.
The idea, in principle, is very straight forward. Take a radiator, attach a compact pump and a decent-sized fan, run a couple of tubes to a GPU-attachable plate and hey presto - you've a closed-loop liquid cooler for your graphics card.
CoolIT's bit of magic is that it'll produce the GPU plates - dubbed interposer plates - in multiple shapes and sizes, designed to attach to many of the industry's high-end graphics cards. For the end user, that should ensure your cooler lives on beyond the life of your graphics card - upgrade to a newer-generation GPU and you shouldn't need to change your cooler.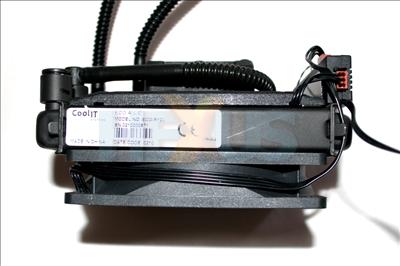 Here's the first piece of the puzzle - the OMNI A.L.C's combination of fan, radiator and pump. The standard radiator, sitting in the middle, is a 120mm solution and rated sufficient for any single GPU. Users wanting to run multi-GPU configurations will also be catered for, as CoolIT will be launching a 240mm model with the capacity to cool two-way SLI or CrossFire setups. There's no news on a massive three-way solution, but there's nothing stopping you from getting both a 240mm and 120mm kit for three graphics cards - you'll just need a chassis big enough to house it all.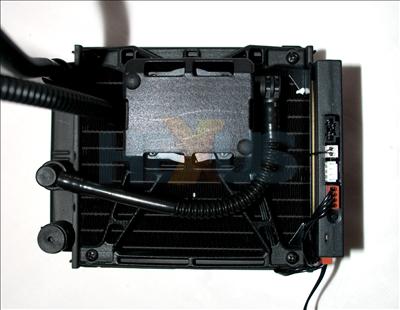 Like the ECO A.L.C. CPU cooler, CoolIT's OMNI GPU solution uses a similar compact ceramic-bearing CFF1 pump. Attached directly to the radiator, it'll circulate the coolant - which happens to be CoolIT's own low-toxicity blend with anticorrosion/anti fungal additives - between the radiator and the GPU plate. With a quoted mean time to failure of 50,000 hours, don't expect the pump to fail anytime soon.
What's useful is that a built-in controller powers both the pump and the attached 120mm fan via a single three-pin header. That can be connected to any unregulated motherboard header, and whilst there's currently no way to manually adjust fan speeds, the OMNI A.L.C. will regulate fan speed based on coolant temperature.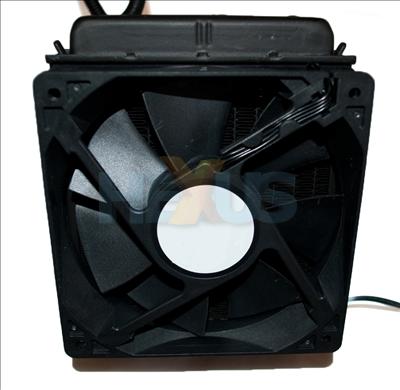 The 120mm fan resting atop of the radiator can be fixed inside your chassis. Most users shouldn't run into problems with a radiator/fan of this size, but if you're planning on picking up the multi-GPU 240mm variant, you'll need a chassis able to support at least two 120mm fans.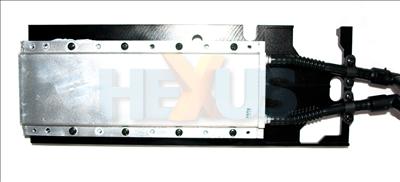 The second part of the puzzle is the "universal liquid plate" - that's the silver bit in the above picture. Using "high density micro-channels and directional flow," it promises aggressive heat transfer from the GPU and at almost 200mm in length covers a graphics card's key components.
Beneath the universal liquid plate is the last major component, the interposer plate. Our sample arrived with a interposer plate, designed to fit NVIDIA's GeForce GTX 480, already attached to the universal liquid plate, but manual installation would involve nothing more than applying a coat of thermal paste and tightening eight screws to bring the two plates together.
When a user changes graphics card, you simply remove the current interposer plate and attach one that fits your new GPU. We'd expect CoolIT to bundle at least one fresh syringe of thermal paste to help users with future upgrades.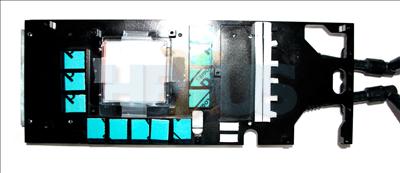 A look at the GeForce GTX 480 plate shows that it's entirely tailored to NVIDIA's hot-running GPU. The core contact patch comes with thermal paste pre-applied, as do perfectly-placed pads for the card's GDDR5 memory chips and VRMs.
Readers should note that our engineering sample isn't a finalised product. CoolIT tells us that it is still tweaking the design of the OMNI A.L.C and we'd expect to see the final product looking notably less industrial, as per the promotional image on page one of the review. Our early prototype should however give a decent insight into performance.
Before we get to installation and benchmarks, though, a word on price. It's subject to change at this moment in time, but CoolIT reckons a single-GPU OMNI A.L.C. (consisting of a 120mm loop and one bundled interposer plate) will fetch around $199.99, that's roughly £150 including VAT. Subsequent interposer plates are then expected to retail at up to $79.99 (approximately £60 inc. VAT).
As a complete closed-loop solution, pricing is competitive. For comparison's sake, a standalone GTX 480 waterblock can fetch around $120.