Introduction
Deepcool is keen to extol the virtues of its anti-leak technology. Fully unveiled back in March, the patented tech is the result of three years R&D and promises to "eliminate the major leakage risks" of all-in-one coolers by integrating a pressure-relief device.
We've not experienced a liquid cooler leak in all our years of testing (touch wood), yet the promise of more robust protection is a key differentiator in a market where many all-in-one solutions are so closely related. Hoping to stand apart, Deepcool's anti-leak technology incorporates a synthetic rubber capsule whose elasticity allows it to compress and increase internal volume to adapt to any pressure changes within the loop.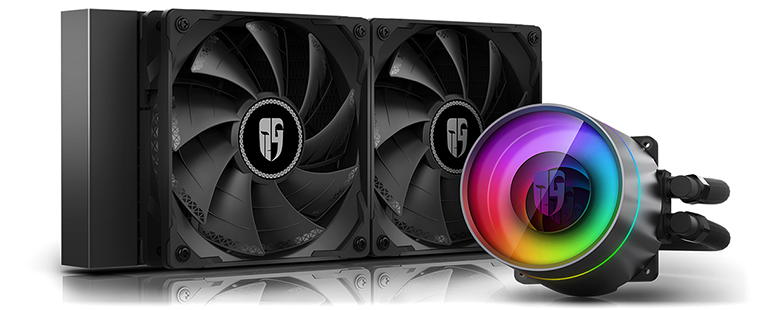 An official info page goes into greater detail about the patent and materials used during construction, and considering the resources poured into the project, Deepcool is understandably eager to expand its catalogue of anti-leak coolers. Following on from the Captain 240 Pro launched back in January, today we have the opportunity to review the Castle 240 EX that has landed at US stores priced at $120 ahead of UK availability in the coming weeks.
As expected, this is an alternative to the existing Castle 240 RGB, with the Chinese manufacturer taking the opportunity to include a handful of tweaks. Firstly, the appearance of an already-attractive pump head has been bolstered by a gap that circles the body to allow for a neat ring of light. It's a nice touch that looks great in the flesh - this is in our estimation one of the most stylish pumps currently available - and there's a functional advantage, too. Turns out the top of the pump head now twists away, allowing access to the GamerStorm logo on the inside. This can be rotated to suit cooler orientation, and Deepcool helpfully includes a blank disc in the bundle, making it easy for users to debrand the pump head or apply a sticker or logo of their own.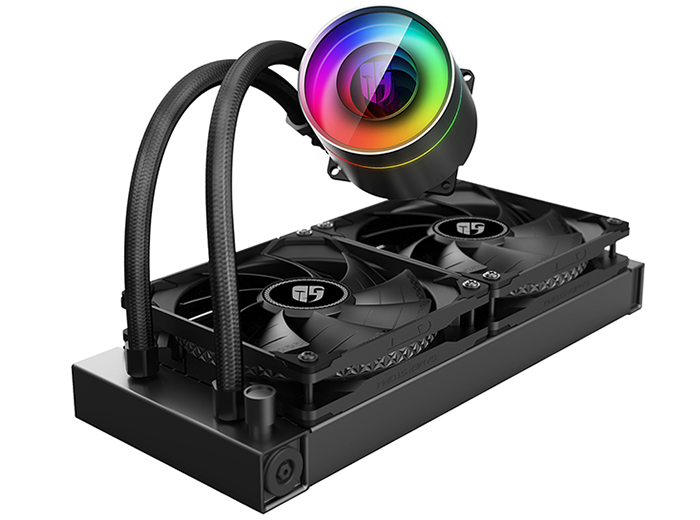 Secondly, the EX eschews additional RGB accessories and opts instead for a pair of four-pin TF120S PWM fans capable of generating up to 64.4 cubic feet of air per minute, with speeds ranging from 500 to 1,800 RPM. Noise is said to peak at 32.1dB, with rubber pads at each corner helping dampen vibration, and a bundled splitter cable can be found amid all the fixings to ensure both fans occupy only one motherboard header.
There are of course other performance claims - Deepcool reckons the pump is more powerful while efficiency is said to have been improved by a 25 per cent increase in fins on the back of the copper base - but the Castle 240 EX is essentially a familiar 240mm solution. You can spy the cap of the anti-leak rubber capsule at the end of the 282mm x 120mm x 27mm radiator, and flexible braided tubing measuring 310mm leads to the 86mm x 75mm x 71mm pump. Build quality feels good throughout, with a three-year warranty providing extra peace of mind, and getting up and running is reasonably straightforward.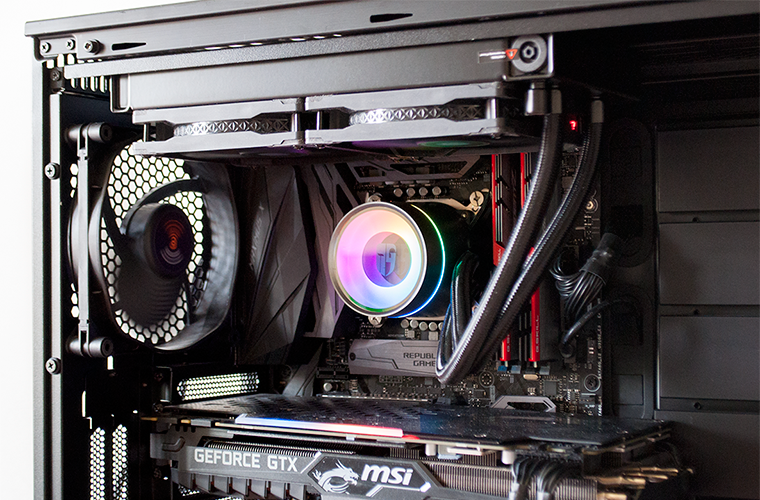 All the latest Intel and AMD sockets are supported - including oversized Threadripper - and installation on our LGA1151 test platform was complete in under 15 minutes. The only minor complication is that the pump attaches directly to the provided motherboard backplate, making it tricky to hold everything in place before fastening. We prefer standoffs that secure the backplate before the pump goes in, and while we're nitpicking, it's a shame Deepcool has followed the industry trend by not including any spare thermal paste. All you get is what's pre-applied to the copper base.
On the plus side, cable clutter is kept to a minimum, with only a three-pin power header for the pump, an RGB connector for addressable lighting control and the two aforementioned fan cables. Deepcool includes a basic SATA-powered controller for adjusting lighting effects, but the preferred method is to connect the RGB cable to a 5V motherboard header as compatibility is guaranteed with boards from ASRock, Asus, Gigabyte and MSI. We're not typically swooned by RGB lights, but it has to be said, the Castle 240 EX looks terrific inside our test platform. Question is, does it provide the performance to match?