Introduction
Aerocool probably isn't the first name that springs to mind when you think of liquid cooling, but the 17-year-old Taiwanese firm claims to be a leader in the gaming market and has its sights set on the UK market. The appointment of Dean Shaw, formerly of AMD and SteelSeries, as Country Manager for the UK and Ireland is a sign of intent, and Aerocool's presence is now more recognisable than ever before.
We recently had the opportunity to evaluate an Aerocool Project 7 power supply and came away suitably impressed, so today we're turning our attention to another of the firm's key products, the Project 7 P7-L240 liquid cooler.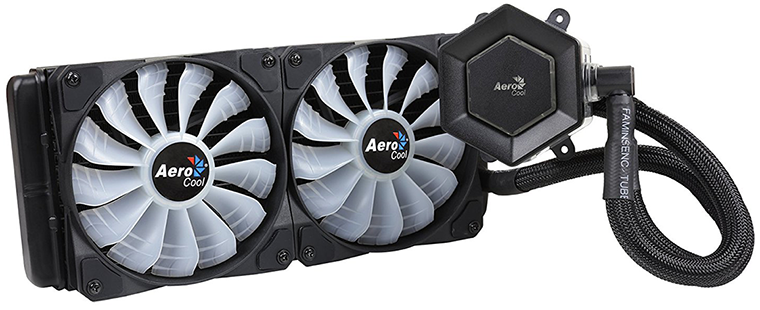 With so many players competing in this congested field, you might assume that a liquid cooler from one firm is practically the same as any other. Not necessarily so, as Aerocool's unusual pump head suggests that this isn't another Asetek variant.
Available for £100, the P7-L240 undercuts a fair few RGB competitors on price and promises to deliver a tempting mix of cooling performance and customisation. Build quality appears decent at first glance, and we like the fact that Aerocool ships the cooler with the fans pre-attached to the 280mm x 120mm x 53mm radiator to help simplify installation in most chassis.
Speaking of radiator, the P7-L240 is said to take a low-density approach to fins, resulting in better airflow and "just the right heat dissipation." The 120mm RGB fans, meanwhile, use a hydraulic bearing and are capable of speeds ranging from 600RPM to 1,800RPM via a four-pin PWM connection. Anti-vibration pads are located in each corner, to help absorb unwanted noise, and the entire fan-blade assembly is easily removable for cleaning.
Attached to the aluminium radiator via neatly sleeved tubing is the eye-catching hexagonal pump. Aerocool reckons the dual-chamber casing helps reduce noise, and the top lid conveniently twists off, allowing the user to top-up on liquid if need be. The tube connections rotate, allowing for flexible installation, and the pure-copper contact plate appears suitably smooth.
It's a good-looking pump, particularly when illuminated, however it is somewhat chunky and may foul other components on certain motherboards. Aerocool helpfully publishes a list of motherboards known to be incompatible, but the firm could do more to make the installation process a little more refined. All the fixings are lumped into a single bag, and though there is a small tube of thermal paste that's good for at least a couple of re-mounts, presentation isn't as elegant as, say, a Noctua.
There's a potential snag with regards to RGB illumination, too. Out of the box, there's no RGB controller, so the various LEDs won't light up without a separate piece of equipment. Aerocool does sell a hub of its own - the P7-H1, priced at £20 - but the theory is that most users will attach the cooler to an RGB header on a modern motherboard. It's something to be aware of if you're adding a liquid cooler to an older machine, but the issue is negated if you're buying into the Aerocool ecosystem as the firm's P7 Pro chassis come equipped with the H1 hub as standard.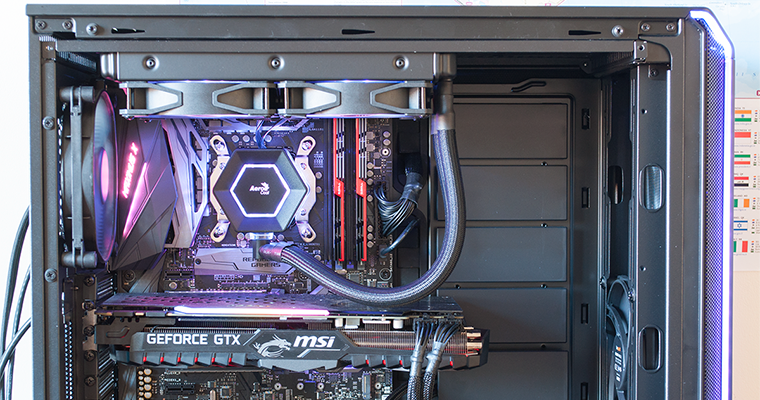 Installation is for the most part straightforward, with the P7-L240 using the familiar method of having the pump secured via brackets that attach to a backplate. AMD Threadripper is the only obvious omission when it comes to supported sockets, and though the same can be said for many rival all-in-one liquid coolers, Aerocool does trail most of the pack by backing the P7-L240 with a relatively short two-year warranty.
There's also a bit of cable clutter worth pointing out. Both fans attach to a splitter cable to ensure only two motherboard fan headers are occupied (one for the fans, a second for the pump), however there are a further three RGB cables. These can be daisy-chained to ensure the pump and fans illuminate from a single header, but whichever way you look at it this is a closed-loop liquid cooler with half-a-dozen cables that need to be routed and hidden out of the way.