Introduction
Considering purchasing a new CPU cooler? Then tread with caution, as it's easy to get carried away and find yourself spending in excess of £100 on a seemingly trivial component. Today's best liquid coolers demand sizeable premiums, as do top-end air solutions from the likes of Noctua, but such lavish cooling is overkill for most users, and it's easy to tame an overclocked chip on a much smaller budget.
With cost effectiveness very much in mind, Cooler Master has introduced a new range of CPU coolers under the MasterAir umbrella. Designed to slot-in above the firm's popular range of mainstream Hyper coolers, MasterAir is initially available in a choice of three flavours; triple-heatpipe Pro 3; quad-heatpipe Pro 4; and range-topping octo-heatpipe Maker 8.
Prices start at £30 for the Pro 3, but it's the larger MasterAir Pro 4, at £40, that is under the microscope today. First impressions are favourable, as pricing is acceptable, packaging is adequate, build quality is sturdy and the entire unit is backed by a generous five-year warranty as standard.
There is no shortage of options in this mid-range segment, yet Cooler Master's offering puts forth a good mix of features and performance. Adopting a classic tower form factor, MasterAir Pro 4 measures 159mm (H) x 129mm (L) x 85mm (W) and the heatsink itself tips the scales at 472g. A single 120mm, four-pin Air Balance PWM fan is included as part of the bundle, along with easy-to-assemble fan brackets and anti-vibration mounting pads.
Four heatpipes navigate through the aluminium fins, and Cooler Master reckons its Continuous Direct Contact (CDC) 2.0 technology - through which heatpipes are compressed together - provides a 45 per cent increase in surface area for heat dissipation. All sounds well and good, but from a purely aesthetic point of view it's a shame the heatpipes haven't been nickel-plated for a streamlined look. Silver protruding tips would, we feel, be a better match for the black finish on the top of the heatsink.
Still, it's a heatsink tower and most users will be more interested in the way it works rather than how trendy it looks. If that sounds like you, you'll be pleased to hear that there are no gaudy LEDs to contend with, and installation is straight forward on any modern socket. The only caveat is AMD AM4, which requires an optional upgrade kit - Cooler Master is providing these free of charge, though you may need to pay for postage costs depending on region.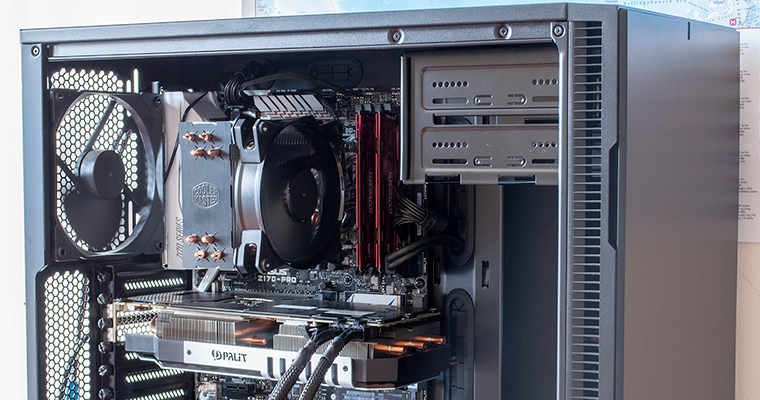 Installation is simple enough on our Intel Z170 platform, and there are actually two different ways of mounting the cooler. Option one is to use quick and convenient push-pin attachments similar to a stock Intel cooler, but option two - a dedicated securing bracket - is described by Cooler Master as 'sturdier' and will be the preferred option for most. We opted for the latter and the installation process entails securing a metal backplate to the rear of the motherboard using standoffs and bolts, and then securing the heatsink with an x-bracket outfitted with spring-loaded screws.
Getting up and running shouldn't take longer than 10 minutes, and we like the fact that Cooler Master has put some thought and consideration into the bundle. The small tube of thermal paste is good for at least a few installations, and there's a spare set of fan mounts, making it easy to add another blower in a push-pull configuration. There's no y-splitter cable to cater for such scenarios, yet for £40 the MasterAir Pro 4 has the makings of a capable mid-range solution. Let's see if the benchmarks agree.