External Apperance.
Well, firstly, stop reading this review now, and just look at it. Seriously – stop reading for 30 seconds and look at the case. Imagine it sitting on or under your desk. I won't write anything for the next 30 seconds, I promise.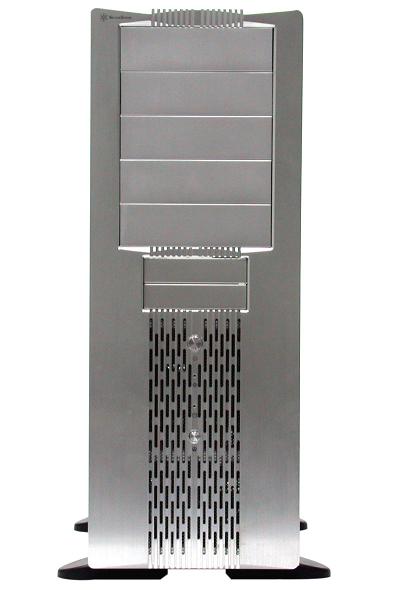 See?

Anyway, that readers, definable or not, is style. It's also class. And probably many other things as well. Styling, like music and art, has no logic, no set of rules, no guidelines to follow, no test to find out if something does or does not have it. However, when you see it, you know. As previously mentioned, this isn't your average styling-by-numbers attempt though, nor have Silverstone simply thrown a few oft-used blue LEDs at it and convinced themselves they have some sort of post-modern masterpiece. This is understated style, with not a vulgar millimeter to be seen.

Right, now that we have established that the TJ06s is a fine looking chassis, let's have a closer look at the external appearance and features. Firstly, the TJ06s is not a small case, being very much a full tower, at about the same height as offerings from Antec or Lian Li. The power and reset buttons are aligned in a vertical fashion, towards the bottom center of the case, and both look and feel like they have been taken from an expensive stereo system. There is a perfect compromise between a solid click when the button is pressed and a smooth, effortless action, that accounts for the quality feel.

Also included in this vertical collection of buttons is the power and Hard Drive LED lights, again, understated and in keeping with the overall styling of the case. The buttons and activity LEDs are themselves surrounded by a grating; slightly under 3 inches wide (7.6 centimeters) which helps to increase air circulation. The TJ06s also features a key lock, at mid height, to lock the front panel bezel door, which is very incognito and does not at all interfere with the clean look the front of the case offers. Also tucked away in non-visible but highly accessible area of the case, low down on the left hand side, several inches beneath the panel lock, are the auxiliary ports, which consist of earphone and microphone ports (both color-coded), 4 USB 2.0 ports, and a single FireWire port, again, lined up vertically. Personally, I like this departure from the norm of placing the auxiliary ports under a pull-down flap in a highly visible area on the front of the case. This approach is much neater and just as convenient; it adds a clever gadget feel to a relatively simple piece of equipment.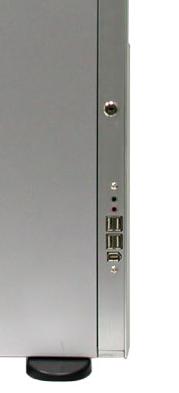 The case does not ship with a side-panel as standard, and this model may look better without one, as it's the clean, minimalist styling that is the greatest attraction; however a side-panel is available in both black and silver.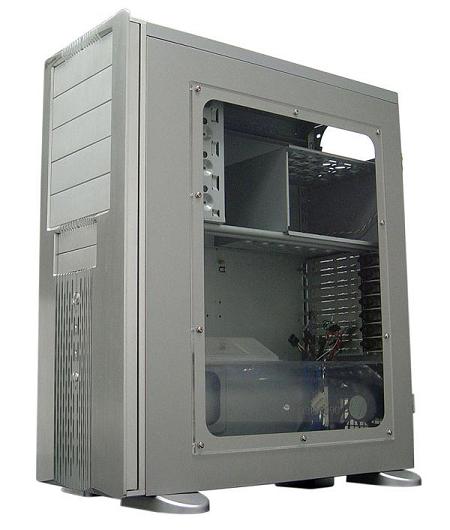 The other external feature of note is the 4 plastic stabilizers that are positioned on the bottom of the case, one in each corner. These keep the case off the surface of the desk or floor just a fraction, allowing air circulation and providing stability. Although its not easy to knock over a heavy, full tower case, anything that prevents your expensively acquired rig crashing to the ground is a welcome feature. The side-panel itself is attached to the main chassis by the use of plastic clips, which whilst perhaps not as sturdy as standard screws or as good a compromise as thumb screws, are very quick and easy to use. The side-panel simply snaps into place, and is held there firmly enough that you'll have no problems with the panel becoming detached at an inopportune moment.

The Silverstone TJ06s comes with 5 exposed 5.25" drive bays and 6 hidden, as well as 2 3.5" bays. The drive covers are brushed aluminum, and given the effort that has gone into this case from a visual perspective, I guarantee that you will make the effort to replace them, once removed, with brushed aluminum DVD Writers and Floppy Drives. Not doing so would be like finding the original copy of the Bible, and then using one of the pages to light a cigarette with – truly the act of a tech philistine. Still, I doubt many people with something as genuinely pleasing to look at as this case on their desks, would not make the effort.

A quick look at the rear of the case reveals a very non-standard approach – firstly, the Motherboard, as you'll be able to tell from the arrangement of the various inputs and ports, is mounted upside down in the case so all of these are located towards the bottom rear. You'll also notice a large space between the PSU area and the top of the Motherboard area, which is where Silverstone have chosen to put the Hard Drive bays, allow the installation, vertically, of up to 6 Hard Drives. It a rather novel approach, and one which makes a lot of sense when you are installing your kit, but one which also takes a bit of getting used to.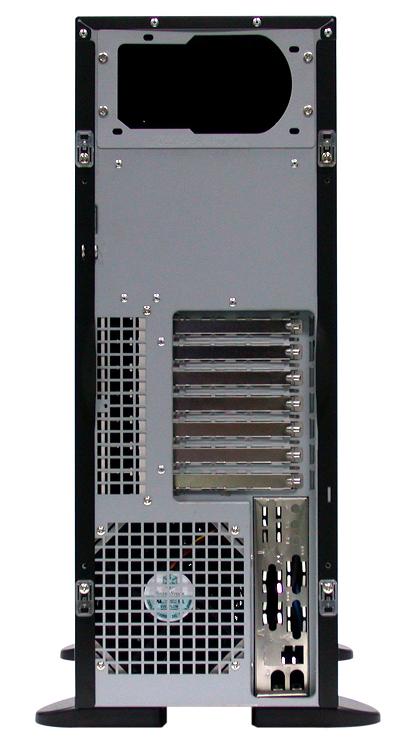 Overall, the TJ06s is, as I'm sure I'm made plainly obvious by now, a superb looking case. You may disagree on that specific wording, but I'm sure that even taking into account the fact that there is no accounting for taste (If you follow), you will also be very impressed by the case, when seen in the flesh. Even with beauty being very much in the eye of the beholder I'm sure you'll agree that this case is no beast.