Introduction
If we had to build a new PC for home use in 2016, there's a good chance it would adopt the mini-ITX form factor. The availability of compact components is getting better all the time and there's enough happening in the small-form factor space to make this an opportune moment to build something significantly smaller than your traditional tower.
Any such project needs to start with a suitable chassis, and industry veteran SilverStone reckons it has a noteworthy option in the form of Milo ML08. Currently available at a cost of around £70, this super-slim enclosure promises to deliver high-end performance in a form factor that's sleek, portable, and usable in either horizontal or vertical orientations.
Measuring a mere 87mm thick, Milo ML08 has an internal volume of only 12 litres but claims to be versatile enough to function as a vertical workstation, a horizontal HTPC or a powerful gaming rig that can be transported to LAN parties with ease. Sounds useful, and in practise it manages to pull off these feats, though there are inevitably a few minor niggles to contend with.
The first is the busy-looking exterior which, despite being considerably sleeker than the gamer-centric Raven RVZ02, still isn't quite as elegant as we'd hoped. On the other hand, you might appreciate the industrial aesthetic, which includes large clip-on dust filters on the side vents and a removable, rugged-looking handle on top. If you're willing to go without the latter, a handle-less model is also available, and there are plans to introduce variants equipped with side windows.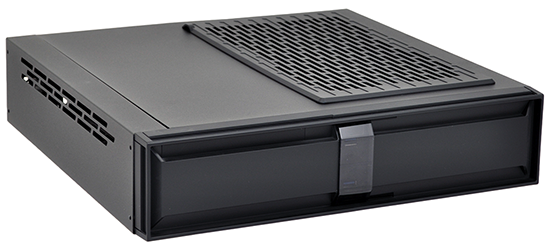 There are plenty of good ideas, but as you might expect at this price point, implementation isn't always perfect. The side filters, for example, do a good job but are made of plastic and you wonder how long it'll take for one of the fastening clips to fall away. We have mixed feelings about the width-adjustable stands, too - they are useful to have, and we like the fact they are cushioned beneath, but the adjustment mechanism isn't great and the stands don't always stay in place.
SilverStone keeps the chassis well vented - there are vents on the top, bottom and sides - and we like the fact that the front fascia is kept free of clutter. The I/O ports include two USB 3.0 ports and a pair of audio jacks, and these, along with the power and reset buttons, are tucked away behind an translucent sliding cover. Nitpicking somewhat, we'd prefer this cover to be opaque, so users could completely block out the power and activity LEDs. That's something that could easily be modded, and anyone seeking a clean HTPC solution should appreciate the Milo ML08's stealthy exterior - there's not even any branding, though SilverStone does include a stick-on logo should you want one.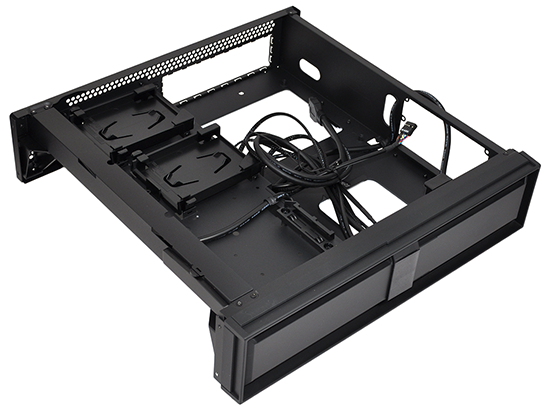 This isn't a chassis you're likely to delve into on a regular basis, so there are no quick-release side panels or even thumb screws for tool-free panel removal. Instead, the outer frame is constructed of two L-shaped panels that wrap around the steel central frame and are fixed in place by half-a-dozen screws. Taking them off isn't too much trouble, but getting them realigned requires a little patience.
When inside, the first thing you'll notice is that there are no chassis fans and no fan-mount locations. Instead, the small amount of available room has been dedicated entirely to housing all of the components you'd expect in a high-performance, modern-day PC. SilverStone provisions for a mini-ITX motherboard, an SFX PSU, up to two SSDs and a graphics card measuring up to 330mm in length.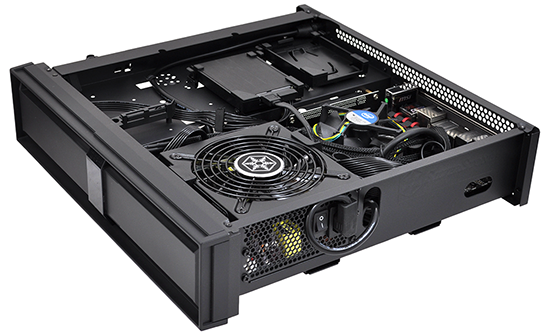 Despite the tight confines, building into the chassis is mostly straightforward and there are a couple of nice touches that help ease the process. The SSD bays, for example, are tool-free trays that sit on a hinged mechanism that allows for each tray to be tilted up when drives are being inserted. A power-supply cable is also pre-routed to the back of the case, and the only immediate limitation is that you can't use an existing ATX unit. Milo ML08's thin profile will only allow for an SFX or SFX-L supply, and we're using SilverStone's own modular SX-500LG for our test build. Note that the PSU power switch isn't accessible once the covers are back on, so remember to turn it on before you secure the panels.
CPU cooler height is restricted to just 58mm, so you'll need to pick carefully should you opt for a custom heatsink, but on the whole there are no major issues installing a mini-ITX board, SSDs and a compatible PSU. SilverStone even includes a securing bracket for the latter, ensuring the PSU doesn't move about when carrying the chassis from a to b, and there's even space next to the 2.5in trays for a slim optical drive.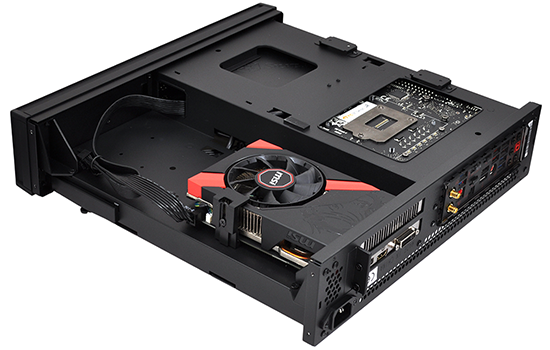 Flipping the case over reveals a dedicated section for your graphics card of choice. Said card can occupy up to two slots and there's room enough for, say, a GTX 980 Ti. There may, however, be good reason to select a shorter card, as SilverStone has included a third drive-mounting location back here for either a 2.5in or 3.5in disk. Our compact MSI Radeon R9 270X leaves plenty of space, making it easy to add a spacious hard disk should the need arise.
How does the graphics card work when it doesn't appear to be connected to anything? The pictures are deceiving, as there's a two-part PCIe riser included in the bundle, allowing the graphics card to reach the motherboard with minimal fuss. Covering all bases, SilverStone also includes another securing bracket to keep the graphics card as still as possible during transport.