Inside Deep Silence 5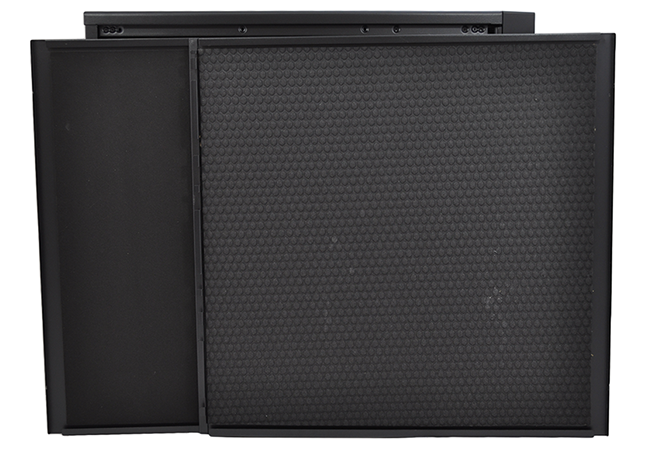 Getting access to the chassis' interior cavern entails undoing four thumb screws. The hinged side panels then come away with relative ease, though there's no protruding handle on the ends, making it just a tad trickier than it should have been. On the plus side, each panel is fully lined with noise-dampening material, with the hardware side carrying a denser lining for good measure.
Once inside you get a truer feel for how spacious the Deep Silence 5 really is. There's a huge amount of room to work with and the chassis supports your choice of Mini-ITX, Micro-ATX, ATX, XL-ATX or E-ATX motherboard. On top of that you have 10 expansion slots, three pre-installed fans (dual 140mm front intakes and a single 140mm exhaust) as well as 18 - yes, 18 - storage bays.
The elaborate storage configuration is comprised of four tool-free 5.25in optical bays (of which the bottommost can be converted to an external 3.5in), a removable cage of five 3.5in trays, a smaller cage housing six vertical 2.5in bays, and a third cage supporting up to three more 3.5in trays.
That's a lot of storage and it's good to see that each cage has been well thought out. The large five-bay cage is new to the Rev. B model and has been added to improve overall sturdiness, the six-bay SSD tray pulls out easily and, if unused, the cage it leaves behind can be used for hard disks. Nanoxia includes plenty of spare 3.5/2.5in trays in the bundle, and they're all made of metal with rubber standoffs to soak-up drive vibration.
One potential caveat is that the large number of drive trays may serve to stifle the front intakes, both of which we suspect will already be struggling to draw air from the narrow side vents. The good news is that the drive cages are all modular and can be reconfigured to your heart's content. Remove them all and you'll make room for a 240mm radiator in a push-pull setup, and that's on top of the 240/280mm mounting points at the top of the case. And yes, in case you were wondering, both top mounts are also pre-lined with dense sound-dampening material.
A total of six fan mounts (the last of which is on the base of the chassis) provide ample cooling potential and the three bundled fans are able to spin at speeds of up to 1,100RPM. Out-the-box cooling should be decent, however each fan is outfitted with green blades that detract from the otherwise all-black interior. We understand the need to maintain a brand image, but these are green accents we could do without.
Installing our overclocked Z77 test platform didn't unearth any major problems. There's plenty of room with the Deep Silence 5 supporting CPU coolers measuring up to 185mm tall and graphics cards up to 338mm in length, or 468mm with the central drive cage removed. We've taken out said cage in order to give the dual GTX 970s a clear supply of air, but you can see how the bottom fan is obstructed by the SSD cage.
Nanoxia's bundle is helpful throughout the build process - the screws are separated into individually labelled packets while the manual is well illustrated - and there are extension cables for the motherboard's 24- and 8-pin power connectors. Heck, Nanoxia even includes rubber inserts to seal-off the four water-cooling holes on the back of the chassis should you not need them. The only minor bugbear is that motherboard standoffs are not pre-installed, though that's understandable given the wide selection of compatible board form factors.
Nine rubber-grommeted routing holes provide plenty of avenues for cable management, however there isn't a huge amount of room behind the motherboard tray and we were surprised to find so few tie-down points. Still, the end build looks tidy enough, and if you are inclined to show off your hardware, Nanoxia does offer an optional windowed side-panel. We're more interested in keeping noise levels down to an absolute minimum, so let's take a look at performance and see if Deep Silence 5 is really is quite as it's made out to be.